Description
Are you ready to unfold your potential and be the change?
LIVING THE CHANGE
This powerful three part programme will take you on a journey of deep personal exploration as you develop and implement the change in the world that you feel inspired to make. You may be starting out on this journey, or you
may have been committed for some time and seek to revive your energy. Pioneers of Change will support you in moving from ideas to effective implementation, developing your own internal resources as well as giving you knowledge, skills and connections to translate your vision into a strong and sustainable project.
GROWING COMMUNITY
We will collectively build a powerful support community through the course of this programme, enabling you to better sustain yourself in your work, and to support others in the same way. You will leave with a peer group who deeply understand the nature of your journey, and commit to supporting you on it. Through being in the wood and being in community with others who are on a similar path, you will find new inspiration and insights for your projects, recharge your batteries and find a healthier way to relate to yourself, your colleagues and your dreams and ideas that are part of the change.
KEEPING THE FIRE BURNING
Apart from many other things, this programme offers also a rare chance to pause and consciously reflect and celebrate with others on the joys and challenges of being a change maker. We will explore together how to get in touch with your inner truth and passion, access the collective wisdom of the group and explore nature-based resilience skills on individual and group level… to nourish ourselves and keep the fire burning without getting burned out.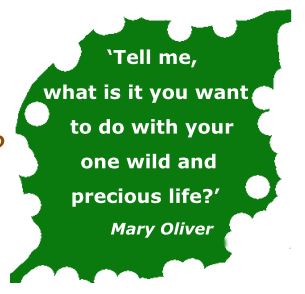 Module One: Incubating Ideas
Crystalising or reconnecting with your dream; clarifying your audience; defining your intended impact; thinking deeply about what your own unique part will be and articulating the story of the change you want to make.
Module Two: Realising your vision
When we move from dreaming to implementing, what comes up? Looking internally, how can we empower ourselves to be most effective? What limiting beliefs do we need to let go of? And externally, how do we deal with resistors, opposition, institutions or officialdom? How do we enlist wider support, how do we source finance? What building blocks do we need to work on, to translate vision to reality?
Module Three: Going forth, healthily.
What do we need to sustain ourselves on this journey? If we are in it for the long haul, what will keep our energy high? How do we respond when the team or the context change? And looking beyond ourselves, what kind of team do we need to build, who else can we work with, what legal or financial structures do we need to put in place?