Pirate Queens and She-Shanties
About this event
Dockside dames, handsome cabin boys and pirate queens, come and celebrate the stories, shanties and songs of strong women who defied society and sailed the seas!
Join Storyteller and Shanty-woman Jan Bee Brown and her stellar cast of seafaring quines:
Irvine's home grown pirate Emmy Tott, Mayo's pirate queen Grace O'Malley, and New York's finest trio - Sadie the Goat, Hell-Cat Annie and Gallus Mag. Carve out a career with the Carpenter's boy Mary Lacy or bare a breast with notorious pirates Anne Bonnie and Mary Read but don't miss the flash mob starring Liverpool's finest export - Dirty Maggie May.
Suitable for ages 16+
https://www.facebook.com/setsailwithstories/
https://www.facebook.com/adropofnelsonsblood
https://www.facebook.com/thethrivearchive/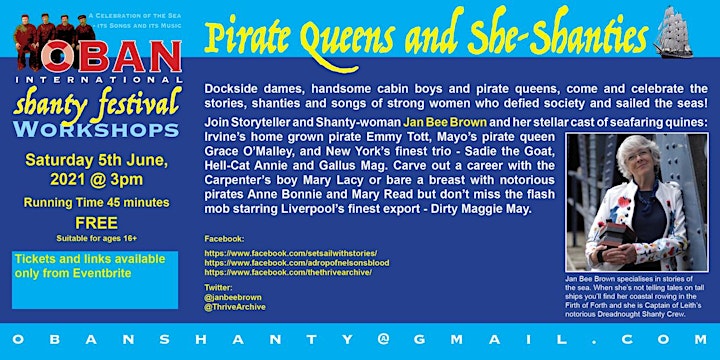 Organiser of Pirate Queens and She-Shanties with Jan Bee Brown