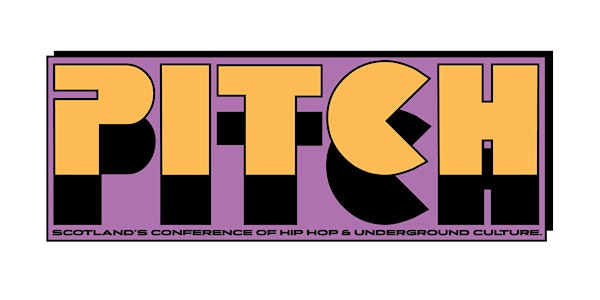 Pitch - Scotland's conference of hip hop and underground culture
Location
Saint Luke's & The Winged Ox
17 Bain Street
Glasgow
G40 2JZ
United Kingdom
Refund policy
Contact the organiser to request a refund.
Eventbrite's fee is nonrefundable.
Pitch, Scotland's conference of hip hop and underground culture, takes place on 27th August 2022 at three venues in the heart of Glasgow.
About this event
NOLAY | BASH THE ENTERTAINER | MACE THE GREAT
LOTOS | AIITEE | MC SALUM | LUCKYME |
MARRIK MIXED IT | NEW SKOOL RULES NETHERLANDS
MOG | ARUSA QURESHI | CLARISSA WOODS | HIP HOP SCOTLAND
SEAN FOCUS | K4CIE | ROGUE ONE | BECCA STARR | KONCHIS
BEE ASHA | TEXTURE | FIYIN FAKUNLE | YOUCALLTHATRADIO?
+ More.
Pitch Scotland will forge new networks across genres and disciplines, celebrate the culture and diversity of voices reflecting contemporary Scotland and empower members of the hip hop and underground communities to exchange knowledge and skills as they progress their careers.
Aiming to inspire and encourage all from age 16 and above, Pitch Scotland will feature representatives from across the music industry, skills workshops, panel discussions, speed-meeting sessions and performances, including DJ sets, spoken word artists and a live showcase.
Pitch Scotland is presented by the country's new music champions the Scottish Alternative Music Awards (SAMAs) in partnership with Creative Scotland, acclaimed new music festival FOCUS Wales and New Skool Rules (NL), the largest international urban music conference outside the United States.
New Skool Rules co-founder Henca Maduro is among the prominent industry figures and artists taking part in Pitch Scotland, as well as Martyn Flyn of LuckyMe (S-Type/Lunice), the world-renowned record label and arts collective he co-founded in Glasgow two decades ago, and producer-engineer Marrik Shearer (Nines, MoStack, Maverick Sabre, Wretch 32), founder of Tottenham's Front Room Studio.
Talent from Scotland will be represented in Rotterdam this October when New Skool Rules returns for its 10th anniversary edition.
Henca Maduro says: "We're thrilled with our new partnership with Pitch Scotland to make sure we get the best urban talent Scotland has to offer showcasing at New Skool Rules 2022. As they represent the best of Scotland at New Skool Rules, they will be able to share and gain knowledge, network and do business."
Following the success of HANG (Hip-Hop Aimed Networking with Grime) - Scotland's first ever hip hop conference – at Glasgow's SWG3 in July 2021, Pitch Scotland will host events at live music venue Saint Luke's, community arts venue The Space and Many Studios, a hub for over 60 artists and practitioners.
Pitch Scotland's neighbourhood, close to Glasgow's historic Barras Market, is an area long associated with trade and creative responses to changing times.
The evolution to Pitch Scotland reflects the event's multi-venue expansion, international outlook and emphasis on the relationship between creativity and commerce and how artists and industry professionals can be empowered in their careers.
Pitch360 will also offer a community networking space specifically for 16 to 21-year-olds and a programme of workshops led by organisations such as independent college the Academy of Music and Sound and Music Plus, a free mentoring scheme offering skills and support to young people across a range of music industry roles from performance to business.
Richy Muirhead, SAMA producer says: "Being the first ever conference for artists and others in the hip hop and grime communities in Scotland made HANG a landmark event. It was one of the first opportunities for artists across backgrounds and genres to share a space, reflect on the past and celebrate the present. As the music scene recovers from the pandemic, Pitch will build on that foundation of individual and collective empowerment to show the world the strength and vibrancy of hip hop and grime in Scotland."
Follow Pitch Scotland on socials @PitchScotland and online at pitchscotland.com
The full programme will launch in July.
A call out for 2 artists to join the bill will open in July.
For any event enquiries contact events@officialsama.com
For any media enquiries contact hello@noiseunit.co.