Description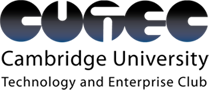 Do you have a start-up idea? You are eager, but do not quite known how to start? You want to learn from examples? Then join us at our Startup Pitch Event!
Cambridge University Technology and Enterprise Club, being at its 10th year anniversary, have helped many hopeful entrepreneurs to realise their dreams and fulfil their full potentials. To open this commemorative year, we invite you to join us for an evening of startup pitches, problem-solving and networking on January 24th. For this event we are inviting some of the past and current members who have succeeded on starting up businesses, to share their experiences, and to pitch their products and ideas. We will also introduce the newly elected Vice Presidents who will be leading CUTEC teams in 2013.
As an opportunity to showcase CUTEC's enterprising network to new members, five startups will be selected to pitch their big idea as well as nominating a challenging issue they are working to overcome. Following the pitches, our experienced panel of investors and entrepreneurs- drawn from CUTEC's network of venture capital and angel investment advisors- will provide feedback on pitches and offer their advice.
Date: 24th January 2013
Time: 7-9pm (Registration starting at 6.30)
Location: LR4, Department of Engineering, Trumpington Street,CB2 1PZ
The Judging Panel consists of:
Kelsey Lynn - Imperial Innovation
Ian Sandison - Remtech Search, p & i associates ltd, Love Cambridge
Alan Barrell - Entrepreneur in Residence, Centre for Entreprenerual Learning
See you tonight!
Cambridge University Technology and Enterprise Club
--- Connecting the University and Business Community ---
Organiser of Pitch Your Startup!
CUTEC is the leading technology and entrepreneurship society at Cambridge University. Supported by advisors in the local business community, we nurture and enhance the entrepreneurial spirit amongst academics and students. Founded in 2003, CUTEC now boasts 4,000+ members worldwide.