Description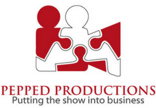 Pitching is more than throwing your ball into a park. You must play the game and have a winning attitude. We need to let the audience know who we are, what we want, what we will give them and why we are different.
Amy Botes is a RADA trained Actress. Her company, PEPPED Productions, is offering a half day workshop in pitching skills – and, thanks to our lovely friends at Natwest, this is entirely FREE! This will teach you the communication skills to really power your pitch and boost your confidence.
In business, we pitch all the time; whether this is through face to face customer contact, advertisements, sales presentations, networking or even just chatting with your mate down the pub… who ends up knowing a bloke… who introduces you to your next client.
This workshop will be introducing you to professional acting techniques that you can use in any context to get you pitch perfect in seconds. You will come away having a better knowledge of how to use your body, mind and voice to engage your business audience and win them over.
So, what do you need to do? Well, sign up, pitch up and let's hit the ball out of the park!
6PM - Registration
6.30PM- Warm up:
Introduction from Amy Botes followed by a physical, vocal and mental warm up. This will include ice-breaker games & activities to build up the trust within the room.
7PM-8PM – Main rehearsal time:
- Discussion around what a pitch is, what types or pitches there are and how we structure a pitch.
- A short lecture on different acting methods such as vocal techniques and improvisation techniques that can be helpful when pitching in different circumstances.
Play time: - Role play work to incorporate skills learnt in the warm up (such as physical, mental and vocal techniques). This will be done in pairs & as a group. Delegates will be asked to devise a 60 second pitch.
- Group feedback (forum theatre) given to those brave enough to pitch in front of the group. Facilitator feedback given on how they could use their body, breath and voice to full advantage.
8PM-8.15PM – Notes - Discussion on key takeaways from the session
8.15PM – 8.30PM – Relaxation exercise & opportunity to give feedback/ask questions
8.30PM – 9PM – Further networking.