PKU Hongmen Dialogue - Research & Practice of Teaching Chinese (Virtual)
The PHBS Hongmen Dialogue aims to promote an academic dialogue between academics and international Chinese Language teachers
About this event
Background and Introduction:
As the first overseas campus of Peking University, situated in Oxfordshire, United Kingdom, PHBS UK aims at building a platform to promote academic dialogue and communication between academics in the UK and China in a wide range of disciplines. "PHBS Hongmen Dialogue" (北大汇丰黉门对话)is a forum for experts and scholars sponsored by Peking University HSBC Business School UK Campus aimed at increasing intellectual dialogue amongst academics, advancing discussion within and between disciplines, inspiring academic thoughts, and cultivating scientific spirits.
The Inaugural PHBS Hongmen Dialogue organized by PHBS UK, aimed at promoting exchanges and discussion on a wide range of topics related to the subject of Teaching Chinese as an International language. The discussion will be participated in by research academics from both China and the UK, practitioners in Chinese teaching and students.
Format:The dialogue will run in three sessions. The first session will be "Professors' Dialogue". We will invite international leading scholars from both the UK and China to present their views on the Chinese learning and teaching. Each scholar will have 20-25 minutes for talk, then followed by Q&A between the speakers and audiences. The second session will be "Teacher's Dialogue". The UK schoolteachers will share their experience and stories in their Chinese teaching. The third session will be 'Learners' Dialogue'. Learners will share their experience in learning Chinese, and they will use Chinese to talk their stories.
Target audience: schoolteachers, academic scholars, Chinese PGCE students in the UK, Master and PhD students in teaching Chinese as a second language, and prospective teachers in teaching Chinese.
Topics: Topics in "Professors' Dialogue" are ranged from academic research on studying Chinese as a second language, field study of Chinese teaching practice, Business Chinese, teacher's training, textbook designing, and Chinese Language test, etc.---using a comparative perspective for discussion. Topics in "Teachers' Dialogue" will include case study of Chinese teaching and teaching practice, etc. "Learners' dialogue" will include topics in learning experience and stories sharing. The Dialogue will be conducted offline and online, and it will be shown online in the UK and China.
背景介绍:
作为北京大学的第一个海外校区,坐落在英国牛津郡的北京大学汇丰商学院英国校区旨在建立一个促进中英学者学术交流的平台,在更为广泛的学科领域进行对话和交流。"北大汇丰黉门对话"是由北京大学汇丰商学院资助并主办的专家学者论坛,围绕人文、科技、文化领域内的某一主题,邀请中外知名专家和学者对话交流和互动研讨,推动学术思想的碰撞、对话、交融和创新,激发学术思考、对科学和人文的探讨、对国家和社会的关注,促进学科交叉融合和学术思想对话,启迪科学精神。
北京大学汇丰商学院英国校区的首届"黉门对话"将围绕"国际汉语教学"这一主题,邀请知名学者、专家与英国教师共聚一堂,讨论中英各国汉语教学的学术发展与实践问题。
对话形式:本次对话分为三场,第一场为专家对话,我们将邀请4-5位中英学者参与,每位学者发表20-25分钟的演讲,之后是与线上及线下听众的互动讨论。第二场为教师对话,我们将邀请4-5位一线教师分享教学经验与故事,并与线上线下听众互动讨论。第三场是学生交流,介绍自己学习中文的经验与体会。该对话线下与线上相结合,专家、教师与学生的讨论交流将面向全球直播。
对话面向:英国高校及中小学中文教师、学者及研究者;英国中文PGCE项目学习者;国际汉语教学专业的硕士生及博士生;及有志于成为对外汉语教师的同仁。
对话内容:专家演讲话题包括并不限于:对比视角下的汉语国际教育的理论研究;对外汉语教学中的语言要素研究;商务汉语;教师培养;教材编写;语言测试等。教师对话话题包括并不限于:国际汉语教学课堂案例分析、经验交流等。学习者对话环节由学习者代表分享学习经验及学汉语的趣事。会议形式为线上与线下相结合,不能到现场参会的学者和嘉宾将通过Zoom与线下会场连线,会议将对所有注册观众进行直播。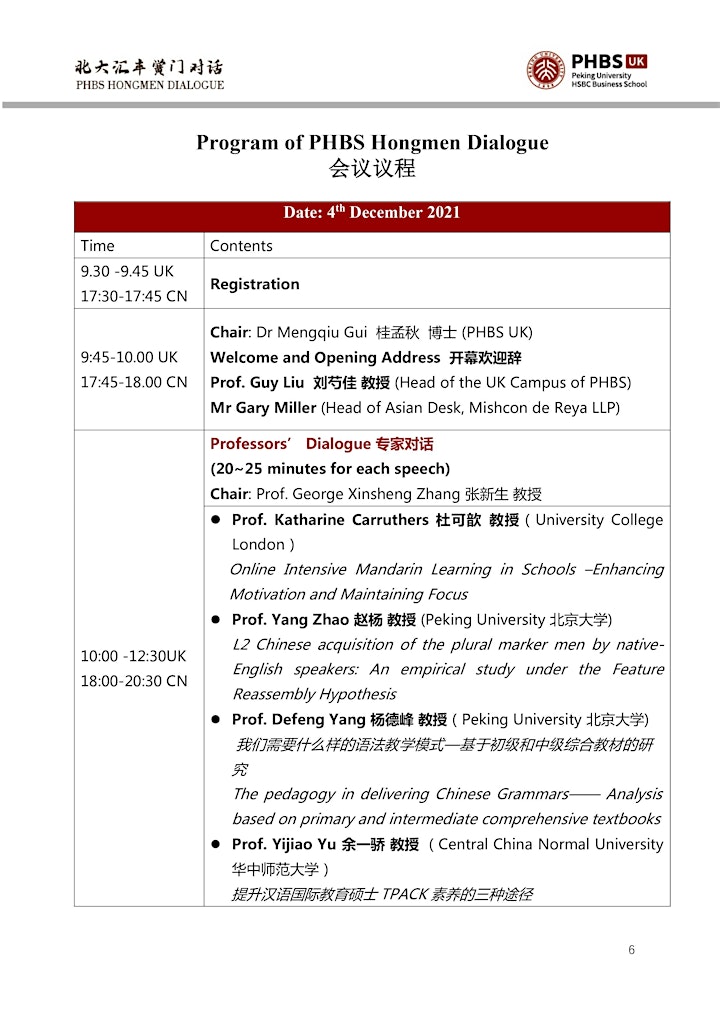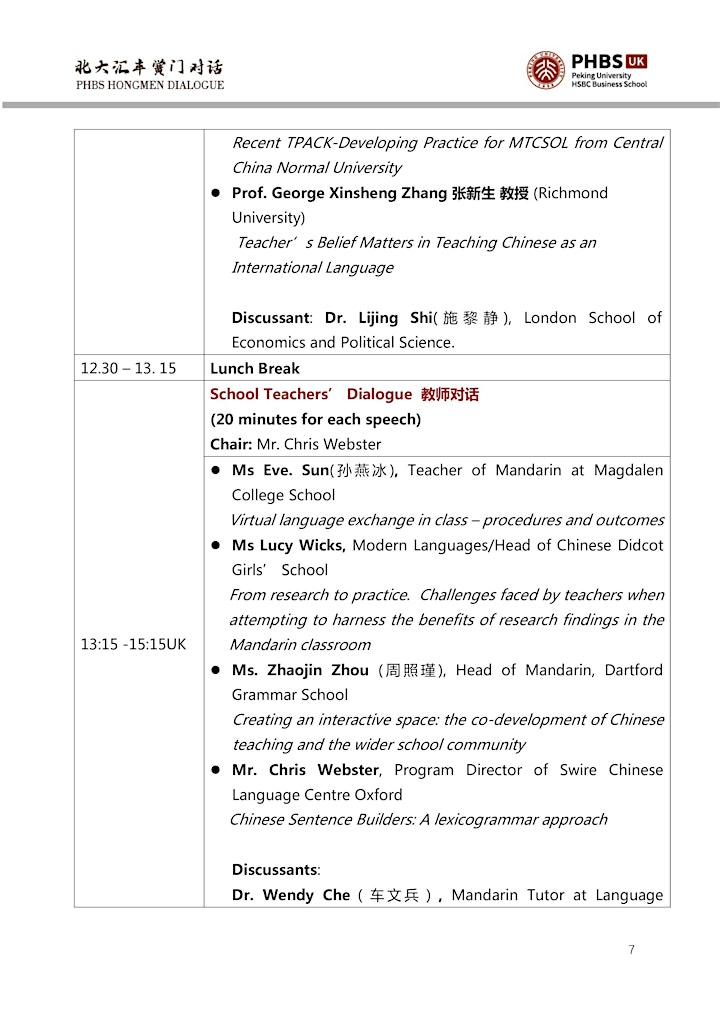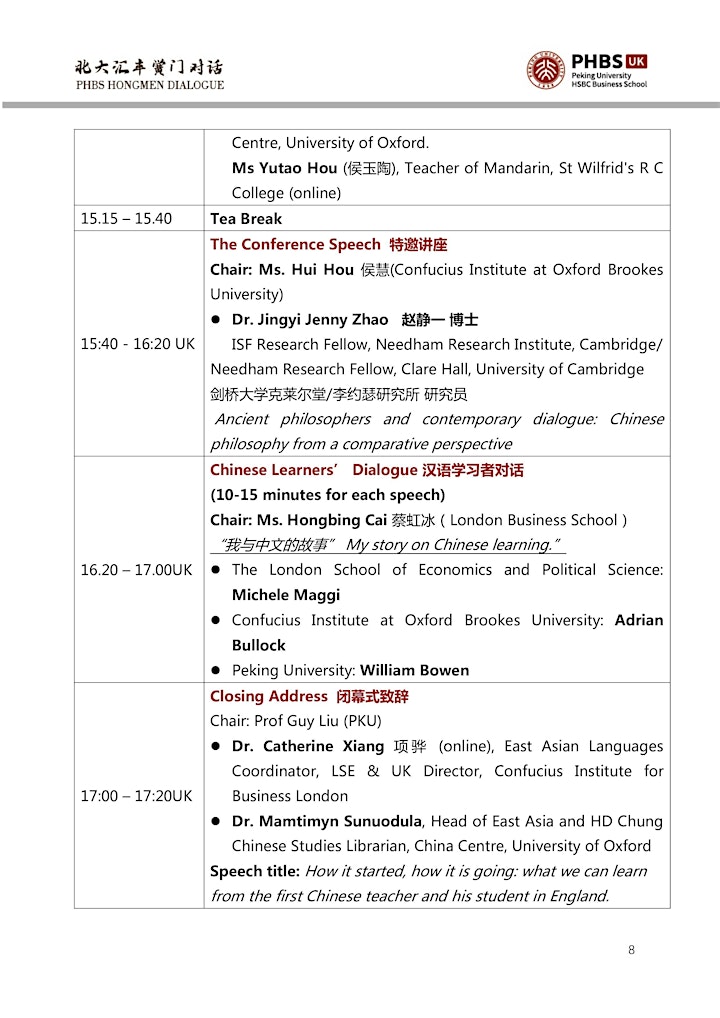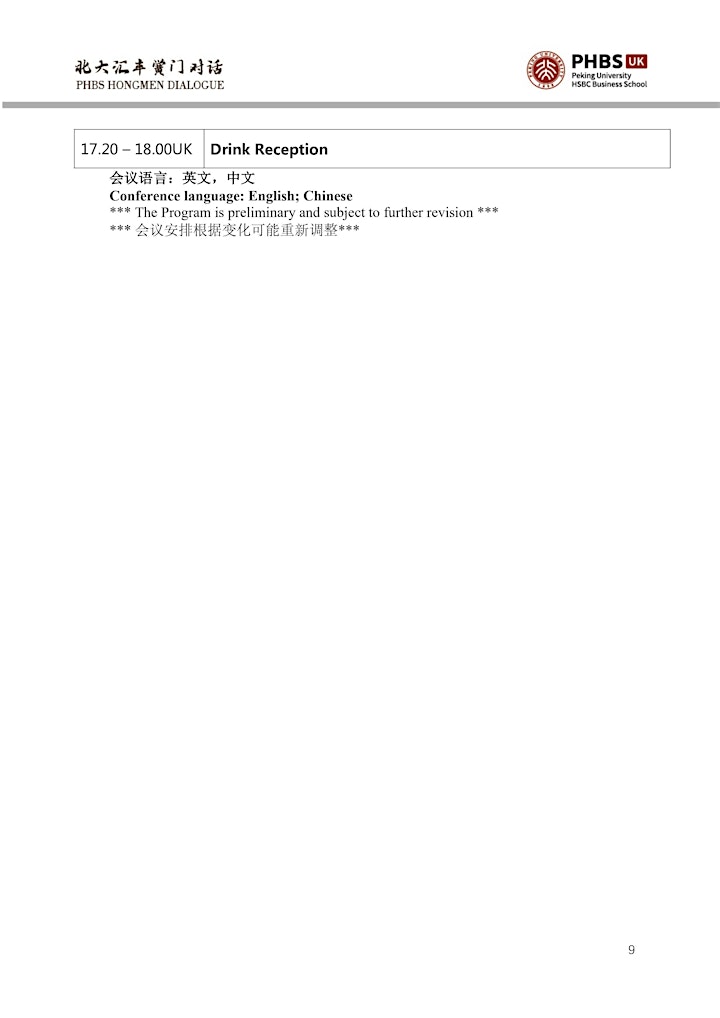 Organiser of PKU Hongmen Dialogue - Research & Practice of Teaching Chinese (Virtual)