Plan to Grow 2022 – get up to date with EIS & BR trends
The essential event for financial planners and regulated advisers interested in the EIS and BR market
About this event
Plan to Grow, the event exclusively dedicated to bringing financial planners/paraplanners and regulated advisers up to date with issues and trends in the EIS and BR markets, is back!
Please note that this event is strictly for financial planners/paraplanners and regulated advisers.
20th January 2022 sees the return of this adviser focused event seeking to inform, update and educate the financial planning community and beyond and is EISA's flagship adviser engagement event.
As the industry body for the EIS and SEIS industry, we are well placed to hold an independent and unbiased event and we use Plan to Grow to reach out to advisers and give them all the information and expertise on the EIS and BR sector.
What you can expect from the event:
Keynote talks from Paul Scully MP, Small Business Minister and Tej Parikh, Director at Fitch Ratings
Talks, roundtables and panel discussions on the topic of EIS/BR investments for financial planners
A broad range of expert speakers and panel participants from across the industry
The opportunity to network with others in financial planning, EIS investment and fund management
With face to face physical events now firmly back on the agenda, Plan to Grow will be held at the Queen Elizabeth II Centre, London's largest dedicated conference, events and exhibition space.
However, to cater for those still uncertain about meeting people again and for those unable to travel, we will also be recording the event.
Catering will be arranged in adjacent Westminster, which offers flexible space for standing or seated catering, with stunning views over Big Ben and the London Eye.
Plan to Grow will also be fully CISI CPD qualifying for attendees.
FREE to attend.
Please find the current agenda below.
Please note attendee details may be shared with our sponsors, who may follow up with you about the event.
IMPORTANT NOTICE:
QEII Covid Policy
Please note that delegates will not gain access to the QEII Centre without one of the following; a negative lateral flow test, negative PCR test or Double Vaccine Certification. Delegates will be asked to show proof on the door as well as test their temperature and use hand sanitiser.
No tests are to be carried out onsite.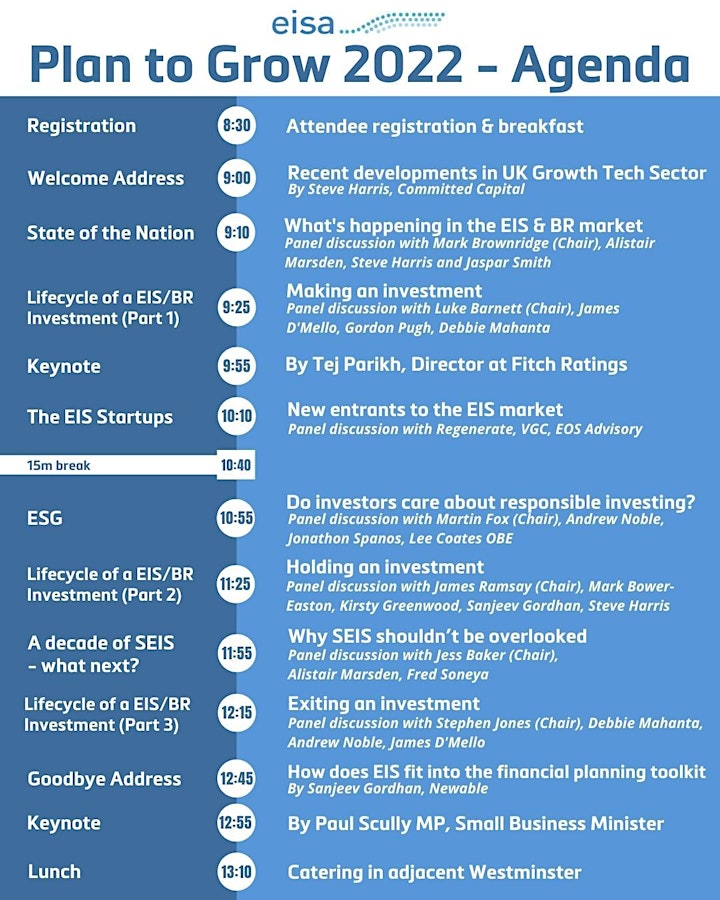 Organiser of Plan to Grow 2022 – get up to date with EIS & BR trends
The EIS Association (EISA) is the official trade body for the Enterprise Investment Scheme. EISA is a highly effective not for profit organisation which exists to aid the provision of capital to UK small and medium-sized enterprises (SMEs) through the Enterprise Investment Scheme (EIS) and the Seed Enterprise Investment Scheme (SEIS). For further information about EIS or SEIS please click here.
EISA works closely with HM Treasury, HM Revenue and Customs, Government Ministers, MPs and the FCA to enhance the EIS and promote the benefits of the scheme to investors and companies using EIS/SEIS and their respective advisers.