Secret 7″ proudly present Planar 1/1 that builds on their tradition of combining music and art for good causes.
About this Event
Secret 7" presents Planar 1/1
Major artists customise Rega Planar 1 turntables for humanitarian aid charity Help Refugees.
Bid on one of a kind turntables by Sir Paul Smith, Morag Myerscough, Alison Goldfrapp, Haroon Mirza, Rana Begum & more.
Live stream auction hosted by the auction collective on 12th November.
On 12th November, the seventh and final Secret 7" will culminate in Planar 1/1, an auction of customised Rega Planar 1 turntables by world-famous artists including Sir Paul Smith, Morag Myerscough, Shona Heath and Gregor Hildebrandt.
The auction will be open for pre-bids and registration from Tuesday 20th October with The Auction Collective. Open to the public, those who are interested in taking part can bid in three ways: over the phone, with absentee bids or via the live stream on 12th November at 19.00 BST. Proceeds will go to this year's Secret 7" charity partner, Help Refugees.
The turntables will also be exhibited at Greenwich Peninsula's NOW Gallery from 4th – 12th November. Booking a timed entry ticket is essential via Eventbrite.
The return of Planar 1/1 is sure to delight art collectors and record enthusiasts around the world. Using a white Rega Planar 1 as a canvas, each artist has pushed the boundaries of the open brief, repurposing and reconditioning the turntable into a novel piece of art.
Sir Paul Smith and Morag Myerscough have used acrylic to create turntables featuring their signature bright patterns. British artist Haroon Mirza has incorporated lighting into his design in homage to Gysin and Burroughs' Dreammachine in his turntable 'A Dreammachine of Sorts', while Tony Hung, who has previously used neon for Blur's 2015 album Magic Whip, has used the material in his unique design, '3 A.M. Somewhere Out of Beaumont'.
"I was brought up surrounded by music, my father, Henry Myerscough, a viola player and session musician in the 60/70/80s. He played with the Beatles (named on the white album), Bob Marley, Elton John and all the greats of the time. As a child, the record player in our house was sacred and we had to get permission to use it so that we did not damage the needle! (I am glad times have changed). I now have that record player, it holds many memories and I remain respectful." – Morag Myerscough
Elsewhere, Chrissie Macdonald has experimented with stained glass and Phillips-Walmsley have used 23 carat gold within their design. Musician Alison Goldfrapp, set designer Shona Heath, street artist Pure Evil and Kent-based artist Charlie Oscar Patterson have interpreted the brief in a more sculptural way, incorporating three-dimensional structures into their turntables.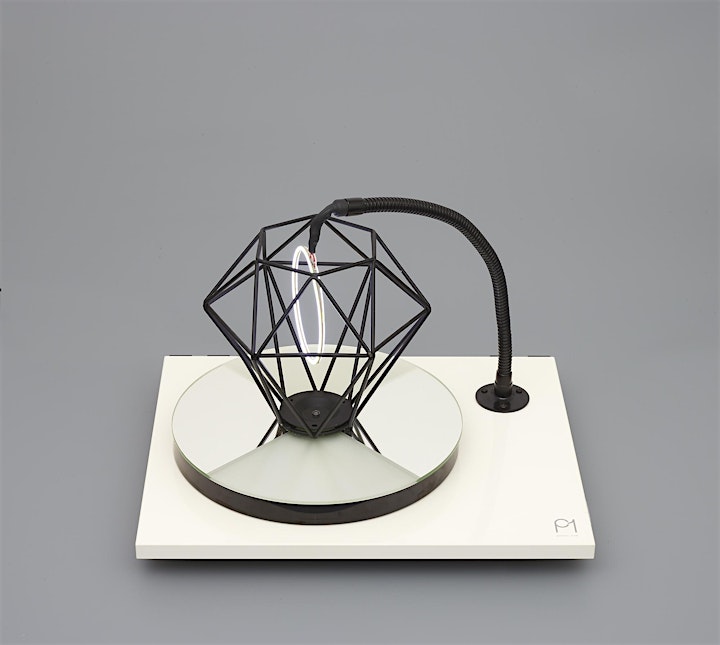 Full list of Planar 1/1 contributors:
Alison Goldfrapp
Charlie Oscar Patterson
Chrissie Macdonald
Gregor Hildebrandt
Haroon Mirza
Isabel + Helen
Lauren Baker
Morag Myerscough
Phillips-Walmsley
Pure Evil
Rana Begum
Rayvenn D Clark
Sir Paul Smith
Shona Heath
Tony Hung
Planar 1/1 follows on from Secret 7", the much-loved anonymous charity record sale which marries art, music and humanitarianism hosted at NOW Gallery, Greenwich Peninsula's cultural platform for exciting design, art and fashion exhibitors. For the uninitiated, Secret 7" invites world-leading artists to create one of a kind record sleeves for iconic tracks. Among the 700 designers creating sleeves for this year's singles are Anish Kapoor, Tacita Dean, Jadé Fadojutimi, Lubaina Himid, Ragnar Kjartansson, Mark Wallinger, Jake & Dinos Chapman and Jeremy Deller. Following a public exhibition at NOW Gallery, all 700 sleeves will go on sale via a public eBay auction on 1st November, with proceeds going to Help Refugees.
Each ticket allows entry for 2 people of the same household or support bubble. You will have 30 mins to enjoy the exhibition.
Exhibition dates and gallery opening hours may be subject to change due to Covid 19 restrictions.
Please ensure that you have downloaded the NHS Covid-19 App before your visit.
Staying Safe During Your Visit: TIER 2
In light of the ongoing COVID-19 pandemic, we've introduced additional safety measures to keep both visitors and staff safe. We operate a Covid Secure and ask that you familiarise yourself with the below guidelines before you arrive:
● If you are travelling via public transport, ensure that you wear a face mask on the journey, keep your distance from others and where possible avoid peak transport times.
● If you are travelling to the event from outside of the Royal Borough of Greenwich, ensure that you check the Tier status of the area you are travelling from at https://www.gov.uk/findcoronavirus-local-restrictions. Unfortunately, if you are travelling from a Tier 3 area you will not be permitted to attend the exhibition.
● Timed tickets are required for entry to the exhibition, these tickets are available through Eventbrite only. Please ensure you arrive at least 5 minutes before your scheduled time slot, unfortunately, we cannot guarantee entry if you arrive late.
● Please follow the one-way routes and safe distancing measures both inside the space and when queuing for entry. You will need to maintain a distance of at least 2m from other people within the building unless they are part of your household or support bubble.
● You will be only be allowed entry to the gallery accompanied by members of your household only. In the interest of keeping everyone safe if you do arrive with a guest and are unable to provide proof of shared residency, we will be required by law to permit single entry in a socially distant manner.
● We can no longer offer storage for large bags, coats or other belongings therefore we urge visitors to only bring small bags or essentials.
● We've introduced screens, installed hand sanitisers, increased cleaning regimes and decreased touchpoints. Please ensure your hands are cleaned upon arrival, we will ask you to sanitise upon entry and exit.
● Face coverings are now mandatory within gallery spaces. Our gallery staff will be wearing a face covering and we ask that all visitors wear one too (unless exempt) when inside the space to help keep everyone safe.
● Before making your journey to the galley please make sure that you have not been requested to self-isolate and that you do not have any of the following; a high temperature; a new continuous cough; a loss, or change to, your sense of smell or taste. If you do have any of those symptoms do not travel and contact NHS Direct.
● In the event that you start to feel ill on site please keep your face covering on, maintain social distancing and notify a member of gallery staff who will take you outside and advise how to proceed.
We will brief all visitors on our COVID-19 protocols upon arrival and are really looking forward to welcoming you back to NOW Gallery.