About this Event
Become a mermaid swimming instructor!
This training will allow you to host incredibly trendy mermaid swimming classes yourself as well as be invited to host local events and parties organised by Planet Mermaid. Great addition to any swimming school!
We are looking to collaborate with certified swimming instructors across the UK and abroad. You will get trained on how to provide mermaid swimming lessons and you will become an ambassador of Planet Mermaid UK.
Learn & train from industry masters
Join a well established & respected brand
Provide your current and new customers with a course to be proud of
Our growing mailing list is full of eager students waiting to join your course
Team up with a group of professionals, that can take your business to the next level
We have a backlog of mermaid parties and need Instructors across the UK
Grow your business or start a new one!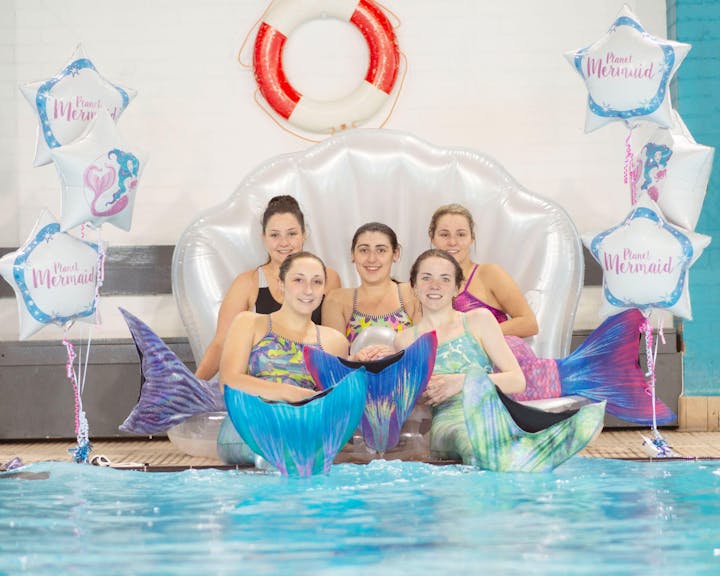 1 Day Certified Training Course - £330 (VAT free)
The training is a one day course and runs from 10.30am - 4pm
The course holds a value of 7 points towards your CPD Training for Staff
The course covers all aspects of mermaid swimming including fitness, swim classes, parties, corporate events and parties
The day is split into a morning of theory and an afternoon of practical poolside learning
A six-week lesson plan, fitness program, party structure and risk assessment will be available on completion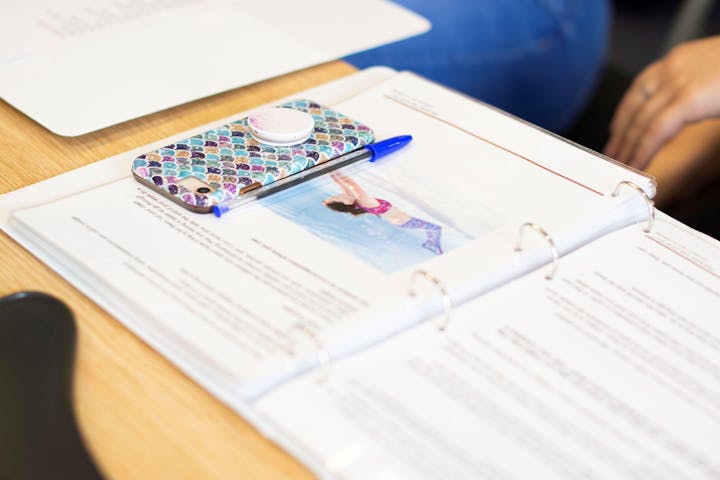 Mermaid Tail Exclusive Offer
Don't miss out - this offer only available at time of booking and not after completion of the course.
Below details the Special Exclusive Offer available whilst booking Training with us.
This offer is only available when purchasing both the Training (£330) and Kit at time of booking.
*Please note, a selection of tails will be available from our MerPlanet Collection.
**However, discount will be given if sample tails are purchased containing a selection of pre chosen colours, available at the time of purchase.
Please refer to the price breakdown below (please contact us should you like to discuss a payment plan):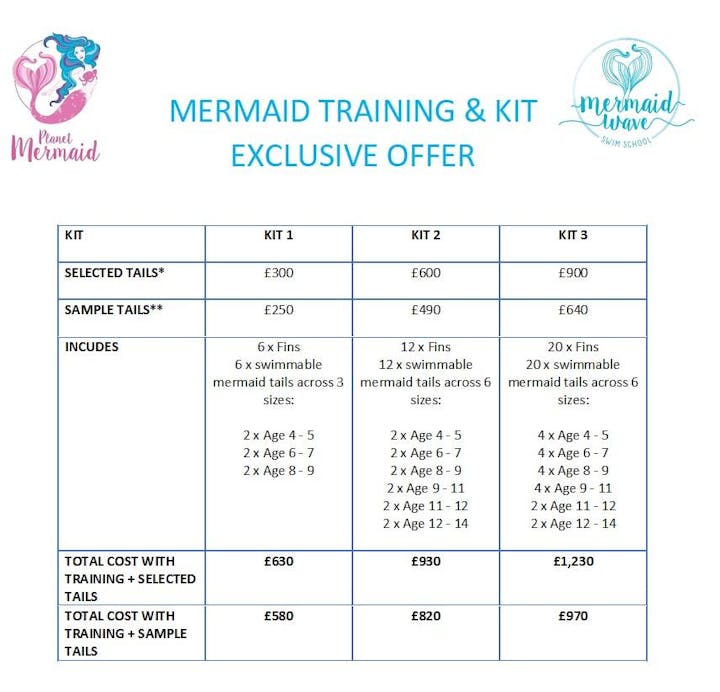 Booking Information
Prior to booking, we require the following documentation to be provided to us via Mermaid Wave website
• Level 1 and 2 Swimming Instructor Certificates (plus any other swim related certificates)
• Insurance documents
• ID - Passport or Driving License. Originals to be brought on the day
• Utility bill (dated last 3 months)
On receipt, we will send you the following documents to sign and return prior to attending the course:
• A signed contract that you will work as consultants for us.
• NDA - agreement form.
Please email events@planetmermaid.com should you have any questions.