Description
#PlanForRetirement
Are you thinking of retiring in the next few years?
Do you understand the options available to you?
Can you afford to live the life you want in retirement?
We spend much of our lives working towards retirement so it's important to be well-informed when you get there. Since pensions freedoms were introduced in 2015, UK retirement planning has changed out of all recognition in just a few short years.
Our senior team of advisers will discuss some of the options you need to consider to fund the retirement you want, whether you're ready to retire now or in a few years' time.
During the evening we will cover:
Practical steps to help you prepare for retirement, what do you want out of it?
Managing your retirement savings, how much will you need?
What kind of pension do you have?
Making your money last – how will you support yourself for the years to come?
The implications of taking the maximum lump sum.
Annuity vs. Drawdown: Pros and cons
Do I have to use my entire pension?
Passing on your wealth
Refreshment and canapés will be provided.
Attendees will also receive a copy of our guide: Know your options at retirement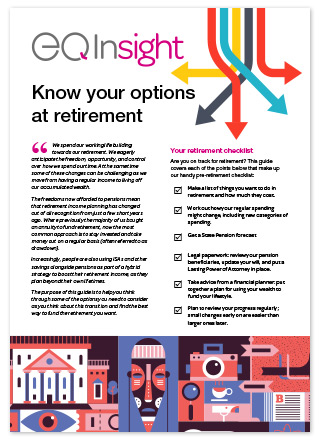 Places are limited so book yours today!