Due to high demand for Super Saturday events, the UK Directors have come together to host another exciting event in Birmingham!
About this event
Discover how you can turn your passion for travel into an extra income, be your own boss and work from home within the travel industry.
Have you ever wanted to work from home or remotely ?
Are you an Entrepreneur?
Are you looking to network with other professionals in your business?
EVENT TOPICS OF DISCUSSION
• How to earn multiple streams of income online
• How to become a travel professional* How to build an international business from home
• How to become an entrepreneur in the travel industry• Intense Business training
* Special trainings for business partners from UK Directors
- 4 Star Director - Marcella Burge
- 4 Star Directors - Chanelle & Terry Fry
- 3 Star Director - David Dacosta
- 3 Star Director - Louise Gatland
& More
DOUBLE HEADER EVENT!!!
Morning Session
Registration: 9:15AM
Opportunity Presentation 10:00AM
Training 11:30AM
-----------------------------------------------
Afternoon Session
Registration: 1:30PM
Opportunity Presentation 2:00PM
Training 3:30PM
Business Partners Single Session £10 *Ticket Only Event
Guests Free
Strictly NO REFUNDS OR TRANSFERS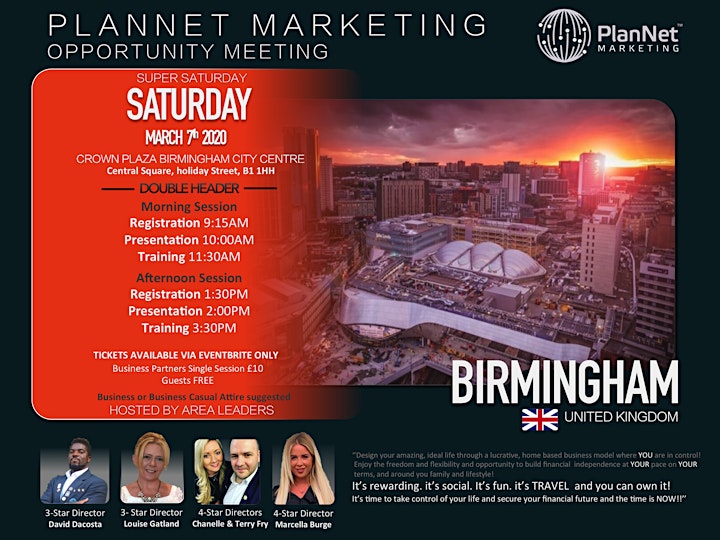 Organiser of PlanNet Marketing UK Birmingham Super Saturday