Description
So you're having a baby. CONGRATULATIONS!!!!
You've thought about the birth.... ALOT. You've got a buggy, some clothes for the baby, a little bed and some nappies.
NOW WHAT???
Have you thought about
How your body will feel in the first 24 hour after birth and what you can do to support healing?

How your emotions will feel in the first 7 seven days after birth and how you can reduce the chances of postnatal depression?

What the signs are of a healthy happy baby, including feeding and sleep? What is the fourth trimester? And most importantly, what's normal?

How will you cope with broken sleep when your baby wants to feed every 1-3 hours through the night?

How will your roles change in the weeks and months after birth, and what do you need to feel calm and contented?

Building a supportive community around you to help your transition into motherhood!
FEAR NOT!!!! These are all covered in my AWESOME event!!!
We will focus on the first month after birth so that you will walk away with your own POSTNATAL PLAN. It not only covers practicalities of having a newborn baby and what to expect in the first month... but more importantly we consider a more gentle, thoughtful and holistic approach to parenthood. I will be drawing on my midwifery experience to bring you up to date evidence based information and most importantly honest practical support.
We write birth plans to cover what is likely to be a 4- 48 hour experience, why aren't we writing postnatal plans so that you enter parenthood feeling calm and confident during the weeks after birth??? I think this is ESSENTIAL.
This is what one of the Mums from my last workshop said about it...... x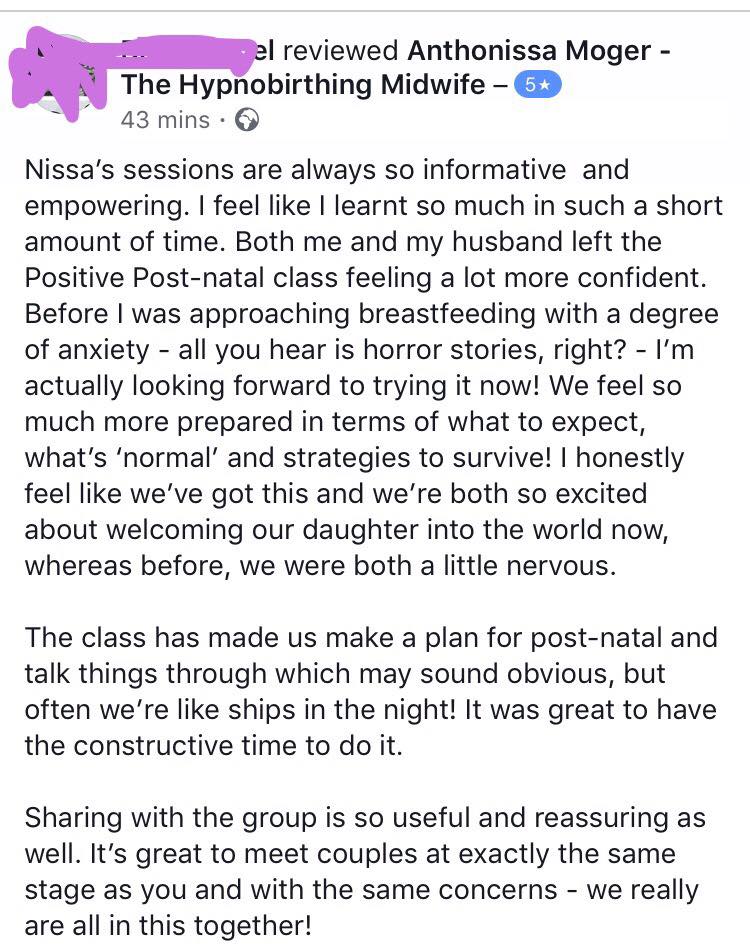 SO LET'S DO THIS!!!!
Join me as we get ready for the BIGGEST adventure of your life!!!! And you'll also receive a LUSH goody bag worth £30.


Much love
Nissa x x x
FAQS
At what stage of my pregnancy should I attend this event?
You can join this event at any stage of pregnancy! It's never too early or too late to start thinking about a positive postnatal experience.
Is this event for me and my partner?
YES! Partners are strongly encouarged to attend with you and one ticket covers a space for both you and your birth partner.
What if my baby arrives before the course?
I will give you a full refund.