Dig into the author's world and explore the characters under the circumstances of the story through Play Analysis.
About this event
During the sessions you will investigate and experience a selected play script through the "Actioning technique" and Stanislavski's "Round-the-table-work" and "Active analysis". The aim of the course is to enable you to approach the text in a resourceful and insightful way to get all the information you need to co-create the character under the given circumstances of the story.
The course is divided in three parts:
• Part 1: "round the table work" (full play analysis)
• Part 2: "actioning technique" and "active analysis" of the selected scenes
• Part 3: recording of the selected scenes
OBS.: The duration of the course depends on the progress of the class
**These classes happen in collaboration with Daniel Dresner**
Website: www.scenestudyveronicasarno.com
Email: scenestudyveronicasarno@gmail.com
About the Tutor:
Verônica Sarno is an actress and director graduated in Brazil at the Escola Superior de Artes Célia Helena, in England at Drama Centre London and Russia at the Boris Shchukin Theatre Institute. The base of her training is the Stanislavski System.
She has worked extensively in film and theatre productions in Brazil and England, including the award winning two-year Brazilian national tour of Spur of the Moment by Anya Reiss and most recently the feature Anonymous by Alasdair Mackay.
Verônica also works as a Voice Over Artist, Acting and Voice tutor. She has worked with different directors in the preparation phase of their productions, gave talks in Drama Schools about the importance of the voice in the acting work and signed a six-month contract with a Drama School in Brazil to be the head of voice.
Currently she manages her own business Scene Study Verônica Sarno and collaborates with different drama schools and artists around the world.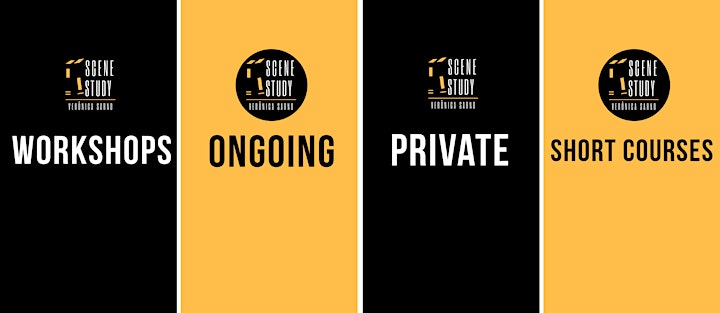 Organiser of Play Analysis - Weekly Classes
The classes at Scene Study Verônica Sarno are space created for performers, professionals and people from varied backgrounds to explore and develop their professional and personal skills through bespoke Scene Study and Vocal Technique classes in a supportive and welcoming environment.