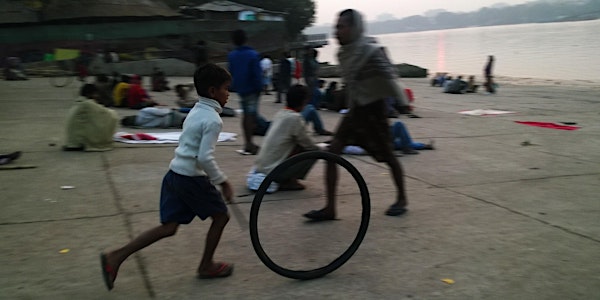 Play, Social Justice and Urban Space - Perspectives from India and Scotland
Event Information
Location
Bellfield
16B Bellfield Street
Portobello
Edinburgh
EH15 2BP
United Kingdom
Refund policy
Refunds up to 7 days before event
Description
Play, Social Justice and Urban Space is an exciting international event exploring children's use of space. How do children navigate their local environments? How do they claim space, making child-friendly environments in contested urban space? What role do adults have? The programme includes a rich mix of speakers from Scotland and India, music, art and dialogue. Light refreshments.
IPA Scotland looks forward to welcoming you to this unique opportunity for planners, designers, playworkers, international development professionals, architects, children's rights advocates and educators to hear perspectives from India and Scotland, and join the conversation.
Photo credit: IPA Access to Play in Crisis, India team
---
Speakers
Dr Sudeshna Chaterjee, CEO ACE Trust (Delhi), Board member IPA World
Play in the unequal city - claiming urban space and forging friendship with place
Sudeshna's presentation examines the ways in which children from slums in Indian cities navigate their local environments to discover and claim spaces which are typically owned by others. The significance of different places that are claimed by children as play territories will be discussed using the theoretical construct of place friendship. That is, how places act as places of escape, relief and spontaneous action particularly for slum-dwelling children living with persistent everyday hazards.
Typically places that are not designed for play, in their exploration of these special places, children make real the affordances embedded in them. Children create temporal child friendly places, where they are able to freely express themselves and claim contested urban space.
Using case studies from different unequal cities, the presentation will discuss
the role of play in place-making

the conflicts that arise between children and adults over these places

the creativity and resilience demonstrated by children.
"Sudeshna Chatterjee is an internationally acclaimed pioneer in the field of research, design and planning for children using a rights-based approach."
Dr Jenny Wood - Co-founder, A Place in Childhood, and Research Associate, Heriot-Watt University.
Children's Rights and Public Space - the role of town planning
The UN Convention on the Rights of the Child states that children should be provided for, protected, and have their participation facilitated in equal measure. However, the ways children view and use space are often misunderstood by those shaping them. Particularly concerning for children's outdoor freedoms is a conception of children's play as discrete and potentially frivolous. This has proliferated the norm of separating child and adult land uses, and arguably negates the planning profession from thinking more broadly about what children do, and where they should be allowed to go.
Through examining the results of a participatory project with 9-11 year olds in Edinburgh, Jenny's talk will explore how place affects children. The conception presented helps balance child and adult land-use needs to consider next steps in how we can both plan for and with children.
Cathy McCulloch, OBE - Co-director, Children's Parliament and Unfeartie
Unfeart Tranent!
200 children from 5 primary schools in and around Tranent spent time learning about the history of their area, the local countryside and issues concerned with climate change and thought about what kind of community they would like to grow up in. Cathy will share some of the children's ideas, highlight the journey they have been on and summarise the views of children from across Scotland about what they feel they need to grow up feeling safe, healthy, happy and loved.
Reflecting article 31 of the Convention on the Rights of the Child (the right to play, cultural life and the arts) there will be music and art elements woven through the event. IPA Scotland is delighted to present:
Marion Kenny
Marion is a charismatic live performer, highly regarded multi-instrumentalist, master storyteller and inspirational trainer living in Edinburgh, Scotland. She plays concert flute, Chinese bamboo flute (Dizi) Chinese reed flute (Bawu) Balinese bamboo flute (Suling) Chinese harp (Guzheng) and piano.
Marion performs as a soloist but is a passionate collaborator. She presently plays with a number of musical ensembles as well as creating music for theatre, dance and storytelling.
She has worked as a professional storyteller since 1994 and has worked in Scotland and internationally as a performer with theatre, circus and physical theatre companies.
Barbara Middleton, Artist/Educator, Chair Edinburgh OWL Group, Board member IPA Scotland
Immersed in evocative music and storytelling, Delegates will be invited to channel their creativity and make their very own kite to fly on Portobello Beach. There will be a wide palette of colours to choose from - you just need to have a go and see what happens!
Barbara is a professional, award-winning, environmental artist who has worked with amongst others including SNH, Woodland Trust, National Trust, Historic Environment Scotland, Museums, Galleries, Concert Halls, Festivals, Arts Organisations and Local Authorities throughout Scotland and beyond. With a wealth of experience in participatory arts practice, she particularly enjoys working collaboratively with others inspired by wild places.
Through many years employed in a parallel career with Community & Family Learning and following Forest School, Forest Kindergarten and John Muir Leader training she has designed creative programmes outdoors - with & for community folks of all ages.
---
Want to become a member of IPA Scotland before booking on and receive a reduced fee for the conference? Follow this link: http://ipaworld.wildapricot.org/joinipascotland
PLEASE NOTE: There are good bus links direct from Edinburgh city centre straight in to Portobello.The venue does not have its own parking facilities. There is free on-street parking in the streets nearby - please factor in some time prior to the start of the event to locate a space if you are driving and consider car-sharing.
IPA Scotland is grateful to Play Scotland and LASC Childcare Services for the support they have provided for this event.
Please contact ipascotland.training@gmail.com if you prefer to pay by cheque or require an invoice for tickets.
Date and time
Location
Bellfield
16B Bellfield Street
Portobello
Edinburgh
EH15 2BP
United Kingdom
Refund policy
Refunds up to 7 days before event