Description
Get set for the weekend with a play workout for adults.
No cross-trainers, no dumbbells and definitely no lycra!
Just short and snappy games with a high risk of laughter.
We'll be standing up, sitting down, running around, being loud, being quiet, using our bodies, using our instincts, rediscovering talents we'd forgotten we had - join in as much or as little as you want.
Say 'yes' and follow the fun!
'Playful Being's events will certainly have you giggling uncontrollably. Sign up - if you don't want to take life too seriously!' Susan
Places are limited, so please register to ensure your place.
This event is a partnership between Playful Being and Playful Anywhere at their Pop Up PlayLab space in Leeds City Centre, and is part of Leeds Wellbeing Week (19 to 25 March).

About the venue
The venue is accessible, and located on New York Street opposite the Post Office and near the Market Event Space entrance. Parking can be found at the nearby NCP Carpark. The venue is within easy walking distance of the main bus station and the train station. Please let us know on registration if you require any support during the activity.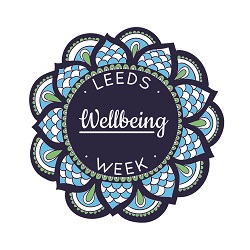 Image credit: Vale of Aylesbury Housing Association