Description
Join us in January for our first playARK After Dark of 2016; we'll be up to the usually hijinx, with some pulse setting, skull scratching gaming, and we'll be throwing a new shape in the mix with a crash course in DIY gaming.
A few of you have told us that you fancied getting your hands dirty by having a crack at producing your own games and experiences. So after stirring your imaginations there'll be a chance to work with yello brick's game masters who will guide you through the basics to help you create a real life game. yello brick use a simple 3 ingredient method when designing their games and they will take you through this step by step. It's so simple that everyone will have a game to play by the end!
Not only will you have a fun night out (as you'd expect with playArk) but you'll leave with the tools and techniques to create your own games that'll keep you and your friends going/ playing for hours and that you can run at future playARK events. Bargain.
Early bird tickets have been extended until the 18th, they are £4 (£2.94 to playARK and £1.06 booking fee to Eventbrite). After this tickets will be priced at £7.
playARK After Dark is brought to you by yello brick: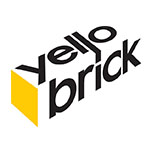 And is kindly supported by The Arts Council of Wales, The Wales Millennium Centre, thinkARK and Hoffi.