Pro Bono Week 2021: The innovation & LawTech project in Wales that aims to connect local communities with accessible legal advice.
About this event
Join Legal News Wales, Swansea Law Clinic, (based in the Hilary Rodham School of Law at Swansea University), the Legal Innovation Lab Wales (LILW) and other speakers to see how the work of a free legal advice clinic in Wales is being used as the basis to measure the use of LawTech and innovation in the legal sector, to enhance and enable access to justice.
In September 2021, the Solicitors Regulation Authority (SRA) announced it had appointed Swansea Law Clinic and the LILW as the Welsh partners for research after the regulator was awarded funding through the UK government's Regulators Pioneer Fund (RPF).
The award of £167,856 from the Department for Business, Energy and Industrial Strategy (BEIS) will be used to create a new network where regulators, expert research institutions and local government can work together to improve legal access within local communities. They aim to do this by supporting, testing and promoting new and emerging legal technology.
Through this project, the researchers aim to better understand how technology can address the challenges encountered by under-represented and vulnerable communities in accessing legal advice - specifically in the Swansea Bay area, a region supported by Swansea Law Clinic.
Our event is scheduled to take part during Pro Bono Week 2021 - the 20th annual Pro Bono Week which will take place this year from 1 to 5 November 2021. The UK-wide celebratory week will offer an opportunity to recognise and support the voluntary contribution made by the legal profession across the UK in giving free legal help to those in need.
Our event: what to expect
We'll be joined by the project leads in Wales, and other speakers (TBA) at this free, online event to provide:
Insight on the six-month project: why Pro Bono has taken centre stage in the research
The scope of the research: the communities involved, the free legal advice they might receive and he current challenges
Current observations & reflections of the project to date
Hope for the impact of the project on how LawTech could further support the provision of Pro Bono and accessible legal services in Wales and in England
Who should attend?
Anyone with:
An interest in or involved in offering free legal advice and pro bono legal services
An interest in innovation and LawTech in the legal sector
An interest in regulation and legal services in Wales and England
Speakers
Stefano Barazza, Academic Lead at the Legal Innovation Lab Wales (profile)
Professor Richard Owen, Hilary Rodham School of Law, Swansea University (profile)
Liz Withers, Head of Welsh Affairs, the Solicitors Regulation Authority.
Chaired by: Emma Waddingham, Editor, Legal News Wales & member of the Reaching Justice Wales committee.
Useful information on accessing the event can be found below.
The 20th anniversary of Pro Bono Week will be a pivotal moment to look ahead to the next twenty years of pro bono whilst also shining a spotlight on some of the key moments and cases from the past two decades.
This look to the future will also coincide with the focus on climate change taking place in November with the 26th UN Climate Change Conference of the Parties (COP26) in Glasgow.
As in previous years, during Pro Bono Week, organisations will be encouraged to organise events, comms and publications which focus on one of three topics:
Celebrating pro bono: commending those who give back and recent successes in pro bono.
Pro bono pathways: exploring the different ways lawyers can volunteer throughout their careers.
Effective pro bono: sharing best practice and discussing what makes an effective pro bono service.
Law firms, chambers, legal societies, charities, in-house lawyers, law schools and universities are encouraged to plan events or comms campaigns, both internal or external, to take place throughout the week. Many organisations will also take the opportunity to publish reports or launch new initiatives to an engaged pro bono audience. Events will be a mixture of online, in-person and hybrid events.
Pro Bono Week 2020 saw over 50 events take place across England, Northern Ireland, Scotland and Wales, involving over 2,000 attendees from all branches of the legal profession. The overarching theme was "Pro bono: Through the pandemic and beyond". CLICK HERE to view the Legal News Wales 2020 event, Pro Bono in Wales: Opportunities for all, that attracted 300+ attendees to the online event for Wales.
To view the full event schedule for Pro Bono Week 2021, please click here.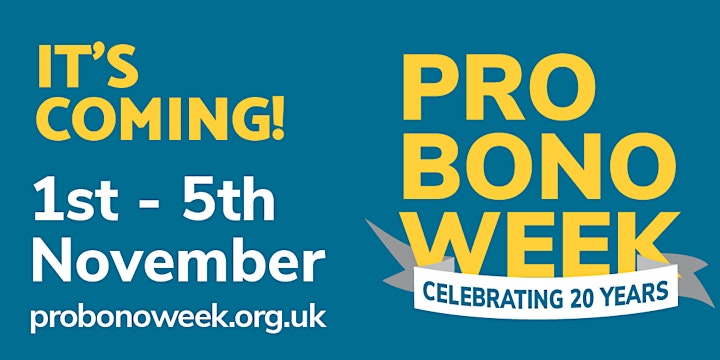 Organiser of Plugged in Pro Bono: innovation, law tech & Pro Bono in Wales
Legal News is the first free, independent source of news, analysis and valuable information on the business of law, events and careers for the legal sector in Wales.
Legal News covers the latest issues, campaigns and success stories affecting legal professionals and practices across Wales. We want to speak to the people who elevate our sector to those at the forefront of the business of law – matters that grow or impede success.