Join us for an interactive talk led by two female founders that are taking gaming to the next level.
About this Event
To mark International Women's Day and Women's History Month, Plus X has partnered with Found + Flourish to curate a month-long series of events. 'Trailblazing Women' celebrates the women in our business community that are innovating for social, environmental, and political good – in Brighton and beyond. Part of Spring Forward Festival 2021, find out more here.
This year's International Women's Day theme is #choosetochallenge. Individually, we're all responsible for our own thoughts and actions - all day, every day. We can choose to challenge and call out gender bias and inequity. We can also choose to seek out and celebrate women's achievements.
This event is an interactive talk led by two female founders that are carving a path in the male-dominated gaming industry. Sarah Ticho of Hastumi and Hazel Reynolds of Gamely Games will be discussing their inspiring stories, how to run a kind business, why there is a lack of women in gaming tech, what the future looks like, and, most importantly, a demonstration of their products.
This event is brought to you by the BRITE Innovation team based at Plus X Brighton. BRITE have chosen to celebrate women's achievements by sharing the story of two purpose-led local businesses that are innovating for good.
AGENDA:
11am - Coffee morning panel
11.20am - Sarah Ticho, VR demonstration
11.35am - Hazel Reynolds, Gamely Games demonstration
11.50am - Q+A
12.00pm - Event close
TICKETS
We are offering a pay-what-you-can ticket option, with all proceeds going to our charity for the month, Brighton Women's Centre (BWC). BWC has been supporting self-identifying women in the Sussex area since 1974 – all donations will contribute towards their food bank, therapy, and peer-to-peer support services. However, we want these events to be as accessible as possible. If you are unable to make a financial contribution to BWC at this time, we are also offering a free ticket option to this event at checkout. Anyone with a ticket is automatically entered into a raffle to win a month's free desk space at Plus X Brighton.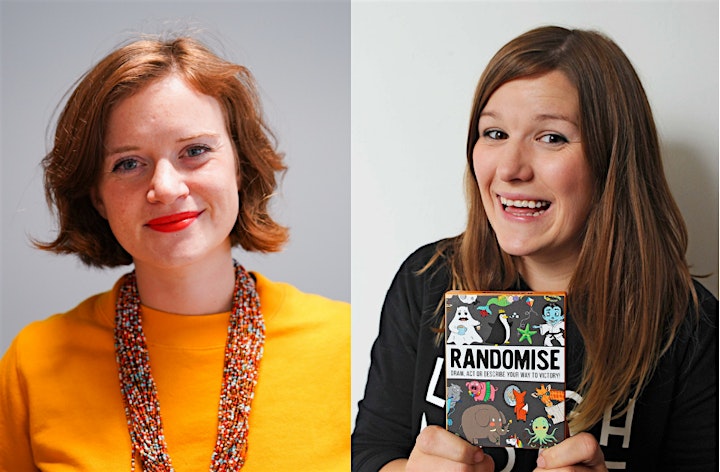 Meet the Speakers
Sarah Ticho, Founder, Hatsumi
Sarah a producer, consultant and company founder at the intersection of immersive technology, healthcare and the creative industries. In 2018 she founded Hatsumi (which means to see for the first time), they develop work merge immersive technology, participatory art, and storytelling to improve physical and mental health. She is the producer at Explore Deep, an award-winning clinically validated breath controlled VR experience designed to reduce anxiety, developed in close collaboration with the Games for Emotional and Mental Health Lab, Radboud University. She has worked with a number of organisations across the immersive and healthcare space including Immerse UK, Healthcare Education England and the XR Safety Initiative Medical Council and continues to create opportunities to bring together practitioners across academia, healthcare and the creative industries to create an equitable and just future.
Hazel Reynolds, Founder, Gamely
Hazel Reynolds is the founder of Gamely, a Brighton-based company that helps people spend more quality time laughing with their family and friends. They do this by creating hilarious card games that really bring people together - including bestseller Soundiculous and newest creation A Little More Conversation. The business is growing fast - they've sold almost 250,000 games over the last five years, as well as appearing on Dragons Den and being named the Amazon UK Small Business of the Year 2019. Gamely is deeply values-driven and their motto is 'Have fun. Do good' As well as continuing to donate 10% of all profits to charity, in 2020 they gave away more than 2,500 games to charities and children most in need of a smile through their 'games for good' initiative.
FAQs
Is this event online? Yes, this event will be hosted via Zoom, so you can enjoy the workshop from the comfort of your home.
How will I get my link? The Zoom link will be available on the online event page and emailed out to you before the event starts.
Do I need to print my ticket? No, but you do need to register ahead of the event.
How much is the event? This event is free to Plus X members, students, those who are financially unable to contribute. Please make a donation of any size to CHARITY?at checkout and you will automatically be entered into a raffle to win a month's desk space at Plus X Brighton.
Are the tickets refundable? Unfortunately we are unable to process refunds if you have already purchased your ticket. If you would like to contact the organisers, please send us an email eventbrighton@plusx.space.
Are men allowed? Absolutely yes! Feminism is a social issue, not a women's one. We highly encourage anyone to attend, regardless of identity.
Can I reserve a space? Unfortunately not. We operate on a first-come, first-serve basis, so please make sure to join the link as early as you can.
Can I submit questions to the panellists? You're welcome to ask Hazel and Sarah any questions during the workshop, however, you can also email any questions in advance to eventsbrighton@plusx.space.
Where can I find out more about the organiser? You can find out more about Plus X Innovation hubs and business support here.
Who else is going? Whilst we cannot divulge the information of other guests, the audience will be varied from freelancers and students, entrepreneurs to budding businesses and start-ups.
Please contact eventsbrighton@plusx.space if you have any other questions.

The project is receiving up to £5m of funding from the England European Regional Development Fund as part of the European Structural and Investment Funds Growth Programme 2014-2020. The Ministry of Housing, Communities and Local Government is the Managing Authority for European Regional Development Fund. Established by the European Union, the European Regional Development Fund helps local areas stimulate their economic development by investing in projects which will support innovation, businesses, create jobs and local community regenerations. For more information visit www.gov.uk/european-growth-funding.