"To be a trailblazer, you have to have been through the blaze" - Carolynn Bain
About this event
To mark International Women's Day and Women's History Month, Found + Flourish has partnered with Plus X to curate a series of events. Trailblazing Women celebrates the women in our business community that are innovating for social, environmental, and political good – in Brighton and beyond. Part of Spring Forward Festival 2021.
The Age of New Directions
Ever dreamed of starting your career again from scratch? Join this informal lunchtime panel discussion to learn from three Brighton women that have completely changed their working lives later in life.
Each has started a new business or vocation within the last few years, switching to a different field, and in doing so found fulfilment.
Through their unvarnished stories, attendees will learn how to set a new direction in life, find a passion project post-motherhood and overcome obstacles. The speakers will also share their missions to connect with communities, improve diversity in the workplace and support marginalised voices.
Expect some big characters, big laughs and inspiring personal tales of determination and resilience in the face of adversity.
Event Details:
11am: Intros & panel discussion
11: 55 am: Q+A
12:15 pm: Finish
TICKETS
We are offering a pay-what-you-can ticket option, with all proceeds going to our charity for the month, Brighton Women's Centre (BWC). BWC has been supporting self-identifying women in the Sussex area since 1974 – all donations will contribute towards their food bank, therapy, and peer-to-peer support services. However, we want these events to be as accessible as possible. If you are unable to make a financial contribution to BWC at this time, we are also offering a free ticket option to this event at checkout. Anyone with a ticket is automatically entered into a raffle to win a month's free desk space at Plus X Brighton.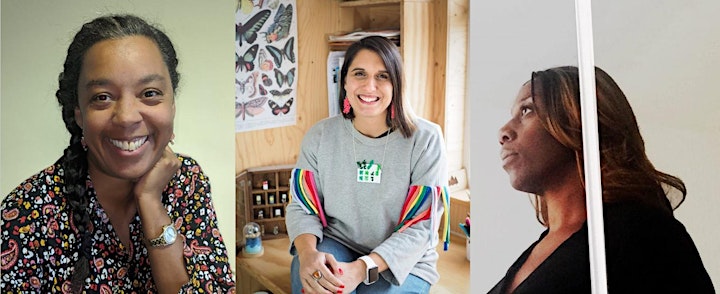 Meet your speakers
Carolynn Bain
"If I had to put who I am in any kind of order I am first a Christian Black woman. I am also a mother, a bookseller, an activist, a mentor, a lyricist and a wife. I went to uni in my 40's earning a 1st in event management and working around Europe at everything from Glastonbury to world leaders' summits. My life has been a battle against racism and the need to educate about white privilege. In 2020 I decided it was time to change the world. I opened an online bookshop that created a one stop-shop for books by black authors. I did this in the firm belief that what we read changes who we are and how we think. Afrori Books now has the biggest selection of books by black authors in the UK. Giving a platform to over 2000 black authors through our shop and social media channels. Our Mission plan is simple: *Support black authors. *Create diverse bookshelves. *Be a voice for justice."
Silvina De Vita
"I am an Argentinian artist based in Brighton. I am the founder of My Papercut Forest, where we make and sell beautiful, miniature paper cut art and DIY craft kits. I'm hoping to bring the therapeutic joy of paper cutting to the world! I'm lucky enough to have featured in a BBC4 documentary and on ITV's This Morning.
I also set up the Arts & Craft Project, which seeks to offer new craft skills and opportunities to my local community around The Bevy Community pub. I'm also Captain of the Brighton Etsy Team and host regular meet ups for makers and sellers from in and around the Brighton area.
Outside of work I love spending time with my three boys, growing things in my garden, getting creative with paper and admiring tiny things.
Judith Ricketts MSc, MA, FRSA.
"I am an Artist and Lecturer in Digital Media, specialising in mobile, screen based and real-world immersive serious games.
My practice is thematically centred on the spatial memory of the city's built environment as an intersectional backdrop to examine data related to the gaze, that is human to human looking, and by extension machines that see. In this practice I use, moving image, creative coding, augmented reality, virtual reality and data with a central focus on storytelling for social change.
I am Lecturer and Module Leader across three courses; Design for Digital Media BA (Hons), Games Art BA (Hons), Animation BA (Hons) and Visiting Lecturer Graphic Design MA at the University of Brighton.
Subjects as guest speaker are at the intersection of digital humanities, digital geographies, feminists hacking, code and multiculturalism, archives and [Black] History.
Fellow of the Royal Society of Arts, a STEM Ambassador, member of Brighton & Hove Heritage Network, Crossing Cultures Decolonising the Curriculum, and Board member at the Centre for Digital Media Cultures at the University of Brighton."