Plymouth Enterprise Week: Business Networking Breakfast
Description
Join us for a free Business Networking Breakfast to launch the start of Global Entrepreneurship Week (GEW) in Plymouth!
This event is open to all University of Plymouth students and local business representatives.
The University of Plymouth, with support from the Devon Chamber of Commerce, Plymouth Business School and Natwest, are hosting this event to provide a networking opportunity to bring together university students with budding entrepreneurs and business professionals from across the region. The proposed programme is as follows:
08:00 - 08:30 - Arrival, light breakfast, refreshments and networking
08:30 - 08:45 - Guest speaker - Scott Gould, Author, The Shape of Engagement
08:45 - 09:30 - Networking
09:30 - 10:30 - Workshop delivered by Luv4 Marketing & Natwest - The Power of Lead Generation: Turn Why into Wow!
---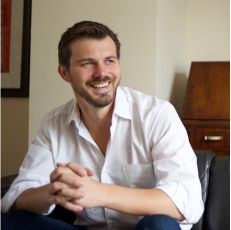 SCOTT GOULD is the author of The Shape of Engagement, and an expert on how people engage with ideas, brands, organisations, and each other. A former church pastor, Scott champions the cause of real connection in a world where so much is only skin-deep. As a popular speaker, he inspires audiences with the authentic and humorous story of how he went from socially uncomfortable young man to someone who discovered how to engage anyone, anywhere.
As a consultant he has advised some of the world's biggest brands and oldest organisations on nurturing highly engaged customers, employees, and communities. His book deconstructs and demystifies engagement through a series of shapes, based on nine years of research and almost 20 years of experience, across sectors as diverse as aviation, education, government, startups, and of course, religion. Scott is a Fellow of the Royal Society of Arts, and UK Chair of the Enterprise Engagement Alliance.
He is also a poet, has a young family, and controversially, does not like cat memes.
---
Luv4 Marketing & Natwest - The Power of Leader Generation: Turn Why into Wow!
Is Your Marketing Achieving The Results For Your Business?
Leads drive growth. Our speaker will take you through the platforms that drive leads to your business together with how to have your campaigns running profitably from month 1.
Whatever your efforts to date, you will take away key learnings of how to drive leads into your business from multiple sources and the difference between each
Also learn;
- How to benefit from a £12,000 government funded digital marketing apprenticeship
- Have a 90 day plan you will believe in
- Have the confidence to grow