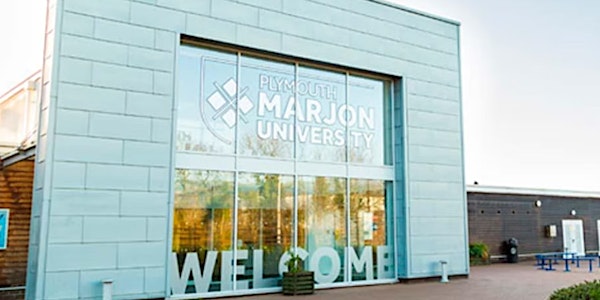 Plymouth Marjon Early Years Celebration
Location
Plymouth Marjon University
Derriford Road
Plymouth
PL6 8BH
United Kingdom
Plymouth Marjon Early Years Celebration: An event recognising the unique needs of children from birth to five and those who work with them.
About this event
In association with CAPE Research & Knowledge Exchange group, you are invited to book to attend this fully funded day conference at Plymouth Marjon University on Saturday 9th of July.
We have three exciting Keynote speakers, Greg Bottrill, Lynnette Brock and our very own Nicky Walters.
Please find below details of the day, including information about activities, speakers and how to book your free place:
(If places are sold out when you try to book, please contact Claire Benwell so that we can keep your details on a reserve list in case of any cancellations: cbenwell@marjon.ac.uk)
Conference Programme
10.00 Registration
10.15 Welcome
10.20 Keynote 1: Greg Bottrill - What if we reclaimed childhood?
11.20 Refreshment Break
11.40 Keynote 2: Nicky Walters – Magnificent Maths, Subitising
12.40 Lunch, Networking and Research Activity, as well as a Resource Trail
13.40 Keynote 3: Lynnette Brock – A peep into SchemaPlay Pedagogy
14.40 Closing Remarks
14.45 Refreshment Break, Evaluation Activity and Resource Trail
15.15 Depart
Activity Trail
The event will also include some activities, such as an interactive activity trail, that presents provocations and displays exploring the following:
• Once upon a time
• The great outdoors
• Beyond the treasure basket
• The language of shape
• Preparing for the pen
• Natural Art
Keynote 1: Greg Bottrill - What if we reclaimed childhood?
What is it that children need and how might we enable them to find it? In his keynote, Greg will explore what we need to amplify children's innate capabilities, their creativity and their 'dreams'. He will also share some simple ways to add extra joy to the days spent with young children and how we might join into the rallying cry for childhood itself.
BiographyGreg is a passionate advocate of childhood and the author of the bestselling books 'Can I Go And Play Now?' and 'School and the Magic of Children', as well as the creator of Drawing Club, Play Projects, Adventure Island and the Inventures of Noodle and Titch. All of Greg's work is deeply embedded in the heartfelt belief that children want adventure, mystery and an authentic sense of belonging to their own days. Greg explores how we can offer children an education done with children not to them, with genuine joy, connection and love being at the centre of our practice.
Keynote 2: Nicky Walters – Magnificent Maths, Subitising
Nicky will be exploring Maths within the Early Years, introducing Subitising and how practitioners can plan, observe and assess development in this area in engaging and exciting ways.
BiographyNicky has over 30 years of experience in the education sector. Her roles have included: class teacher, children's centre teacher, headteacher and local authority advisory teacher. Her particular interests are in the early years, play, outdoor learning, and storytelling. Nicky currently supports a number of programmes at Plymouth Marjon University as a lecturer and tutor.
Keynote 3: Lynnette Brock – A peep into SchemaPlay Pedagogy
Lynnette will be providing insight into this SchemaPlay approach to pedagogy and considering how practitioners can best support Children's Learning Continuities in respect of the following:
• Self-regulation.
• Resilience.
• Mastery.
• Children's line of enquiry/investigations.
• Gender Equality.
• Flow.
• Observation/Seeding/Extending.
• The Child's Voice.
Biography
Lynnette Brock is the co-founder and director of SchemaPlay Community Interest Company which launched in 2018. Lynnette is a true advocate for nourishing young children's learning and global citizenship through free-flow play.
Lynnette has authored and co-authored several early years' research papers and books; including 'Putting the Schema back into Schema Theory and Practice', 'The SchemaPlay Activity Ideas Guide', 'Education for Sustainable Citizenship in Early Childhood': 'Think Children's Future Today', and more recently co-authored the OMEP-UK Education for Sustainable Citizenship Award programme (for which she trained the initial cohort of trainers) and the SchemaPlay Setting Accreditation programme. Lynnette launches the SchemaPlay Curriculum Wheel which is designed to support early years' educators in following children's lines of enquiry, their investigations through free-flow play, in Summer 2022.
SchemaPlay pedagogical training and the SchemaPlay Accredited Setting Program is currently offered across the UK and in Western Australia, where SchemaPlay has partnered with Murdoch University, Catholic Education, as well as The Association of Independent Schools, Western Australia.
Booking Practitioner Places
We are eager to provide places for all levels of practitioners, therefore we request that individuals book using their own email address. Nominally, we have two spaces for each setting, we request that settings do not make bulk bookings, as places may be cancelled in this case. Please use the Eventbrite booking system.
Booking Student Places
To enquire about one of the limited Student Places, please email Hannah Holdgate hholdgate@marjon.ac.uk stating your programme and level of study.
Joining Instructions
Joining instructions and further details of conference arrangements, will be emailed to registered attendees on Friday 1st July. This information will include detailed instructions around travel to Plymouth Marjon University, as well as information about accessibility arrangements.
Cancellation
You are requested to advise the organisers if you will not be able to attend, so that places can be reallocated. We anticipate the event being well attended and will be running a reserve list.
Research Activity
At Plymouth Marjon University, we are excited to expand our CPD offer for Early Years Practitioners and Professionals in Plymouth and the Surrounding area. We will therefore be conducting some research during the event. This research has enabled us to fund the running of this event.
Refreshments
The conference includes free refreshments, morning and afternoon coffee and tea and lunch.
Covid Statement
Plymouth Marjon University recognising the risk posed by Covid and has a range of processes in place to reduce risk to those attending events on campus. If you are experiencing symptoms of Covid, you are asked to avoid attending the event.
Parking & Travel arrangements
Parking is available on campus and is free of charge on a Saturday. The campus is also accessible vis Bus Routes. Details of which will accompany the Joining Instructions.
Contacting the Conference Organisers
Should you wish to contact the Conference Organisers, you can email them as below:
Jayne Garcia: jgarcia@marjon.ac.uk
Hannah Holdgate: hholdgate@marjon.ac.uk