Description
Managing your PMDD: Symptoms & Solutions
Building on the success of PMDD & Me 2019 we bring you PMDD & Me 2020!
This day is designed entirely for you and your own unique experience of living with PMDD. Whether you are a sufferer or love someone who is, there is something for you here.
We deliver only verifiable, evidence-based information and work to empower you in becoming your own menstrual health advocate.
Our theme for 2020 is Managing your PMDD: Symptoms & Solutions - you will have a wide range of workshop options, a bigger exhibition and more opportunities to network and share experiences.
In a brand new, purpose-built conference venue, situated just an hour from London via train or car, the University of Winchester is an ideal location overlooking the historic city. Only 10 minutes from the train station and with excellent park and ride facilities, the venue is accessible for everyone.
Please note, if you are a health professional, whilst you are very welcome to attend this day, we have a purpose-made day just for you on 24th April 2020.

Keynote Speaker:
Dr Tory Eisenlohr-Moul Ph.D.
Tory is the International Association for Premenstrual Disorders (IAPMD) Clinical Advisory Board Chair, and her live-streamed presentation at the 2019 Conference was so well received, we're going to fly her over to the UK to speak in person! Tory is also the Associate Director of Translational Research in Women's Mental Health at the University of Illinois at Chicago Department of Psychiatry and as a scientist, she uses clinical trials to clarify the biological causes of perimenstrual risk for suicide, substance abuse, and interpersonal conflict. She is also a psychologist specialising in the diagnosis and treatment of premenstrual disorders (PMDs) and runs a multidisciplinary outpatient clinic for treatment-resistant PMDs. Tory will be presenting on the recommended treatment pathway for PMDD, and will take questions on your various options. For more information see www.iapmd.org
Plenary Speakers:
Diane Danzebrink
Diane Danzebrink is an internationally renowned menopause expert. As a Psychotherapist and wellness consultant, Diane supports those experiencing the menopause and specialises on the hidden aspects of mental and emotional health. Diane is the founder of the Menopause Support Campaign #MakeMenopauseMatter and campaigns for a better awareness amongst employers, health professionals and in schools. For more information see https://dianedanzebrink.com/
Sandi MacDonald
For over 20 years, Sandi has worked in the human services field with trauma, abuse, suicide victims, and survivors. She has taught college-level programs such as mental health and addictions. As a woman with PMDD, Sandi has been with IAPMD (then NAPMDD) since its inception in 2013. Sandi developed the Peer Support programme and is a Wellness Recovery Action Plan (WRAP) Facilitator. Sandi will present on the IAPMD Peer Support Programme and the importance of creating a WRAP Plan. Sandi will also be running workshops to guide you through writing your own WRAP Plan. For more information see https://mentalhealthrecovery.com/

Nigel Denby
Nigel Denby is a registered dietitian, author of ten successful nutrition books and a broadcaster across television and radio both in the UK and Europe. Dietitian of the Year 2013, Nigel is the author of The Denby Report – the leading and authoritative review of nutritional subjects. Nigel works with Mr Nick Panay in his PMS/PMDD clinic and specialises in hormonal health, PMS, PMDD and menopause. Nigel will be speaking on the importance of diet and nutrition on the management of your PMDD related symptoms. For more information see https://www.nigeldenbydietitian.co.uk/
Professor Torbjörn Bäckström and Dr Paula Briggs
Professor Torbjörn Bäckström is an internationally renowned specialist in obstetrics and gynaecology and has been researching PMDD since the 1970s. Prof. Bäckström currently sits as the senior Consultant at the Department of Clinical Science and Director of the University of Umeå, where pioneering research into the first drug trial for PMDD, Sepranolone is generating very promising results. Dr Paula Briggs is a GP and Lead Study Investigator for the Asarina Pharma PMDD trial at Liverpool Women's Hospital and is a Consultant in Sexual and Reproductive Health for Southport and Ormskirk Hospital NHS Trust.
Confirmed Workshops:
Clare Knox - See Her Thrive: Thriving at work
Sandi MacDonald - IAPMD: WRAP Planning
Dr Mandy Leonhardt - Hormone Equilibrium: PMDD Cafe
Brett Buchert - IAPMD & Me v PMDD: Self-management through symptom tracking
Various alternative therapies available throughout the day for you to try including:
I'm not bendy yoga taster session

Mindful cross-stitching

Nurturing through nature

Massage, reflexology and Reiki

Skin nutrition and care

Mini facials
Live Streaming
Can't make it in person? Get yourself a live streaming ticket and watch from the comfort of your own home at a time and pace to suit you! The live streaming ticket will give you access to view all of the presentations from our Professionals Day on Friday 24th April 2020, and all of the morning speakers on Saturday 25th April 2020, giving you over 8 hours of the latest PMDD information and research to support you in managing your PMDD and becoming your own menstrual health advocate. Please ensure your internet device is capable of connecting to the streaming site (www.zoom.us) and can successfully play the video. PMDD & Me CIC is unable to take any responsibility for your internet device not being able to play the video. Our technical team fully test all video and playback on multiple devices (laptops, desktops, Mac, tablet, iOS and Android) and types of internet connections including 4G, fibre, and standard broadband with multiple scenarios.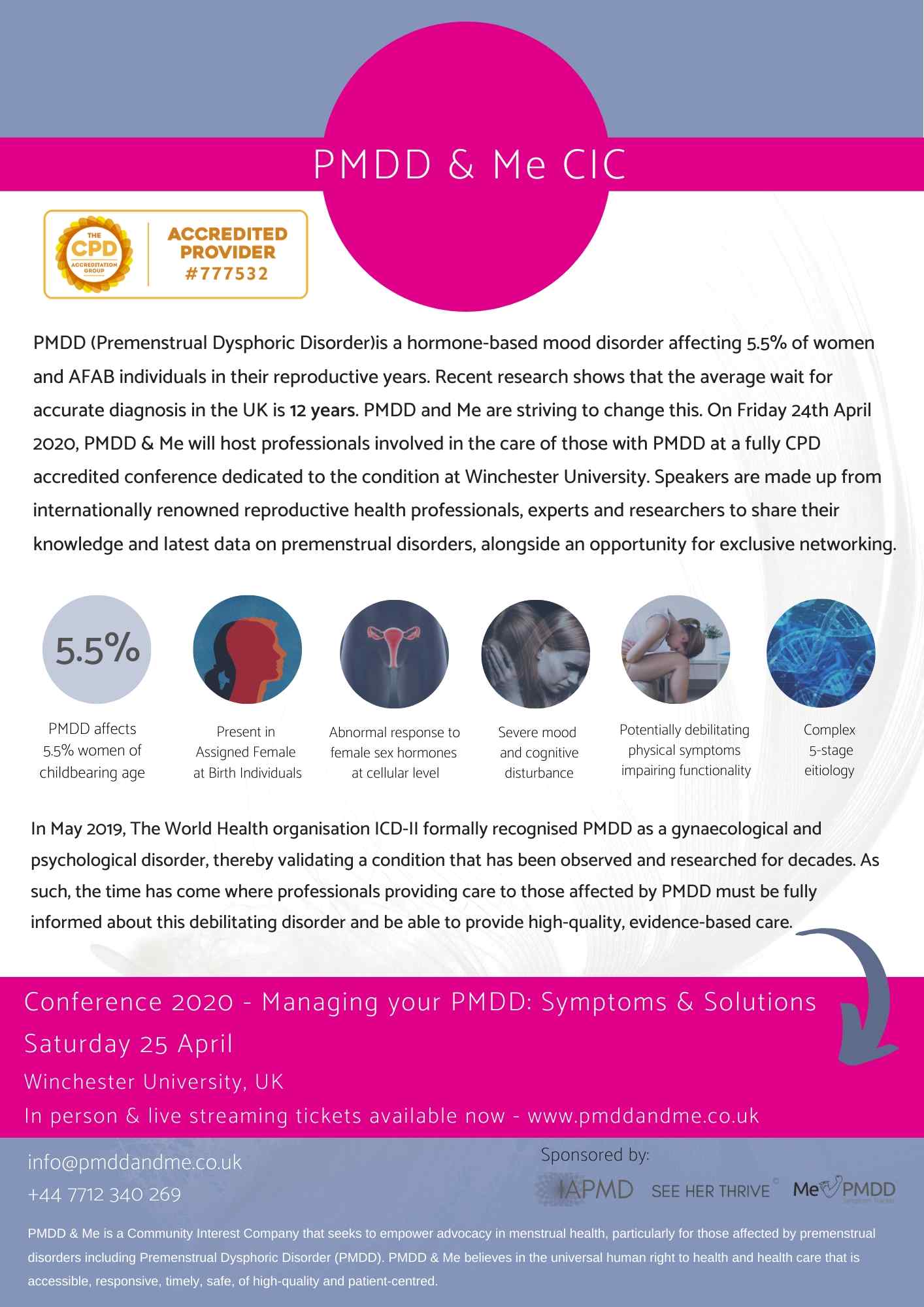 PMDD & Me reserves the right to change the programme