Description
PMI UK Career Forum 
The PMI Career Forum is the premier event that creates opportunities for project management professionals to connect with companies specifically seeking their unique skill sets. It will bring together hiring managers from PMI corporate partners, recruitment consultants and job candidates with skills, knowledge and experience in Project, Programme and Portfolio Management, Agile, Risk and Scheduling Management Professionals, Professionals in Business Analysis.
It is a chance for individuals and leading companies from varied industries to meet and discover employment opportunities. Job seekers will interact directly with employers and recruiters, attend seminars and potentially engage in formal one-on-one job interviews at the event.  
If you'd like to learn from recruitment specialists in the resourcing business in both private and public arena about:
* how to stand out in the project management job market
* what employers are looking for and how they find the right project management job candidates
* learn about personal development and career progression in project management
* meet with employers and recruiters regarding your next role,  then this event is for you.
Our goal in the Career Forum is to bring PMI members, ex-military people and reservists in search of new job roles in touch with organisations and individuals in project management to participate in what we expect to be a win-win experience for all involved.
Benefits to jobseekers 
Explore career opportunities with multiple companies of interest in one convenient location.
Connect with the hiring decision makers directly from top companies
Opportunity to make yourself professionally memorable and increase your chances of getting the job.
Determine professional areas you need to strengthen for improved competitiveness in the market place.
Build a network with other career seekers and obtain valuable insight from their job hunting experience.
Free LinkedIn professional photo headshot (worth £125) 
Benefits to recruiters
Gain access to and explore a large number of candidates in a one-stop environment.
Achieve dozens of short, informal interviews over the course of a few hours.
Reduced wasted time on interviewing unqualified candidates.
Save time and money connecting with a large pool of potential employees without having to advertise
Meet with globally recognized and demanded candidates – Project Management Professionals (PMP) as well as ex-military personnel and other qualified jobseekers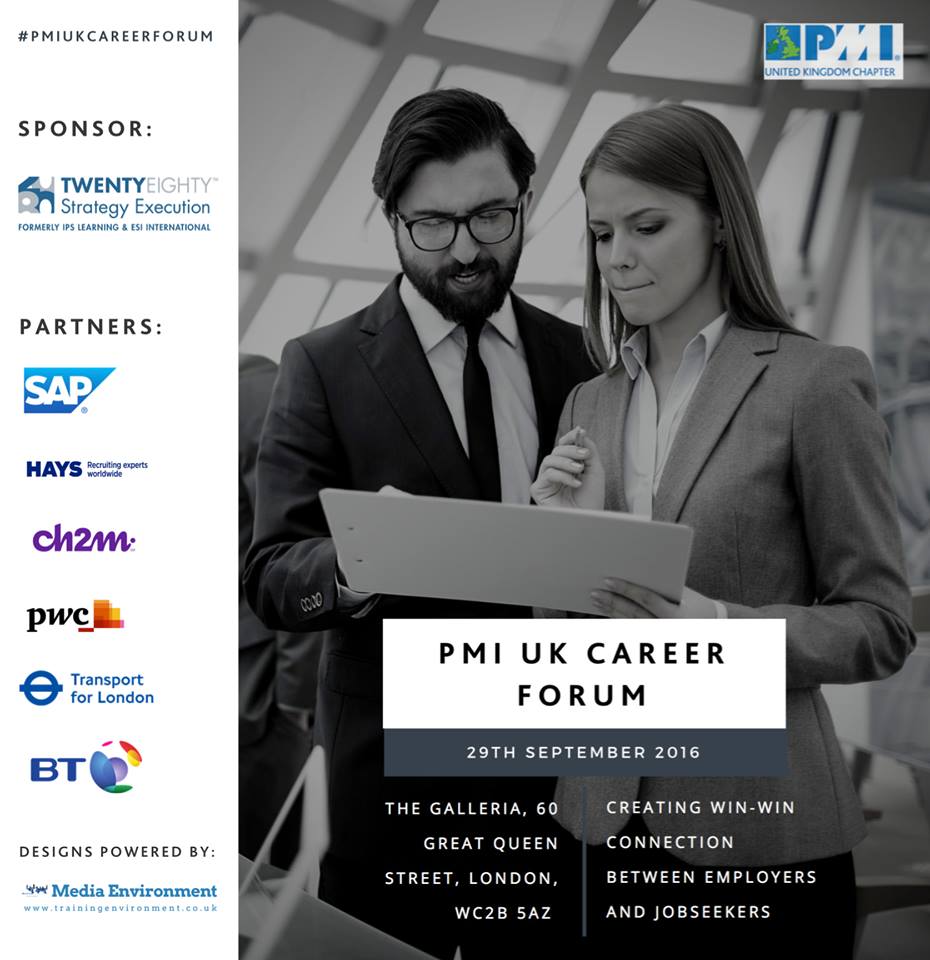 Activities of the day include:
Segment 1 - Workshop and Presentations in three streams
(i). On Selling Yourself  
Interview skills and techniques, CV writing - tips & advice, optimizing your CV for job boards, using key words.
Tips & advice on using social media to secure a new role, optimizing your online presence, 'dos and don'ts'.
How recruitment agencies recruit candidates 
(ii). Career Development  
How do you start a career in project management? -Attractions, challenges and steps. Steps towards becoming a contractor or consultant.
Project management across different industries - How do you move from one sector to another.
How to progress in your Career and change from one project management role to another. 
(iii). Personal Development
Developing competencies for the job market - drawing from the PMI Talent Triangle – Technical skills, strategic and business management skills, leadership skills
Learning opportunities in project management and the importance of PMI certifications
Educational Opportunities in project management  *Universities - Post Graduate and Doctorate Degree Programmes in Project Management  *PMI Registered Education Providers (REPs) Providers of PMI certification trainings
Segment 2 - Discussion Panel 
The discussion panel will feature recruitment experts and professionals from sectors such as finance, construction, media, telecoms, IT, health, utilities, advertising, oil and gas, pharmaceuticals, aerospace and defence. They will be sharing their perspectives on the exact candidate requirements as defined by their specific industries, qualities and skills attendees should build over the near and long-term to compete in today's job market. The panel discussion will be followed by a Q&A session.
Segment 3 - Networking, refreshments, FREE professional headshot photos
1. Networking and refreshment
2. Free professional photographs for forum attendees
3.Recruiters & Jobseekers– CV submissions/Interview bookings
Agenda
14:30  -  15:00  -  Registration, networking & refreshments 
15:10  -  17:45  -  CV/interview workshop and presentations 
18:15  -  19:15  -  Discussion panel
19:15  -  20:30  -  Networking, CV submissions/interview chats, refreshments, FREE professional photos
21:00  -  Departure
Exhibitors
---