Description
PMT (Powering the Matriarchy Together) is a day-long festival which will cover themes of love, art, body and work. This is the first of its kind for Birmingham, and will be an opportunity to celebrate the rich mix of some of the many womxn* and non-binary people who make up this city.


The day will feature workshops, live demonstrations, microlectures and a marketplace of P.M.T makers. There is no fixed price for this event, but we invite you to pay as you feel to support the work of future P.M.T events.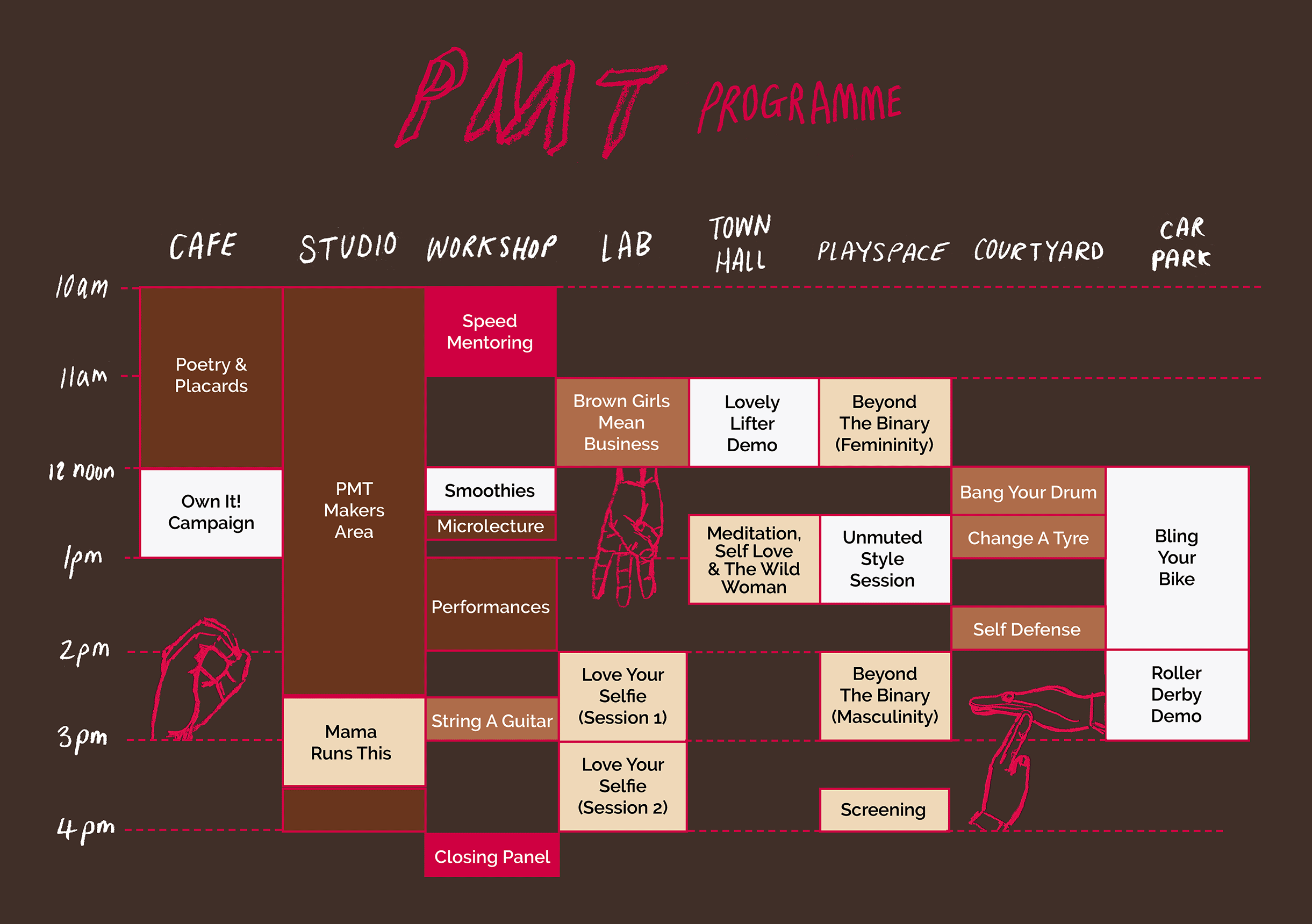 If you are thinking about booking a ticket to P.M.T, this is what you can sign up for:
PMT Mentoring (10.00-11.00): To open P.M.T, we will be kicking off with a fun packed speed mentoring event with some of the UK's and brightest womxn. You will have at least one 15 minute session to ask a maximum of two questions from each mentor. There may also be an opportunity to speak to up to four mentors during this lively one hour session.
---
BODY
Lovely Lifter (11.00-12.00): Do you know you don't need to be big to be strong? Our lovely lifter is going to guide you through the benefits of lifting weights and keeping strong. There will be a chance for you to try stuff out so bring loose comfortable clothing. Sophie from BFAST fitness will be on hand to show you how to get started on your own journey towards being stronger both physically and mentally.
Own it Campaign (12.00-13.00): Come along to discuss issues surrounding body confidence and self-esteem in a friendly and relaxed environment. Using creative activities, we explore the pressures we may face in day-to-day life. We look at ways to challenge them, and create techniques to help each other improve and nurture our self-esteem. (Limited spaces)
Bling Your Bike (12.00-14.00): Have you ever wondered what it would be like to cycle through the streets of Digbeth in your very own gal gang? Well now you have the chance with super cycle safety woman Louise Aspinall. Before you set of on your cycling adventure there will be some props on hand to bling up your bike. Special prize for the most blinged bike. Louise will give you all the tips on how to stay safe on the city roads. You can bring your own bike and there will be a few available for those who want to try out cycling. (limited spaces)
Roller Derby Demo (14.00-15.00): Ever wanted to know what a blocker and a jammer are? Enter the world of the all action team sport of roller derby. Four wheels and plenty of fun the Birmingham Blitz Dames will be on hand to show you the basics of roller derby. Numbers are not limited for this event.
---
LOVE
UNMUTED (11.00-16.00): "All [cis] women should be feminine. All [cis] men should be masculine." What are the implications of an either/or approach to gender? What would a world look like where we attempt to think beyond the gender binary? How can we reframe our approach to feminism to include trans and non-binary people's voices? Join UNMUTED to explore a world 'beyond the binary', throwing out stereotypes and judgement in a creative workshops/discussions.
11.00-12.00 UNMUTED Beyond the Binary: Femininity 'Girly Girl', 'Femme', 'camp', 'metrosexual'... we explore the connotations behind feminine schools of thought, who does it include/exclude, how can we change this?
12.30-1.30 UNMUTED Style Session Want to try out a new style but don't know where to begin? Feel the pressure of gender based fashion, wish you could try something new? Join Chanel from El Monet as we 'queer' the approach to styling through discussion and one to one consultations.
2.00-3.00 UNMUTED Beyond the Binary: Masculinity: 'Tomboy', 'masculine of centre', lad, 'man's man', 'butch'…we explore the connotations behind masculine schools of thought, who does it include/exclude, how can we change this?
3.00-4.00pm UNMUTED Film screening : B.D Women (1994) An erotic, stylised documentary celebrating the history and culture of black lesbians. Contemporary interviews are interwoven with a sultry narrative set in 1920s Paris, showing the relationship between a femme jazz singer and her butch daddy lover.
This is a sassy reclamation of the vanished history of black lesbian lives by filmmaker Campbell X and a companion piece to Isaac Julien's Looking for Langston. (Limited spaces).
Meditation, Self Love and the Wild Woman (12.30-13.30): Preya Chauhan of Cherish Healing will be sharing self care techniques through Meditation, Mindfulness and Massage.
Love Your Selfie and Body Adornment with the Sad Girls Club (14.00-15.00 and 15.00-16.00): The Sad Girls Club body-painting workshop is part of a series of workshops called "Love your Selfie" that are being piloted by the Sad Girls Club across the city. The workshop is routed in the idea that traditional and iconic forms of art need to be reshaped and altered. A lot of the art and photography that we view as iconic is by straight white males. The adornment workshop is about allowing women, to create images of the wild woman that they envision themselves as. We are going to be manifesting from the outside in. Get stuck in paint glitter, feathers or whatever else makes you feel magical. It is all about creating and exploring our bodies in the way that we feel most comfortable. Grab a t- shirt, vest top or show us some skin. (limited spaces)
Mama Runs This (14.30-15.30): This session by Au Contraire, Ma Mere is all about mama's who run their own creative business or would like to take the leap and enter self-employment within a creative industry. We will be looking at how to do it, support networks and generally chatting about being a business running mama. If you want to let off some steam, network and talk about your business and experiences this is for you.
---
WORK
Brown Girls Mean Business (11.00-12.00): Join mOmhead for an insight into the world of business start-ups. The journey can be a scary one, especially for young women. Even more so for young women who are brown. Firstly, there's the basics. What forms do you need? How do you register? How do you copyright and trademark? What's SEO? Where do you find manufacturers? How do you build a website? What marketing strategy? Accounts, profit margins, social media? Then there's what happens when you're laughed at for being a woman in business. When businessmen ask you your thoughts on ISIS because you're brown. When guys won't buy from you because you're a female-centred brand. Or even when your own family and community have nothing but negative things to say because business is no place for a brown girl. Well, we've been there, done that and made, modelled and sold the t-shirt! Three years of ups, downs and more than our ages worth of experience, we want to share all that we've learnt and acquired to help you through the process of venturing into the world of business. We'll offer useful tips, tools and tricks that will provide you with an insight, support and knowledge to get the most out of your decision to start a business.
Bang Your Drum (12.00-12.30): Ever wanted to play the dhol? Navi Kaur Tatter will be showing us how to play and whipping up some energy with her dhol. She'll also teach you how to play so come along if you fancy a try.
Flat Tyre (12.30-13.00): Ever had a flat tyre? Would you like to know how to change your tyre? Simple but useful session with mOmhead's Amna who'll show you how to get that tyre changed.
Self Defense (13.30-14.00): "Hi yah!" as they say in martial art movies. This is a basic introduction to self defence techniques that are easy to remember and effective. Steve Cook and his daughters will be showing you the basics of how to get out of trouble and build confidence. Bring comfortable loose clothing if you'd like to join in.
String Your Guitar (14.30-15.00): So you're playing that guitar hard (or soft) and rocking out to your favourite song and all of a sudden the string snaps! Have no fear musician and performance artist Zeddy will be here to show you how to restring your guitar.
***** PLEASE NOTE: The above sessions are only bookable once you have booked a general ticket.
---

*Womxn is spelling of "women" that is a more inclusive, progressive term that not only sheds light on the prejudice, discrimination, and institutional barriers womxn have faced, but to also show that womxn are not the extension of men (as hinted by the classic Bible story of Adam and Eve) but their own free and separate entities. More intersectional than womyn because it includes trans-women and women of colour.