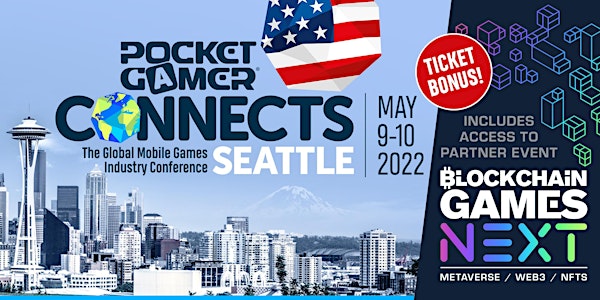 Pocket Gamer Connects Seattle 2022
Location
Grand Hyatt Seattle
721 Pine Street
Seattle, WA 98101
Sales Have Ended
Ticket sales have ended
Thanks for registering for PG Connects Seattle! We're looking forward to welcoming you to the US in May. If you have any questions or queries please contact Sally at sally.kevan@steelmedia.co.uk Please click here to go back to the PG Connects website: http://www.pgconnects.com/seattle
Network and learn from the best in the global mobile games industry this summer. Join us for expert talks, fringe events and more!
About this event

Pocket Gamer Connects, the global mobile games industry conference - and more!
The leading mobile gaming industry conference, Pocket Gamer Connects, returns to the region in May 2022.
After two years away because of the pandemic, we're returning to the same popular venue as before. Some 1,000 attendees from the games industry will gather in town on May 9-10 to network, discover, pitch and learn from 150 of the world's leading authorities.
As well as mobile, you can expect the event to cover PC and console, VR/AR and more, across multiple track rooms. Our speakers and panellists will share their expert insight into design and development, monetisation and growth, life as an indie, new technologies, company culture and loads more. This year, we have a dedicated Blockchain Games Next room for web3 and NFT content.
For sponsorships or other business development opportunities please contact Lisa at lisa.bisset@steelmedianetwork.com or book a meeting to discuss your needs at: https://calendly.com/lisa-bisset
Networking for all
As ever, the conference schedule will be packed with our trademark short, sharp seminars. Our speakers get straight down to business - which is what you'll be able to do too, networking with some 1,000 industry professionals.
The event is called Connects because that's what we help you do; connect with the whole gaming industry, from students and indie studios to the media, international investors and publishers. We offer our MeetToMatch meeting platform free and unlimited to all delegates, so you can find that perfect contact and arrange to meet them in person.
No other event puts you in touch with the entire mobile gaming ecosystem like our Connects conferences.
Attending companies include...
Pairing developers with publishers and investors
Our Publisher SpeedMatch and Investor Connector sessions pair developers in rapid succession with a series of publishers and investors in a series of speed-dating style meetings. These short, sharp encounters enable first contact for you to follow up with a longer meeting if you find a potential partner. It's a shop window for devs to display their wares and a pipeline of prospects for anyone looking to sign up-and-coming talent. And in 2022 we'll be bringing our Money Maker sessions to live events too, so you can expect to get one-to-one insight into UA, growth and best practice for ads.
All about the indies
Indie devs are the lifeblood of the mobile games industry. Pocket Gamer Connects champions their work to our international audience. The show floor has a dedicated Big Indie Zone for known names and newcomers alike to display their talent to an industry audience. This is a vibrant and varied expo area for publishers looking to sign promising titles.
And of course, our hugely popular Very Big Indie Pitches will be back in force with indie devs competing to impress a panel of expert judges. The winners walk away with prizes and online marketing worth thousands of dollars.
Keeping the networking going after hours
Don't worry that it will all be too serious. Day one closes with our free Global Connects party! That's where the networking goes on into the night and you might just make lifelong friends, fortunes and memories. Please note, you need to be over 21 in order to attend the party.
Any questions? We can help: support@pgconnects.com

An established international audience
More than 30,000 industry professionals have attended the Connects international conference series since 2014. Since then, the roadshow has landed in the UK, Canada, USA, Finland, Hong Kong, Jordan and India with a genuinely international client base; on average, delegates from more than 45 countries attend each event. (With the advent of the Digital conference, we have seen this number grow! There were over 70 countries represented at our online events.) We know that over 70% of our audience works in game creation/publishing.
In 2016, PG Connects became the biggest dedicated mobile games industry conference series in Europe and has stayed on top ever since. Every event has been bigger and better than the last, and since 2017 we've added VR/AR, PC, console and blockchain to the mix.
Previous speakers and delegates from all the key industry players include Supercell, King, Space Ape Games, Niantic, SYBO, Tencent, Mythical Games, Unity, Jam City, Skybound, Apple, Rovio, Disney, Super Evil Megacorp, Wargaming, Kabam, NetEase, NTT Docomo, Ubisoft, Facebook, Google, Square Enix, Microsoft, Electronic Arts, Gameloft, Sega, Capcom, Twitter, Snapchat, Twitch, NaturalMotion, N3TWORK and many, many, many more. If you'd like to speak at PGC Digital, or another of our upcoming events, please sign up using our Speaker Submission form.
And because Steel Media owns and operates the leading media in this space too, including PocketGamer.com, PocketGamer.biz and PCGamesInsider.biz, our events benefit from unrivalled press coverage. A combined website readership of well over a million users a month, 300,000 engaged Twitter followers, nearly 120,000 subscribers on YouTube, all await.

Welcome to Blockchain Games Next
Blockchain, NFT, web3 and the metaverse are undeniably the hottest topics in the gaming space right now. As part of PG Connects Seattle, you'll find a dedicated two-day summit focusing on the next wave of web3 technology. Blockchain Games Next will provide a space to explore the potential scale of the market, the issues surrounding these technologies, and the best way to implement them.
You'll find cutting-edge talks, seminars and panels with thought leaders. Our top speakers include Kaley Hurst of Pole To Win, Patrick McGrath of Ten Square Games, Alex Silkin of Survios, Desiree Dickerson of THNDR, Mathieu Nouzareth of The Sandbox, Kyu Lee of COM2US, Wanda Meloni of M2 Insights and more. Here are the topic areas you'll find in the Blockchain Games Next summit room:
New Market Monetiser: Make the most of new advertising formats, IAPs and other monetisation developments in this focused track.
NFT Know-how: Non-fungible tokens: how unique digital assets are changing the way we play today.
Mapping the Metaverse: The future starts here! Discover the cutting edge of communication and entertainment in this overview of developments in the immersive space. We map the frontiers and reveal essential jumping on points.
Building on Blockchain: An introduction to what blockchain means for any developer – with insights into the technology and how crypto works with games.
Blockchain Games Next may be a new addition to our PG Connects Seattle conference, but we are certainly no strangers to evangelising new technology. Having pioneered media and events in the mobile games space as far back as 2006, we began to discuss blockchain games in 2018 via the dedicated Blockchain Gamer Connects show in San Francisco and the launch of our BlockchainGamer.Biz website.
NB It is possible to book a ticket for Blockchain Games Next but don't worry, each ticket also comes with full access to the rest of the PG Connects conference. It's just so you get the most useful communication from us!

Your conference ticket includes...
Entry to all parts of the conference, including access to all content tracks (including Blockchain Games Next), the expo and the dedicated meeting area on both days
Access to fringe events such as The Very Big Indie Pitch, Publisher SpeedMatch, Investor Connector (if eligible - additional application required)
Entry to the Global Connects Party
Free coffee and tea on both days (and some food for VIPs)
Personal and company profiles on the MeetToMatch meeting system and unlimited meeting invites
Access to video recordings of all talks after the event in our Video Vault
This event was postponed from May 2020. You may still have a valid ticket - please contact support@pgconnects.com to discuss.
To buy a new ticket at our discounted prices: hit the ticket button above select your ticket type, then follow the simple online booking system. Payment is required at the time of booking, so please have your credit or debit card ready. If you don't have a credit or debit card, please see the alternative payment methods listed.
Paying by invoice: Our standard Eventbrite form uses PayPal to handle transactions. You do not need a PayPal account: you can checkout as a guest and use a credit card when prompted. A small number of users have encountered issues when doing that, and for them we have made it possible to pay Steel Media directly - we can issue you with an invoice if you request it here.
Volunteers: We always need extra pairs of hands to help, and it's a way to gain access to the event for free. Drop a line to sally.kevan@steelmedia.co.uk if you are interested.
Block bookings: To arrange a discount on block bookings, please contact us if you wish to purchase more than 5 tickets, via lisa.bisset@steelmedia.co.uk
Students: Heavily discounted student tickets are available, but numbers are limited. Access to the MeetToMatch platform may be restricted and full access to the venue may be kept to a limited number of days at our discretion. We run a programme for free student tickets too, organised in conjunction with recognised places of study: if you represent a university and would like to inquire about complimentary tickets for your students, please contact charlie.scowen@steelmedianetwork.com
Journalists: Please apply for accreditation here or email dave.bradley@steelmedianetwork.com
Terms and conditions apply. Please read the notices on the order form. For full details please visit www.pgconnects.com/terms-conditions.

With PG Connects Seattle taking place at the Grand Hyatt Hotel, we're delighted to be able to offer delegates a discounted rate for hotel rooms. Take the hassle out of hotel-hunting, book your stay today and save money in the process.
To take advantage, simply click here for more information and booking options.