Sorry, the promotional code you entered has expired.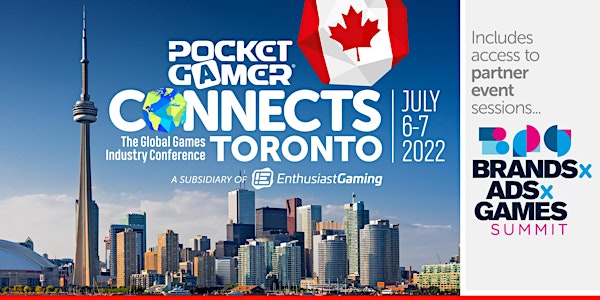 Pocket Gamer Connects Toronto 2022
Location
Sheraton Centre Toronto Hotel
123 Queen Street West
Toronto, ON M5H 2M9
Canada
Network and learn from the best in the global games industry this summer. Join us for expert talks, fringe events and more!
About this event

PG Connects – a place to meet, learn and do business
The leading b2b games industry conference, PG Connects, goes live in Toronto in July 2022. This is our first conference in the city and we're excited to be bringing the roadshow here for the first time. After events in London UK and Seattle US in 2022, our next stop will be Ontario Province where we will connect, inform and entertain the local and international games industry community.
Some 750 attendees from the games industry will gather in Toronto in July to network, discover, pitch and learn from 150 of the world's leading authorities.
You will join a true cross-section of the games industry, from fresh-faced indie designers to experienced CEOs and investors. The conference will take in everything: Android and iOS, PC and console, blockchain, VR/AR and more will be covered, across multiple track rooms. Our speakers and panellists will share their expert insight into design and development, monetisation and growth, new technologies, company culture and loads more.
For sponsorships or other business development opportunities please contact Lisa at lisa.bisset@steelmedianetwork.com or book a meeting to discuss your needs. We're also looking for speakers and panellists to take part on stage. Please nominate yourself and your submit talk ideas!

Networking for all
As with all our international conferences, the schedule will be packed with our trademark short, sharp seminars. Our speakers get straight down to business - which is what you'll be able to do too afterwards, networking with some 750 industry professionals.
The event is called Connects because that's what we help you do; connect with the whole gaming industry, from students and indie studios to the media, international investors and publishers. We offer our MeetToMatch meeting platform free and unlimited to all delegates, so you can find that perfect contact and arrange to meet them in person.
No other event puts you in touch with the entire gaming ecosystem like our Connects conferences.
Fringe activities to help meet your perfect business partner
Our Publisher SpeedMatch and Investor Connector sessions pair developers in rapid succession with a series of publishers and investors in a series of speed-dating style meetings. These short, sharp encounters enable first contact for you to follow up with a longer meeting if you find a potential partner. It's a shop window for devs to display their wares and a pipeline of prospects for anyone looking to sign up-and-coming talent.
And in 2022 we'll be bringing our Money Maker sessions to live events too, so you can expect to get one-to-one insight into UA, growth and best practice for ads.
If you're a small team with a project ready to share, you can also join our Very Big Indie Pitch sessions as well. You'll get instant feedback on your game from experts, and compete for prizes and editorial coverage.
Indie devs are the lifeblood of the games industry. PG Connects champions their work to our international audience. The show floor will have a dedicated Big Indie Zone for known names and newcomers alike to display their talent to an industry audience. This is a vibrant and varied expo area for publishers looking to sign promising titles.
Keep the networking going after hours
Don't worry that it will all be too serious. Day one closes with our free Global Connects party! That's where the networking goes on into the night and you might just make lifelong friends, fortunes and memories…
Any questions?
We can help: support@pgconnects.com
Find out more and see details of the fringe events at: www.pgconnects.com/toronto

Your conference ticket includes...
Entry to the main conference including access to all content tracks, expo and dedicated meeting areas on both days
Invitation to access fringe sessions such as The Very Big Indie Pitch, Investor Connector, Publisher SpeedMatch, Money Maker and more (if eligible: free separate application required, places may be limited)
Entry to the Global Connects Party on the evening of day one
Free coffee, tea and refreshments on both days
Free wifi in the venue
A personal and company profile on the MeetToMatch meeting platform and unlimited meeting invites
Access to video recordings of all talks and panels in our Video Vault after the event
BONUS: Access to the Brands x Ads x Games Summit

Boost your brand and discover the HUGE opportunities in the games space
Brands x Ads x Games is a brand-new summit designed to focus upon the latest trends in the games industry and the spaces where games meet brands and advertising. We'll be demystifying the key developments, celebrating the great work already being done and showcasing the tremendous potential both now (with mobile and PC/console platforms) but also in the future as blockchain, XR and the metaverse gaming worlds grow.
This summit is designed to provide an introduction to various parts of the gaming landscape (from M&A trends to esports and blockchain games), highlight the specific opportunities for brands and advertising agencies, stimulate face-to-face connection with actual game developers, publishers and other companies and encourage opportunities for all involved.
Taking place alongside our established PG Connects Toronto conference, you will also have the opportunity to connect with the established games industry as 750+ professionals gather and network via our bespoke meeting system, expo area and networking fringe events.
An established international audience
Well over 32,000 industry professionals have attended the PG Connects international conference series since 2014. The roadshow has landed in the UK, America, Canada, Finland, Jordan, India and Hong Kong with a genuinely international client base: on average, delegates from more than 45 countries attend each event. (When we hosted the event online during the pandemic, delegates from over 75 countries joined us!)
In 2016, we became the biggest dedicated mobile games industry conference series in Europe and have stayed on top ever since, expanding into other areas of games over the years. Not only have our previous delegates voted Connects the 'best value conference', but 97% would recommend it to a colleague and 96% tell us they'll come back for more.
Previous speakers and delegates from all the key industry players include Supercell, King, Space Ape Games, Niantic, SYBO, Tencent, Telltale, Apple, Rovio, Disney, Wargaming, Kabam, NetEase, NTT Docomo, Ubisoft, Facebook, Google, Square Enix, Microsoft, Electronic Arts, Gameloft, Sega, Capcom, Unity, Twitter, Snapchat, Twitch and many, many, many more.
You're in safe hands
We've run 33 Connects events now. But just because you're familiar with the format, don't think you've seen it all before! PG Connects Toronto 2022 will be our first in this region, and it will take place live at a downtown hotel venue as well as selected parts of it being available online. It features new track themes and new business content designed to look to the future.
The most exciting thing for us is the chance to meet the industry once more. We're using MeetToMatch as our meeting platform, which will enable attendees to find each other and arrange meetings in our dedicated area.
A PG Connects conference is a place to get business done. It's famous for being a place where new connections are made (hence the name) and productive meetings take place. You'll be able to network with hundreds of industry professionals and we will do our best to make that easy.
We'll bring together the whole gaming industry, from students and indie studios to the media, international investors and AAA publishers. Unlike some other events, we offer our MeetToMatch meeting scheduler free to all delegates, with unlimited requests, so you can find that perfect contact and arrange to meet them in person.
Staying safe
In these strange times of COVID-19, it's important to stay safe, so you'll be pleased to know we are going above and beyond government guidelines, so you can attend the evening with every confidence.
Book now while places last
Select your ticket above and follow the simple online booking system. Payment is required at the time of booking, so please have your credit or debit card ready. If you don't have a credit or debit card, please see the alternative payment methods listed.
Block bookings: To arrange a discount on block bookings, please contact us if you wish to purchase more than 5 tickets, via lisa.bisset@steelmedia.co.uk
Students: Heavily discounted student tickets are available, but numbers are limited. Access to the MeetToMatch platform may be restricted and full access to the venue may be kept to a limited number of days at our discretion. We run a programme for free student tickets too, organised in conjunction with recognised places of study: if you represent a university and would like to inquire about complimentary tickets for your students, please contact charlie.scowen@steelmedianetwork.com
Journalists: Please apply for press accreditation here or by contacting dave.bradley@steelmedianetwork.com
Terms and conditions apply. Please read the notices on the order form. For full details please visit www.pgconnects.com/terms-conditions.