CYA's Young People come together to discuss how Society (and Facebook!) isn't inclusive of disabled people.
About this event
Join CYA / Grapevine in discussion about their #FacebookHasNoStandards Campaign!
Each time we report a post on Facebook citing hate speech towards disabled people, the response is that it doesn't breach Facebook's Community Standards. How can they have standards when they allow hate speech to remain on their platform?
Through our #FacebookHasNoStandards campaign we're taking on Facebook and pushing for them to change their reporting system to Facebook a safer place for disabled people.
Take 30 minutes of your day to listen to our stories of times people have made assumptions about us because of our disability, find out why we're putting Nick Clegg in a giant game of Where's Wally and how you can play a part in making sure social media platforms are a safe place for everyone.
Access: All of our events will have closed captions. We're using an automated transcription service called Rev.
About the speakers:
I'm Joey, I'm 23 years old and I work for the NHS. I'm an activist and passionate about campaigning because it's important to me that everyone has a voice. I love art and photography.
My name is Amanda and I'm 24 years old. I'm an activist with the Coventry Youth Activists. Campaigning is important to me because I like to help with disabled hate online.
I'm Molly, I'm 27 years old and I work alongside the Coventry Youth Activists as a community organiser.
Read our Festival House Rules here: https://actforchangetogether.org.uk/festival-house-rules/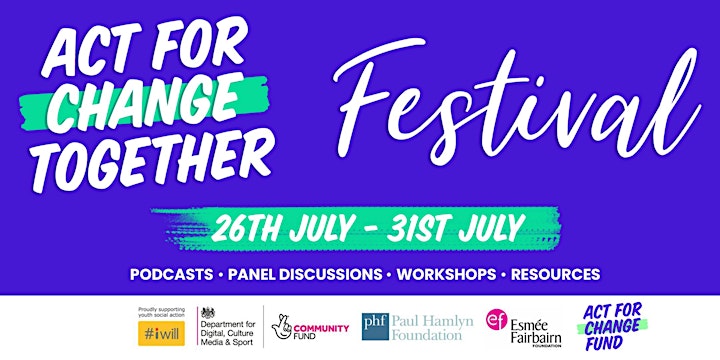 Act for Change Together Festival
Our festival aims to: 
Change the narrative / challenge stereotypes
Showcase how to meaningfully involve young people in services / orgs / decision making
Share young people's knowledge & skills in making change
Showcasing the 32 orgs and the young people leading and making change
The Act for Change Together festival comes out of the combined drive and passion of 32 organisations across the UK, supported by Act for Change Fund, that believe young people are the future and have the power to lead change.
Through a series of podcasts, workshops, panel discussions, and videos, our amazing youth activists and adult allies and partners (from the 32 funded organisations) will be sharing their stories, experiences, top tips, and things they've learned from their time delivering youth-led social action campaigns – and you can get involved too!
With every event, we're hoping to hear from you with your own experiences, questions, and insights, so together we can build an experience that we can all learn from and remember.
Organiser of Podcast Episode - Facebook Has No Standards
We are a steering group of young activists drawn from some of 32 organisations funded by Act for Change Fund. With support from Molly Scarborough and The Arts Development Company, we have co-produced our own online festival that shares our skills, experiences and knowledge, that challenges ingrained stereotypes and showcases the youth social action work the 32 organisations are leading across the UK.
All of our festival events and ideas have come from workshops and planning sessions with other youth activists within the wider network of organisations. We look forward to sharing our work with you.
Find out more about our festival here: https://actforchangetogether.org.uk