Irise International - How to engage people that disagree with you (Part 2) - with Magid Magid.
About this event
Ever struggled speaking with people who disagree with you?
Want to learn how to speak with people outside your echo chamber?
Award winning menstrual health charity Irise International open the Act for Change Together podcasts by tackling a big question in activism - how do we engage people in our work who disagree with us? In part 2 of this episode, we hear from Director of Union of Justice, as well as ex Lord Mayor of Sheffield and MEP, Magid Magid
In part 1 of this episode we heard from Irise's young' trustee and Empower Period Committee chair Sophie Rowson, Irise's 'Agent of Change' and Empower Period Forum member Nkechi Adeboye, Irise's UK Projects Manager Acushla Young and Founder.
Access: All of our events will have automated closed captions.
About the speakers:
Magid Magid is a Somali-British race and climate justice activist/organiser and author who came to the UK as a refugee aged five. He is Founder & Director of Union of Justice. He was a member of the European Parliament representing Yorkshire & the Humber, Mayor of his beloved city, Sheffield and was also an elected councillor representing his community. He sits on the Board of Trustees for the think tank 'Friends of Europe' and is co-chair of refugee charity 'City of Sanctuary Sheffield'. Magid was also named one of TIME's 100 rising stars shaping the future of the world.
My name is Acushla Young and I am the UK Project Manager at Irise International. Irise works with girls, women and people with periods across the UK and East Africa to end period poverty and shame, and empower menstruators to reach their full potential. I first got involved with Irise as part of my Master's course, where I worked with our incredible team in Uganda to produce project evaluation. Now I have the honour of supporting hundreds of young people to lead their communities to period freedom. I am also on the board of trustees at Girl Friendly Society, a fantastic organisation that builds girl's confidence and ability to thrive in the UK.
Sophie is a researcher and menstrual equality advocate living in Sheffield. She has been part of the Irise community since 2018 having started out as a fundraising and campaigning volunteer before joining Irise's UK Board of Trustees in 2019. She believes in the power of collective youth-led advocacy and action to create a better world in which people with periods can thrive.
Nkechi is a recent graduate of economics and software engineering with a range of volunteering experience with Sheffield based and international charity which in addition to Irise International, include FoodWorks, South Yorkshire Housing Association, Women Working Worldwide and Chayn. Interest areas of Nkechi include the role of FinTech for financial inclusion, tech policy and the role of technological advancement for the effective realisation of the Sustainable Development Goals.
Read our Festival House Rules here: https://actforchangetogether.org.uk/festival-house-rules/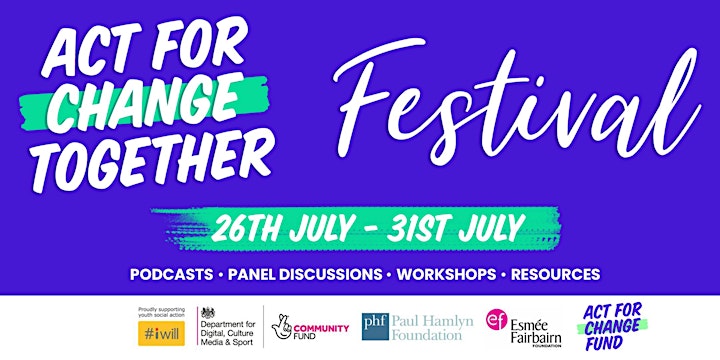 Act for Change Together Festival
Our festival aims to: 
Change the narrative / challenge stereotypes
Showcase how to meaningfully involve young people in services / orgs / decision making
Share young people's knowledge & skills in making change
Showcasing the 32 orgs and the young people leading and making change
The Act for Change Together festival comes out of the combined drive and passion of 32 organisations across the UK, supported by Act for Change Fund, that believe young people are the future and have the power to lead change.
Through a series of podcasts, workshops, panel discussions, and videos, our amazing youth activists and adult allies and partners (from the 32 funded organisations) will be sharing their stories, experiences, top tips, and things they've learned from their time delivering youth-led social action campaigns – and you can get involved too!
With every event, we're hoping to hear from you with your own experiences, questions, and insights, so together we can build an experience that we can all learn from and remember.
Organiser of Podcast Episode - How to engage people that disagree with you (Part 2)
We are a steering group of young activists drawn from some of 32 organisations funded by Act for Change Fund. With support from Molly Scarborough and The Arts Development Company, we have co-produced our own online festival that shares our skills, experiences and knowledge, that challenges ingrained stereotypes and showcases the youth social action work the 32 organisations are leading across the UK.
All of our festival events and ideas have come from workshops and planning sessions with other youth activists within the wider network of organisations. We look forward to sharing our work with you.
Find out more about our festival here: https://actforchangetogether.org.uk