POETRY CHALLENGE 2011

Sunday, 9 October 2011 from 14:30 to 17:30 (BST)
Event Details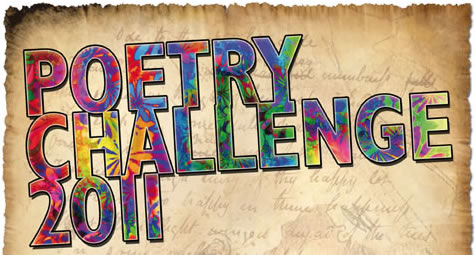 The Poetry Challenge, as always, promises to be a lively event. People, aged 8 to 80, can share this unique opportunity to recite a favourite poem by heart.
Everyone who recites is invited to sponsor one of the main participating charities or any charity of their choice. Now more than ever charities need support and this is a fun way of doing it.
Poets, reciters and audience can experience for themselves why Nicholas Albery, poet and social innovator, set up the Poetry Challenge in 1995. He felt that learning and reciting a poem keeps you young, exercises your brain, and feeds your mind as well as your body:
'to know a poem by heart / is to slow down/to the heart's time'; 'to pay homage  to intensity' and to have 'a poem by your side / through the valleys and the shadows / in the day and the night'.
Admission to venue by donation.You are welcome equally as reciter and as listener. If youintend to recite it would be helpful to let us know you are coming, email us to receive a sponsorship form at pc2011@hotmail.com
The charities we are sponsoring are:
The Natural Death Centre (www.naturaldeath.org) an educational charity founded by Nicholas Albery, runs a free helpline giving advice on all aspects of dying, bereavement and funerals, in particular family-organised and 'green' funerals. It depends entirely on donation and book sales.
Parents for Inclusion (www.parentsforinclusion.org) has changed the lives of many families with disabled young people over the last 25 years and the professionals who work with them. Our work enables people to gain the understanding, build the skills and grow the confidence needed for creating a world where everyone is welcome and belongs right from the start.
Sumatran Orangutan Society SOS (www.orangutans-sos.org). These gentle cousins of ours are facing extinction due to the exploitation of the rain forest for palm oil plantations. One of their last habitats is the Leusar National Park. Lucy Wisdom founded SOS in response to her diagnosis of cancer 14 year ago.
When & Where
24 Old Gloucester Street
London
WC1N 3AL


Sunday, 9 October 2011 from 14:30 to 17:30 (BST)
Add to my calendar
Organiser
October Gallery Trust
October Gallery was the first London gallery to exhibit innovative contemporary art from cultures around the world, a pioneer of transvangarde the trans-cultural avant garde.