Poetry in Pictures: A Night of Spoken Word, Illustration, Architecture and Storytelling in celebration of Cambridge's Female Past

Monday, January 21, 2013 from 6:00 PM to 8:00 PM (PST)
Event Details
Shape East, Cambridge's Built Environment and Architecture Centre is delighted to announce the launch event of its new Cambridge city tour: Walking with Women.
The tour combines history, storytelling, poetry, illustration and photography to bring to life another side of our city's great history
To launch the tour, we are holding a night of exceptional spoken word poetry in collaboration with Page to performance and Allographic, Cambridge's premium spoken word poetry events. As well as brilliant poetry, the night will launch a two exhibition of artwork from the tour. 
The poetry night will include wine, nibbles plus poetry from the 6 tour poets, all amazing spoken word artists. They will be performing their historic tales of Cambridge plus a set of their own pieces. The night will be hosted by Inja.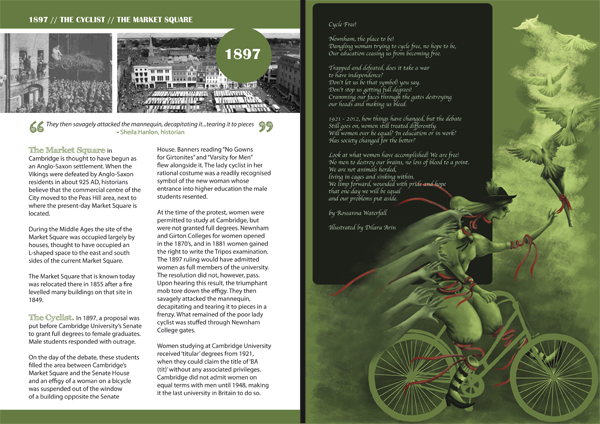 Exhibition and Guided Tours
The Walking with Women launch event will mark the beginning of an exhibition of the tour's artwork. The exhibition will be free to the public and take place between Monday 21st January and Saturday 2nd February everyday in the delicious Michaelhouse Cafe, Cambridge, open 8am - 5pm daily, except Sundays: http://www.michaelhousecafe.co.uk.


Poets on the launch night include:
Michelle Madsen:
Michelle is a poet, writer, journalist and food artist. The founder and host of Hammer and Tongue London, part of the UK's largest slam poetry network, Michelle has featured on stages as far afield as San Francisco, Berlin and Aarhus and she made her small screen debut on the BBC's Why Poetry Matters series in May 2009. Empassioned, cutting and electric, Michelle's words conjure up the macabre and the glorious, and might, just might make you think.
Hollie McNish:
Hollie McNish is a published UK poet who has released two poetry albums, Touch and Push Kick, both to critical acclaim with the latter prized for contributions to maternal research by the University of London. She has appeared in venues as diverse as Glastonbury festival, Ronnie Scotts Jazz Bar, London's Southbank Centre and Cambridge University, has been featured on Radio 4's Poetry Diaries, Women's Hour and BBC 2. Her first written collection, Papers, was published by Greenwich Exchange, London, in March 2012. She co-runs Page to Performance, a local poetry organisation.
Angela Brown:
Angela Brown is a storyteller, teacher, heritage education officer, poet and registered tour guide. She has worked with History off the Page in every kind of primary school in the UK, as well as in cathedrals, churches, sacred monuments, language schools, underground air raid shelters, historic houses, art galleries, national science and environment weeks and parks. She creates stories, poems and projects on a range of topics, from research to final performance.
Fay Roberts:
Born in 1975, Fay is a classically-trained singer from Cardiff who has been getting on stages since the early 80s. She was finally bitten by the performance poetry bug in Spring 2006 after a favour to a friend turned into a place in the final of a poetry slam. She has co-managed and co-hosted Poetry Kapow! (a series of live poetry events) in Milton Keynes, frequently performs across the Midlands and South East, and is part of a Milton Keynes poetry collective calling themselves Bardcore. She has been based in Cambridge since summer 2009, where she co-hosts the Cambridge chapter of Hammer & Tongue and her own poetry night allographic.
Jessie Durrant:
Jessie Durrant has been performing since 2010, and has been tearing up the East of England ever since with her raw rhythms and heartfelt lyrics. She has won the Peterborough Annual Speakeasy Slam and the Hammer & Tongue Cambridge Annual Slam Final. She is a joy to watch.
.
When & Where

Michaelhouse Cafe
The Michaelhouse Centre
St Michael's Church
Trinity Street, CAMBRIDGE CB2 1SU


Monday, January 21, 2013 from 6:00 PM to 8:00 PM (PST)
Add to my calendar
Organizer
SHAPE EAST is a Centre for Design Excellence and Sustainable Innovation based in the East of England and a part of the Architecture Centre Network. We seek to provide a positive influence on the quality of urban design and the built environment through supporting the professional community, engaging the public and educating the future generations.
We promote sustainable and high quality living, providing people with both the knowledge and passion to participate more actively in changes and developments in their local and global built environments.