Poetry in Transatlantic Translation: Atlantic Conversations
Poetry in Transatlantic Translation: Summer Colloquium Series Atlantic Conversations with Pierre Joris, Abigail Lang and Habib Tengour
About this event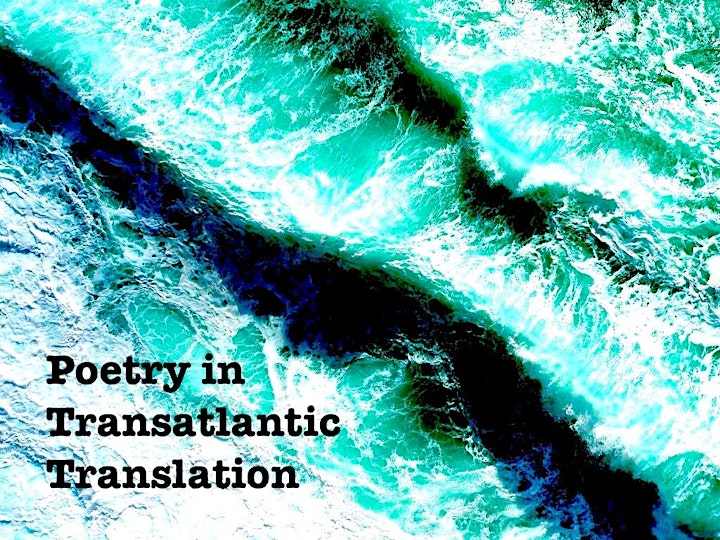 Atlantic Conversations
Pierre Joris (New York/Luxembourg)"Whose North Atlantic Turbine?"
Abigail Lang (Paris Diderot University) "The Transatlantic Conversation: Exchanges between French and US poetries since1968"
Habib Tengour (France/Algeria) 'The Poet-Editor-Translator 'au confluent des deux mers'/' at the confluence of two seas'"
The inaugural event of the Poetry in Transatlantic Translation Virtual Summer Colloquium Series features three unique perspectives on multilingual exchange and the role of the poet-translator. There are no straightforward routes in this Atlantic space, and the event will trace connections between France, the USA, Algeria, Luxembourg and beyond.
Abigail Lang will present her new book La conversation transatlantique – Les échanges franco-américains en poésie depuis 1968. It charts the rich net of connections between French and US poets. Charles Bernstein writes: "Lang's work suggests the centrality of work in the U.S. that is often not as fully acknowledged in America, itself a significant feature of the US/French relation. This provides a valuable corrective to dominant mainstream U.S. tastes, by providing a reliable guide to what is truly innovative in modernist and postwar American poetry. " https://jacket2.org/commentary/abigail-lang-la-conversation This is an opportunity to hear some of its central arguments presented in English. https://www.lespressesdureel.com/EN/ouvrage.php?id=8208... Abigail Lang is maître de conférences at Université Paris Diderot, where she teaches and translates American literature.
Algerian poet and translator Habib Tengour will explore the poet's role at the confluence of two seas, the Mediterranean and the Atlantic. Speaking in French (translation provided), he will describe the difficulty and potential of writing poetry in French after Algerian independence, and his discovery of the necessary foreignness of poetry within its own culture. As the Director of the Poèmes du Monde Collection with the Algerian publisher APIC Editions https://www.facebook.com/apiceditions/ , he creates a space within Algerian culture for international poetry translated into French. Tengour's poetry is translated into English by Pierre Joris and they co-edited Volume Four of Poems for the Millennium: The University of California Book of North African Literature https://www.ucpress.edu/.../poems-for-the-millennium...
Pierre Joris has just published Fox-trails, -tales & -trots (poems & proses, Black Fountain Press); he completed his 1/2 century Celan translation project with these 2 final volumes: Memory Rose into Threshold Speech: The Collected Earlier Poetry of Paul Celan (FSG) & Microliths: Posthumous Prose of Paul Celan (Contra Mundum Press). Also in 2020: A City Full of Voices: Essays on the Work of Robert Kelly (CMP) & in 2019: Arabia (not so) Deserta (essays, Spuyten Duyvil Press) & Conversations in the Pyrenees with Adonis (CMP). Taking Ed Dorn's "North Atlantic Turbine" as a point of departure, he will speak about his translations back & forth across the Atlantic, from Celan into English to Kerouac into French, to Maghrebi writers and his work with Habib Tengour.
Organiser of Poetry in Transatlantic Translation: Atlantic Conversations