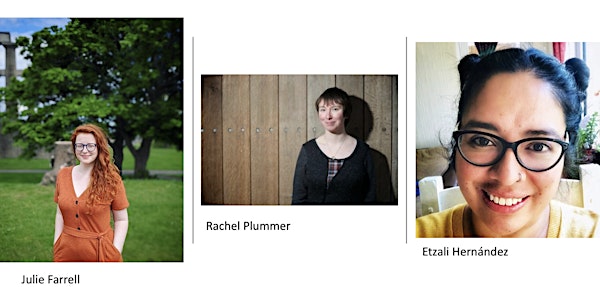 Poetry, LGBT+ and Disability (part of QMU's Creative Intersectional Week)
Three Scotland-based queer disabled poets perform their work for Creative Intersectional Week at QMU
About this event
From June 7th to June 11th, Queen Margaret University's LGBT+ Charter and LGBT+ Society are hosting a variety of events honouring Pride Week 2021. These events aim to discuss and celebrate intersectionality within the LGBT+ community. Focusing on the specific intersection between queer and disabled identities, this event features poetry readings from three poets who identify as disabled and members of the LGBT+ community, showcasing their work and inviting considerations of what it means to be a queer and disabled artist today.
About The Poets
Julie Farrell (she/her)
Julie Farrell is a queer, disabled, neurodivergent author based in Edinburgh, Scotland. Mental health and illness, disability and diversity are recurring themes in her work, and she is an advocate for diverse representation, having spoken at various events on topics such as feminism, identity, access and inclusion.
http://www.juliefarrell.co.uk/
Rachel Plummer (they/them)
Rachel Plummer is a queer disabled poet based in Edinburgh, Scotland. Their work has focused on topics such as working women's history, migration, gender, personhood, language and homelessness. They additionally received funding in 2016 from Creative Scotland to write a collection of children's poems based around LGBT retellings of traditional Scottish myths and stories.
Etzali Hernández (they/them)
Etzali Hernández is a queer disabled Latinx poet based in Glasgow, Scotland. Their work focuses on LGBT+ issues, accessibility and diversity, family and relationships. They are additionally a community organiser around migrant and LGBT+ representation, volunteering for various organisations.
Organised by QMU students Rachel Milne, Jack Parkhouse and Julie Leyden.
Premiere at 7pm on Wednesday 9 June here: https://youtu.be/-jklTn2Rz4c