This poetry masterclass with Suhaiymah Manzoor-Khan is is part of the Virtual SOAS Festival of Ideas.
About this Event
Poetry masterclass with Suhaiymah Manzoor-Khan
What possibility does poetry hold when it comes to the question of decolonising our minds and our world? Language is a tool of conquest, of dominance, of ideological coercion; but it has also been a language of protest, a language used by revolutionaries, by anti-colonial resisters, by freedom-fighters, marginalised people building community, prisoners, rebels, martyrs, captives.
Join Suhaiymah Manzoor-Khan to consider how poetry can help us exceed and defy the colonial boundaries placed on our imaginings of ourselves and our world. What do the images we use as analogies say about whose gaze we see ourselves through? What do the unspoken questions our poems feel forced to answer tell us about the demands upon us to prove our humanity?
Using her poetry and the poetry of others Suhaiymah will prompt and guide workshop attendees to attempt to express themselves on new terms. No previous writing experience required, only a little hope and a lot of questions.
This event is part of the Virtual SOAS Festival of Ideas, a week-long series of virtual events. The festival includes: panel discussions, student led installations, masterclasses, keynote lectures, a public debate for/against on Decolonising Knowledge and a Verbatim performance by Bhuchar Boulevard on 'Decolonising Not Just a Buzzword' capturing SOAS conversations about the need to decolonise its imperial mission.
Keep updated on the upcoming Virtual Festival of Ideas events and watch recordings of previous events on the SOAS website. Please contact foi@Soas.ac.uk with any questions regarding this event and/or the Virtual SOAS Festival of Ideas.
Please support SOAS Festival of Ideas by donating to our crowdfunding campaign at https://soas.hubbub.net/p/SOASFestivalofIdeas/. All proceeds go to supporting the speakers, performers, and artists involved.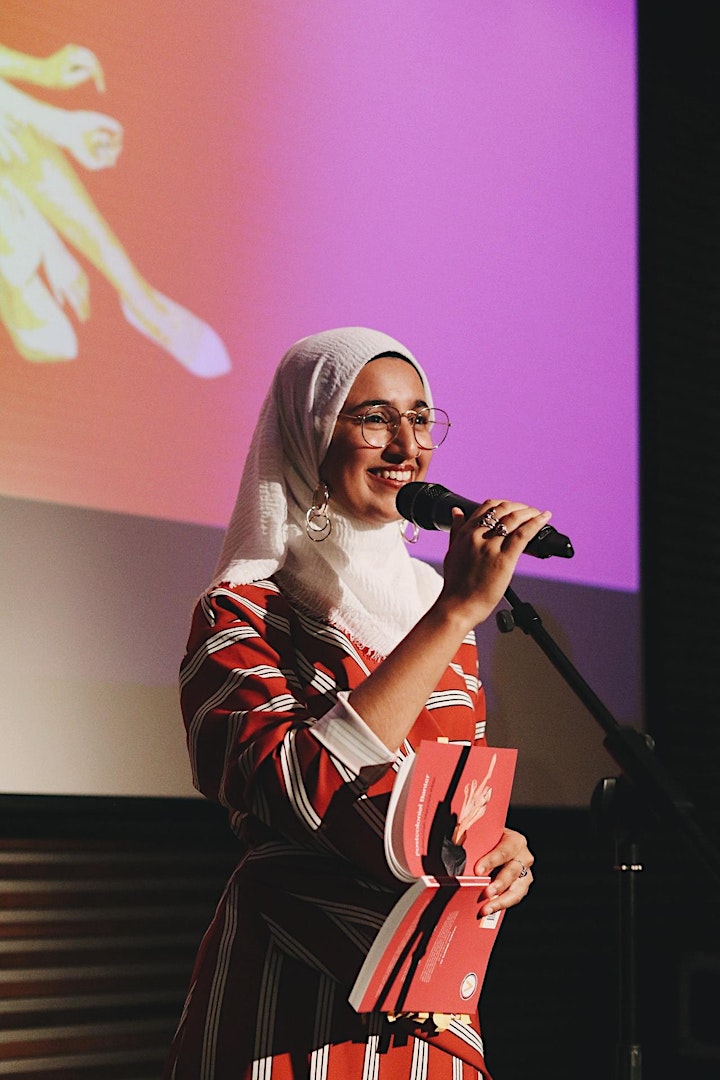 Suhaiymah Manzoor-Khan is an educator, writer and poet from West Yorkshire, UK. Her work disrupts questions of history, race, knowledge and power - interrogating narratives about Muslims, migrants, gender and violence. She is less interested in disproving such narratives than asking who and what benefit from or are justified by their utterance. Suhaiymah was the runner-up of the Roundhouse National Slam 2017 with her viral poem, This is Not a Humanising Poem which gained 2 million views and was short-listed for the Outspoken Prize for Poetry in 2018. In 2018-19 she was a Nicola Thorold Fellow at the Roundhouse and is currently an Associate Artist at theatre company, Freedom Studios, 2020-21. She is the author of poetry collection, Postcolonial Banter (Verve Poetry Press, 2019), co-author of the anthology, A FLY GIRL'S GUIDE TO UNIVERSITY: Being a woman of colour at Cambridge and other institutions of power and elitism (Verve Poetry Press, 2019) and hosts the Breaking Binaries podcast.
Due to her lived experience, the duties incumbent upon her as a Muslim, and a political education from her mother, grandmother, women of colour and radical thinkers from across the world, Suhaiymah is dedicated to the total transformation of the current order which is unrealistic, unsustainable and unlivable for the majority of the world's population.