We are organising a poetry reading & open mic to launch our project: Old pavilion's stories. Join us on Saturday 11th of Dec 1.30 till 4.30
About this event
Limited places / email newhampoetrygroup@gmail.com to book your slot.
Newham Poetry Group is organising a serie of events to celebrate Newham Poetry House' stories (old pavilion at Stratford Park). We now have a grant from Lottery Heritage to collect stories, write poems inspired by the pavilion and create a visual material that would help to preserve the memory of the place.
To launch our project we will have a Poetry reading / open mic on Saturday 11th of December. Join us!!!!
And if you would like to be part of the project by joining our team, sharing a story or any visual material and attending our events. Please email: newhampoetrygroup@gmail.com
"As far as we know the place was the home of a local bowling club that ended up closing down due to the damage of the green area and its high costs of repairing and maintaining. After being underused for years, Newham Poetry Group saw the opportunity to bring the venue back to life in 2017. Since then we have used it as a community cafe and creative hub. We have positively contributed to reducing the anti-social behaviour in the area through our multiple events and activities that take place every week."
Important:
Personal protection Equipment will be provided &
Free refreshments.
Limited spaces
Location: Newham Poetry House at Stratford Park (the old pavilion) Densham Rd, London E15 4DA (opposite tennis courts).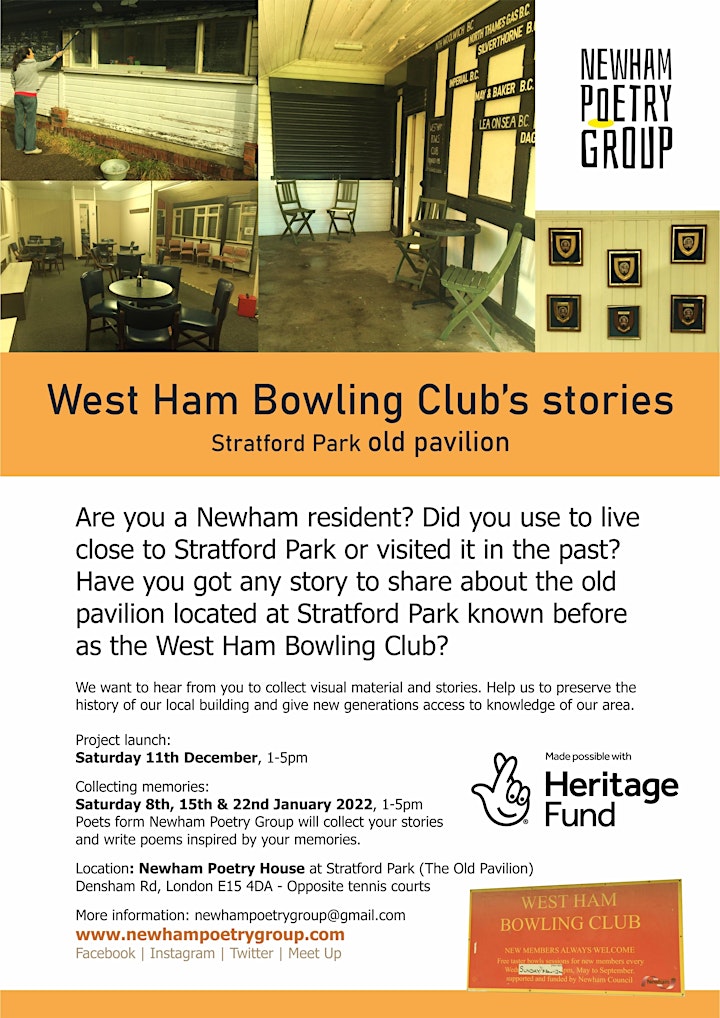 Organiser of Poetry Reading & Open Mic
Colombian poet and ilustrator.
I enjoy organizing events and make poets gathering together to build a strong and creative community.
My books: 
Words are not enough -English
Poems to be written - English 
Metaforas de dos mundos - Spanish
Retazos - Spanish
El Arte Del Colibri - Spanish
All at 
 https://www.amazon.co.uk/Sonia-Quintero
more inof at: https://www.soniaquintero.co.uk/