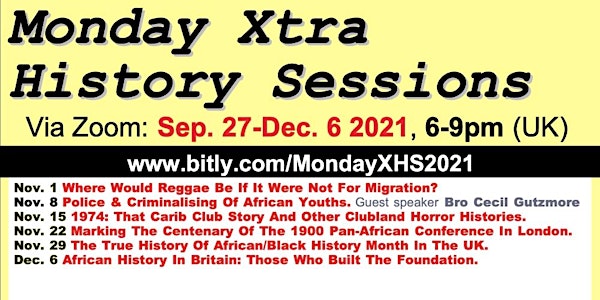 Police And The Criminalising Of British African Youths By Numbers 2
Sales Have Ended
Ticket sales have ended
Hopefully you will book our event later.
Video-led presentations by history consultant Kwaku w guest speaker Bro Cecil Gutzmore highlighting the history of police & African youths.
About this event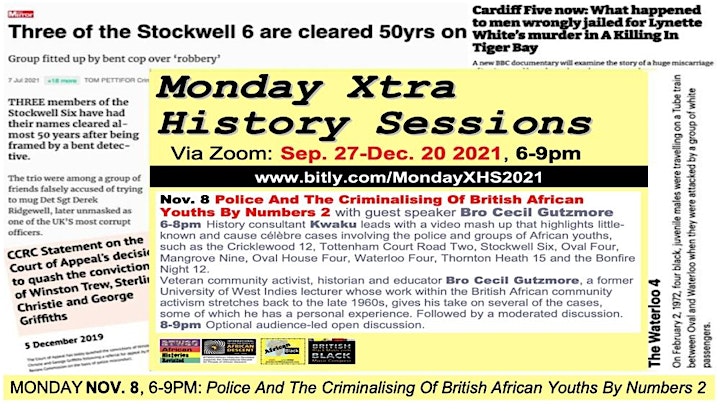 PLEASE NOTE:
1. We have an update to share, following the decision at the Sep. 30 iteration of this event, where it was decided that we contact the British Transport Police for, inter alia, an apology to the British African community for the trauma caused by the criminalisation of African youths by former police officer DS Derek Ridgewell.
2. The Nov. 8 edition has Bro Cecil Gutzmore providing a historical analysis, based on his long experience of community work, since the late 1960s. The Sep. 30 edition of this event has Dr Adam Elliott-Cooper focusing on his book and speaking to his experience of police-and-African youth engagement of recent times.
We're offering a 30% off discount if you book the first 11 of the events in one go, by booking MondayXHS2021 1st 11 Events Discount Hub here. Plus 35% off discount by booking all 13 events in one go here.
PROGRAMME:
Nov. 8 Police And The Criminalising Of British African Youths By Numbers 2. Guest Speaker: Veteran community activist, historian and educator Bro Cecil Gutzmore
History consultant Kwaku leads with a video mash up presentation that highlights little-known and cause célèbre cases involving the police, the criminal justice system and groups of criminalised African youths, such as Tottenham Court Road Two, Stockwell Six, Oval Four, Mangrove Nine, Waterloo Four, Thornton Heath 15 and Bonfire Night 12.
Bro Cecil Gutzmore is a veteran community activist, historian and educator, a former University of West Indies lecturer whose work within the British African community activism stretches back to the late 1960s. He gives his take on several of the cases, some of which he has a personal experience of.
Followed by a discussion moderated by community activist Nana Asante.
In solidarity with all who have been victims of the police's misuse of the sus law.
>>>>>>>>>>>>>>>>>>>>>>>>>>>>>>>>>>>>>>>>>>>>>>>>>>>>>
+++++++ Here is our African History Season 2021 Monday Xtra History Sessions programme with Kwaku's exclusive video-assisted opening presentations (book at https://AfricanHistoryPlus.eventbrite.com):
Sep. 30 Police & Criminalising Of African Youths guest presenter Dr Adam Elliott-Cooper
Oct. 4 THE Reggae Fun, History, Music, Quiz & Prizes Event! guest presenter Colin 'CeeBee' Brown
Oct. 11 Interrogating Language 4: Identity, Decolonising, Reparations; Araning & Pan-Africanism: Should Africans Have African Names?
Oct. 18 London African History Through Representations In The Capital
Oct. 25 Today Brixton Is Locked Off: The Day Black Lives Matter Shut Down Brixton
Nov. 1 Where Would Reggae Be If It Were Not For Migration?
Nov. 8 Police & Criminalising Of African Youths guest presenter Bro Cecil Gutzmore
Nov. 15 1974: That Carib Club Story And Other Clubland Horror Histories
Nov. 22 Marking The Centenary Of 1921 Pan-African Congress In London
Nov. 29 The True History Of African/Black History Month In The UK
Dec. 6 African History In Britain: Those Who Built The Foundation
Dec. 13 The Men With Ships And Preaching Back To Africa Before Marcus Garvey
Dec. 20 UK African Women Self-Organising (Marking the 57th anniversary of the passing of Claudia Jones. Special guests t.b.c)
Peep: https://bitly.com/MondayXHS2021
Produced by BTWSC/African Histories Revisited in association with BBM/BMC (BritishBlackMusic.com/Black Music Congress), TAOBQ (The African Or Black Question), and Reggae Fraternity UK.