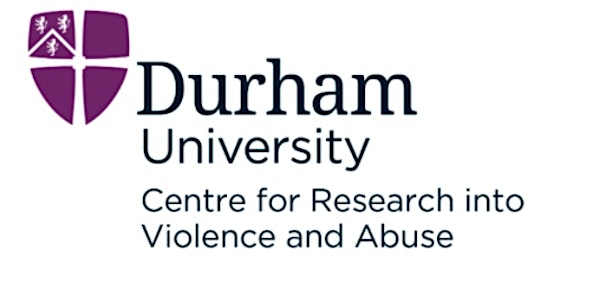 Policing Domestic Abuse Research Seminar on Clare's Law/DVDS
PDARN Research Seminar on Clare's Law/DVDS: Victim-Survivor Perspectives, with Dr Charlotte Barlow and colleagues
About this event
We are very pleased to invite you to our first PDARN talk of 2022, with Dr Charlotte Barlow, Professor Sandra Walklate and Dr Nicole Renehan
The free event will take place online on Thursday the 27th of January 12-1pm (GMT), via Teams.
Seminar details
• Domestic Violence Disclosure Schemes/ Clare's Law: Victim-survivor perspectives
Domestic Violence Disclosure Schemes (DVDS) were rolled out across England and Wales in 2014 following a high-profile public campaign for their introduction after the murder of Clare Wood in 2009 (hence Clare's Law) by her partner who was found to have a history of violence unknown to her. Since this time, there has been a rapid expansion of similar schemes across the Northern hemisphere in particular, including pilots taking place in two states in Australia. The Domestic Abuse Act (2021) in England and Wales plans to put these schemes on a statutory footing. Yet the efficacy of such schemes is highly contested and whilst some work has examined the principles underpinning them (Fitz-Gibbon and Walklate, 2016) and other work has explored practitioner's views of them (Duggan, 2018) with the exception of work in NSW, Australia there no research to date exploring the victim/survivors perceptions and/or experiences of accessing DVDS. This paper will explore the findings of a British Academy funded project, which involved speaking with women about their experiences and perceptions of Clare's Law. It will critically reflect on who DVDS work for, under what circumstances, and the extent to which such schemes and the criminal justice system more broadly are able to keep women safe.
• Followed by allocated time for discussion and Q&A.
Attendees will be sent the Teams link by the day of the meeting. If you haven't received a link, please check your junk folder.
For any further queries about the network or event please contact: k.m.johnson@durham.ac.uk
Speaker Bios:
Dr Charlotte Barlow is a Reader in Criminal Justice and Policing at UCLAN. Charlotte's areas of research expertise include domestic and sexual violence, policing and more broadly violence against women and girls. Over the past decade, Charlotte has worked on and led various externally funded research projects exploring issues such as police responses to coercive control, victim-survivor experiences of Clare's Law/ Domestic Violence Disclosure Schemes, women's pathways into crime and experiences of co-offending and the criminal justice system and agency responses to domestic abuse in rural communities.
Professor Sandra Walklate is Eleanor Rathbone Chair of Sociology at the University of Liverpool (UK) conjoint Chair of Criminology in the School of Social Sciences at Monash University (Australia). Her research focuses on criminal victimisation particularly in relation to violence against women. She is President of the British Society of Criminology and was previously Editor in Chief of the British Journal of Criminology (2014-2019).
Nicole Renehan is an ESRC Research Fellow at Durham University. Her research interests lie within the area of domestic abuse, both victims and perpetrators, domestic violence perpetrator programmes, and workforce development. Nicole also has a practice background in domestic abuse within a multi-agency, child protection setting.
About the Policing Domestic Abuse Research Network
Building on the success of the N8 Policing Research Partnership's knowledge exchange initiative for police practitioners and academics working to end domestic abuse, we have recently formed the Policing Domestic Abuse Research Network (PDARN), in conjunction with CRiVA and the N8 PRP. Dr Kelly Johnson and Professor Nicole Westmarland ,from the Centre for Research into Violence and Abuse at Durham University, are currently operating as the co-ordinators of the network.
PDARN is an international network for police practitioners and academic researchers interested in the area of police responses to domestic abuse (/family violence/domestic violence/battery).
The aims of the network are to:
• Be a supportive network for policing practitioners and academic researchers, to connect and discuss arising issues related to the policing of domestic abuse.
• Provide a space through which network members can exchange knowledge, for example by sharing information about upcoming events, research, or emerging policy and practice.
• Generate opportunities for collaboration across different international jurisdictions
• Ultimately, to improve understanding and practice in the area of policing domestic abuse
To Join PDARN
To join the network, please subscribe to our mailing list via the following link (using your organisational email address if possible): www.jiscmail.ac.uk/policingdv