Sales Have Ended
Ticket sales have ended
Thank you for registering for ACCI & BMH UK's Policing and Mental Health, Coercion or Care Conference on Thursday 27th June. We look forward to meeting you and send you an e-mail reminder nearer the time. Kind regards ACCI & BMH UK Conference & Events Team
Sales Have Ended
Ticket sales have ended
Thank you for registering for ACCI & BMH UK's Policing and Mental Health, Coercion or Care Conference on Thursday 27th June. We look forward to meeting you and send you an e-mail reminder nearer the time. Kind regards ACCI & BMH UK Conference & Events Team
Description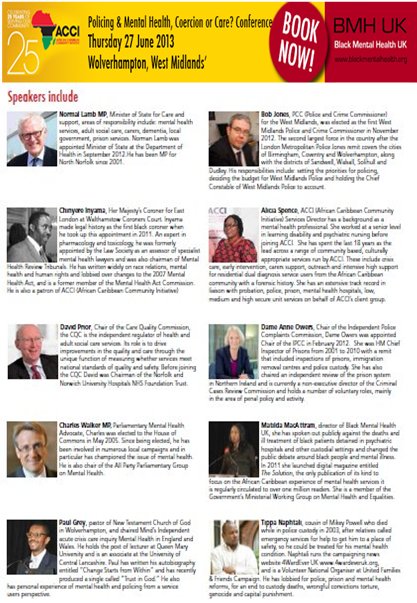 Minister of State for Health Norman Lamb MP, Police and Crime Commissioner (PCC) Bob Jones, Chair of the Care Quality Commission (CQC) David Prior, chair of the Independent Police Complaints Commission (IPCC) Dame Anne Owers, chair of the All Party Parliamentary Group (APPG) Charles Walker MP, Commander Christine Jones, Mental Health Lead for the Metropolitan Police, services director at the African Caribbean Community Initiative (ACCI), Alicia Spence and director of Black Mental Health UK (BMH UK) Matilda MacAttram are among the keynote speakers at this ground breaking national conference on mental health and policing.
This is the one event of 2013 that anyone working in the mental health, social care or policing cannot afford to miss.
Overview
Data from the Health Care Commissions's Count Me in Census' reports from 2005 - 2011 show of all ethnic groups it is peoplefrom the UK's African Caribbean communities that are 50% more likely to be referred to mental health services via the police than their white counterparts - entry to mental health services via policecustody is the norm for black people.
People who use mental health services account for 50% of those who lose their lives in police custody. It is in the area of mental health and policing that many of the most serious causes for concern have arisen over a number of years but continue to remainunaddressed.

The high profile deaths in police custody cases of Kingsley Burell-Brown, Sean Rigg, Olaseni Lewis, Mikey Powell and Roger Sylvester is further evidence that failures in policing of mental health services users, which is impacting people from Briton's black communities in greatest numbers.
Professionals responsible for running or commissioning mental health services, who attend this conference will learn first hand what action needs to be taken to improve the treatment of this patient group.
Delegates will find out how joint working and investment in frontline community based services like ACCI, is critical to bringing about improvements in patient experience and professional practice in this important area of mental health care, which crosses policing, mental health and social care professional arena's.
Why attend?

√ Gain insights from the most senior leaders across the sector on strategic direction of mental health,
social care and policing

√ Learn new ideas about effective techniques and strategies for this patient group from experts
with a 25 year track record of success in this arena

√ Gain awareness of gaps in need and future programme development

√ Acquire contact information for connections with other services and agencies with expertise
to offer with regard to this specific client group

√ Get an understanding of the key issues facing specific populations within this community
with mental illness who are currently not well served by the current system

√ Learn about innovative work in this arena that can assist commissioners and service providers
in this area of mental health care

√ Gain an understanding of effective engagement with key agencies in this sector which can improve
patient experience.
Organiser of Policing & Mental Health, Coercion or Care? ACCI & BMH UK National Conference 2013
Black Mental Health UK (BMH UK) is human rights campaigns group that focuses on raising awareness of and seeing a reduction in the disproportionate numbers of people from the UK's African Caribbean communities subject to detention under the Mental Health Act.
BMH UK is the only agency working in the area of public policy with a focus on the inequalities in treatment and care of black people who come in contact with these services.
Also an online publisher we use our website, www.blackmentalhealth.org.uk  and online magazine, entitled The Solution, to raise awareness and address the stigma of this health condition within the communities most affected but least informed about this issue.
The African Caribbean Community Initiative (ACCI) is the oldest surviving black led mental health service in the country. They provide a holistic and comprehensive support service for people from this community affected by mental ill health.
ACCI's services include supported housing and advice, day opportunities facilities and specialist outreach. They also provide an extensive and holistic counselling and therapeutic service and a dedicated and proactive Carers' Support Group.
ACCI works in partnership with service users, local authorities, health providers and the local community to ensure that their services remain relevant and service-user focussed.
As a community based social enterprise, ACCI has built a reputation for high quality mental health training and consultancy. ACCI's West Midlands based centre is also registered as a health and social care 'student placement' facility.
At the heart of ACCI's service is the mission to deliver high quality services and influence local, regional and national mental health policy and delivery.