Description
Digital transformation is a key route to unlocking productivity. Your business could benefit from enhanced customer-retention, cost savings and improved employee engagement. Join the CBI's Head of Innovation to find out more.
To remain competitive and support business growth, your firm must seek to become digitally agile and inherently capable to outpace change in a rapidly evolving market. This is no mean feat, and few have made the transformation without challenge.
This free event is open to CBI Members and Business Festival Attendees.
By attending this event you will:
Gain expert insight from Allisa Dhaliwal, CBI Head of Innovation, helping you to cut through the noise and provide you with details on what the latest developments are and what these might mean for your business

Hear from leading businesses on their experiences of adoption and transformation - providing inspiration for you to think differently about the challenges ahead

Understand the skills and talent required for successful transformation - is there a sense of urgency driving change within your organisation; are you worried about being left behind?

Engage with industry peers and build your professional network
Find out more about the CBI's policy work on driving the adoption of digital technology.
Who should attend?

This event is open to CBI members and attendees of the West Suffolk Business Festival. This event is most suitable for, but not exclusive to::
Chief Executive Officers

Chief Operating Officers

HR Directors or similar

Space is limited at this event so book your place today.

Further information about tickets

This event brings greater benefits to all attendees when the audience is diverse - with leaders from different businesses, regions, sectors and job roles. To enable diversity, all spaces will be allocated by the CBI to maximise the potential for a successful event.


Working in partnership with: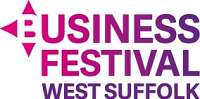 If you have any questions:
Please contact the Event Manager Anne Cullom.
Not a CBI Member:
Why not consider joining? See the benefits of becoming a CBI member here.

Terms and Conditions:
The Terms and Conditions for CBI events are available here.

Committed to protecting your privacy:
We respect your privacy. For more information on how we are committed to protecting your privacy and data, please click here.