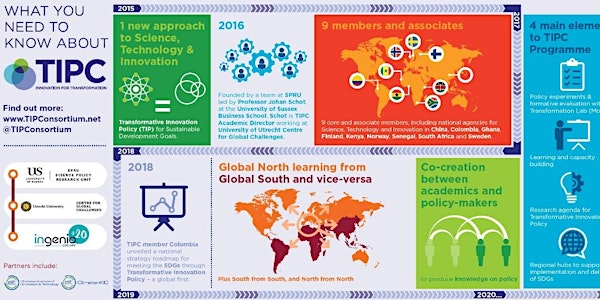 Policy Experimentation for Transformative Change in the Nordic Region
A space for learning and co-creation on the role of science, technology and innovation in delivering transformative change.
About this event
Drawing on insights from research and practical implementation, TIPC invites you to join a three-part learning programme with:
Business Finland
Vinnova
The Research Council of Norway
Transformative change will require a re-imagination of the actors, technologies and institutions of today. There is a need to rethink the rules of civil society, policy, and knowledge, and encourage experimentation beyond the boundaries set by incumbent actors.
Innovation policy makers are increasingly working as agents of transition, facilitating change in an integrated way towards global aims such as the SDGs.
In Finland, Sweden and Norway, several projects are exploring new ways of encouraging transformation. By sharing experiences between countries, the current initiatives can strengthen each other.
Dates and registration
Join us online in September and October 2020 to help shape the future for science, technology and innovation policy in the Nordic region.
Weds 23 September (Introductory webinar 10:30-12:00 CEST)
Tues 29 and Weds 30 September (Two-day interactive workshop)
Tues 27 October (Follow-up webinar 10:30-12:00 CEST)
This is an interactive process, in which your active engagement throughout is integral to your own and others' learning. It is therefore a requirement to attend all three parts of the programme.
Preparatory material will be made available in advance of the first webinar. This is likely to require 2-3 hours for participants confident in their understanding of TIP or 5-8 hours for those needing a more complete refresher. Please register by Fri 4 September.
Transformative Innovation Policy (TIP)
The TIP theory sets out a new frame for science, technology and innovation policy that places social and environmental challenges at the core.
TIPC is a five-year programme dedicated to policy experimentation, evaluation, capacity building and research to give substance to this 'third frame'.
By providing a space for concrete collaboration between STI agencies and researchers, our ambition is to see the widespread adoption of new policies and practices across the globe.
Each member country and partner policy teams have their own story to tell. With three years of theory preparation under our collective belt, the network is now creating and enacting TIP to explore how this policy approach can make transformation happen across all regional hubs.
Programme content
Based on the experiences of researching and implementing TIP in practice, the programme offers an opportunity to build knowledge, networks and a shared vision for TIP in the Nordic context.
COVID-19 is leading to experimental new ways of interacting and learning from each other. Over the course of three digital sessions, researchers and practitioners will engage in interactive exercises to collectively reflect on insights from current projects and case studies.
You will learn about:
TIP in practice: parallel TIPC projects with Vinnova and Climate-KIC
In-country work of transformative change in Finland and Norway
You will practically explore themes including:
Formative evaluation from a TIP perspective
Building practitioner networks for learning in action
Interactions between TIP and other types of innovation policy
Second-order learning for systemic transformation
Learning principles
During the learning programme, we will adhere to the principles that:
This is a collaborative process in which researchers and practitioners will work as equal partners and depend on each other's commitment. The problem owner is the expert on the problem.
It is a learning process for everyone involved, including the TIPC team. Transformation requires experimentation, out-of-the ordinary actions and an open mind.
Learning involves the whole person – individual values and lived experience play critical roles in understanding and delivering transformative change.
Who should attend?
This is a learning space and network opportunity for practitioners and researchers involved in policy experimentation within the Nordic member organisations of TIPC: Business Finland, Vinnova and The Research Council of Norway.
The format and content are primarily designed for those with an active engagement in TIPC activities. This event forms one step towards an increased exchange within the Nordic hub.
Enquiries
For questions from practitioners regarding content and format of the series, please contact Josefin Lundström, Analyst at Vinnova, on josefin.lundstrom@vinnova.se.
You can also direct enquiries to Victoria Shaw, Programme Director for the Transformative Innovation Policy Consortium, on v.a.shaw@sussex.ac.uk.