Description
Join us for the UK's FIRST EVER Youth Political Sports Festival!
The festival will run a series of sporting events which pits political figures against each other to break down the barrier between politicians and the electorate. Inspired by the BBC show superstars, MPs will compete against each other in a decathlon-style sports competition. Earning points for each sport they compete in, with the final winner being able to give a speech to the end!
Politics is becoming increasingly tribal, with society becoming ever more polarised and divided. We wish to bring politics into amateur sport, with the aim of uniting people around a common passion, attracting people who may not otherwise be interested in politics and channelling the growing competitiveness surrounding politics and between political parties into something positive.
An idea of this kind has never been tried before in the UK. Be part of something NEW, join us this Summer!
Agenda
09.00 – Registration
09.30 - Brunel Uni welcome speech + MC (Aaron Roach Bridgeman) introductions
09.40 - Speech by Nigel Huddleston MP
09.45 - SOUK Intro by Matteo Bergamini
09.50 - Pre-Event Survey + Online Menti-Meter Game run by MC, three winning students will join the MPs for the ping-pong tournament.
10.10 - Ping Pong Tournament
11.55 - Speech by Tom Brake MP
12.00 - Lunch
13.05 - Workshop Series (choice of 4)
14.35 - Reflections from Students
14.45 - Workshop Series (choice of 4)
16.15 - Reflections from Students
16.25 - Post-Event Survey
16.30 - Speech by John Mcdonnell MP
-End-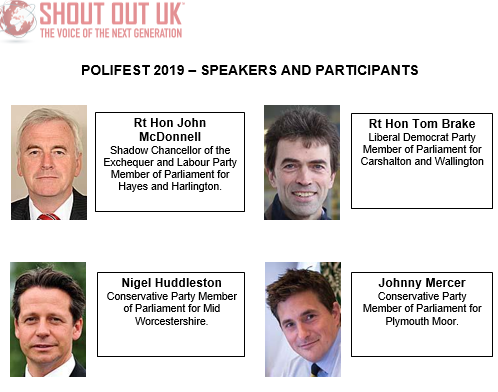 Workshop Choices at #PoliFest2019:
Workshop Choice 1: Shout Out UK, Lucie Spicer – 'Introduction to Political Literacy'
This workshop is a short introduction to our political system – answering key questions about our political structure and those involved in its operation. We will compare the Queen and Prime Minister in their political power and roles. Then we will evaluate the difference between direct and indirect democracy. Finally, the session will end with quick-fire mock debates about current issues!
Workshop Choice 2: Online Media Law UK, Holly Powell-Jones PhD - 'Social Media: How risky is it?'
In this workshop, we'll look at a variety of different examples of social media posts, to see how much you really know about the law online. The workshop will be looking at the law in relation to indecent images ('sexting' and 'revenge porn'), malicious and grossly offensive material, threats, abuse, harassment and hate speech online, contempt of court and right to anonymity, defamation (libel), privacy and copyright: As a group, attendees will be asked to consider a traffic-light system of risk, voting for if you think it's perfectly safe to post (Green), might cause reputation damage (Yellow), could get you sued (Orange), or in criminal trouble with the police (Red) with the correct answers being given after each example, allowing you to see how much you know.
Workshop Choice 3: SheIsClothedLtd, Kanndiss Riley – 'Discussing stereotypes - The importance of unhinging the stereotypes of what a politician should be'
Within this workshop, attendees will discuss the following points:
Diversity: Talking about the communities that feel that politics is not a space for them - why they wouldn't usually get involved or why they think others do not want and involvement.
Problem-solving: What do you think the role's of the different levels of government personnel are? What do you think they're responsible for? How would you change these aspects or explain them better to others?
Community Imitative: Breaking down the stereotypes surrounding who can be a politician. With the intention of igniting community action to improve one aspect of their town as well as offer opportunities for young people to find out about services and opportunities for them to get involved in politics in their local communities.
Workshop Choice 4: MORE UNITED, Amelia Seeto - 'Pretend you're an MP'
Participants will get in groups and pretend they are MPs. They will be given an issue and be told what their party position is on that particular issue. They will have to argue their perspectives and try to convince the pretend Prime Minister that their policy proposals are the most important for the country. The Prime Minister will decide which policy to adopt. By talking together and looking for common ground, students will be trying to find a compromise.
Please choose one workshop per delivery slot to attend!
*workshop space is limited, served on a first come first basis.
Hosted By Aaron Roach Bridgeman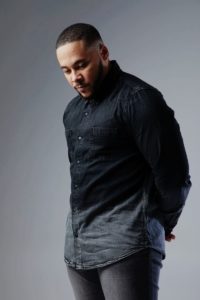 Aaron is a presenter on the Sky 1 series 'What's Up TV' covering everything in youth culture from fashion, current events, arts and events, comedy, and music. As well as working for 'What's Up' Aaron made his name as the main presenter for SB.TV where he has interviewed some of the biggest names in the entertainment industry.
As well as presenting and contributing to entertainment shows, Aaron has a passion for making documentaries and finding interesting and compelling stories especially social and political ones. He has displayed this in the 6 productions he has presented for Channel 5.

Video and Photography
Please be aware that video and photography will be taken throughout the event, if you have any issues about this, please make them known to a Shout Out UK staff member.