Polish Seminar Series: eMigrating Landscapes

Multiple Dates
Event Details

Seminars on Contemporary Emigration and its Literary and Artistic Representations
Since the post-communist transformations of the late 1980s and the 1990s in Eastern and Central Europe and the ensuing EU enlargement of 2004, migration has become a significant trait within contemporary Europe and an increasingly important factor in social conflict affecting various parts of the continent. Contemporary migration and/or emigration has brought a new political rhetoric, resulting in social turmoil as well as new cultural, literary and artistic production. In our seminar series in 2013, these problems will be scrutinized based on the discussion on particular literary and cultural events within Polish culture.
We are inviting you for 8 seminars in 2013, all hosted by UCL SSEES and generously supported by the Polish Cultural Institute and UCL European Institute. Follow us on the SSEES website or emigratinglandscapes.org for all the details.
March-June 2013
4 events
Wednesday 13 March 5pm, Masaryk Senior Common Room.
Irit Rogoff lecture (visual art, emigration and freedom?)
A lecture on borders and freedom as seen in contemporary art. Commentary and discussion with Polish artist Joanna Rajkowska. 
See: Exhausted Geographies: http://www.youtube.com/watch?v=PJOP9l0_nbI
http://www.gold.ac.uk/visual-cultures/i-rogoff/
Wednesday 20 March 5pm, Room 433.
Debate on contemporary Europeans, new ideas about borders and "New Europeans?": Grażyna Plebanek and AM Bakalar (Asia Zgadzaj)
A meeting with the authors hosted by Urszula Chowaniec. The discussion and commentary by Tim Beasley-Murray and Agata Pyzik.
See: http://storkpress.co.uk/authors/a-m-bakalar/
http://storkpress.co.uk/books/illegal-liaisons/
Thursday 25 April 4pm, Room 431
Crossing the Borders of Reading, Writing and Translating in Women's Literature and Scholarship
Debate on three new publications by Urszula Chowaniec, Ursula Phillips and Marzenna Jakubczak. Discussion will be led by Dr Richard Mole. 

Monday 13 May 5pm, Room 432. 
eMigration outside and within the borders. 
Dialogues on contemporary poetry and notions of the emigrating writer. Genowefa Jakubowska-Fiałkowska and Wioletta Grzegorzewska.
A meeting with the authors hosted by translator and editor Marek Kazmierski.
See: Grzegorzewska's blog: http://pamiec-smieny.blogspot.co.uk/
http://www.thewhitereview.org/poetry/three-poems-from-strawberry-aftertasteostateczny-smak-truskawek/

Thursday 20 June 5pm, Room 432. 
Polish eMigrants: the notion of generation in the poetry of Maria Jastrzębska and the prose of Marek Kazmierski.
The commentary and discussion by the poet and artist Steven Fowler.
See: http://www.freewordonline.com/events/detail/migration-stories
http://www.mjkazmierski.com/
 Map: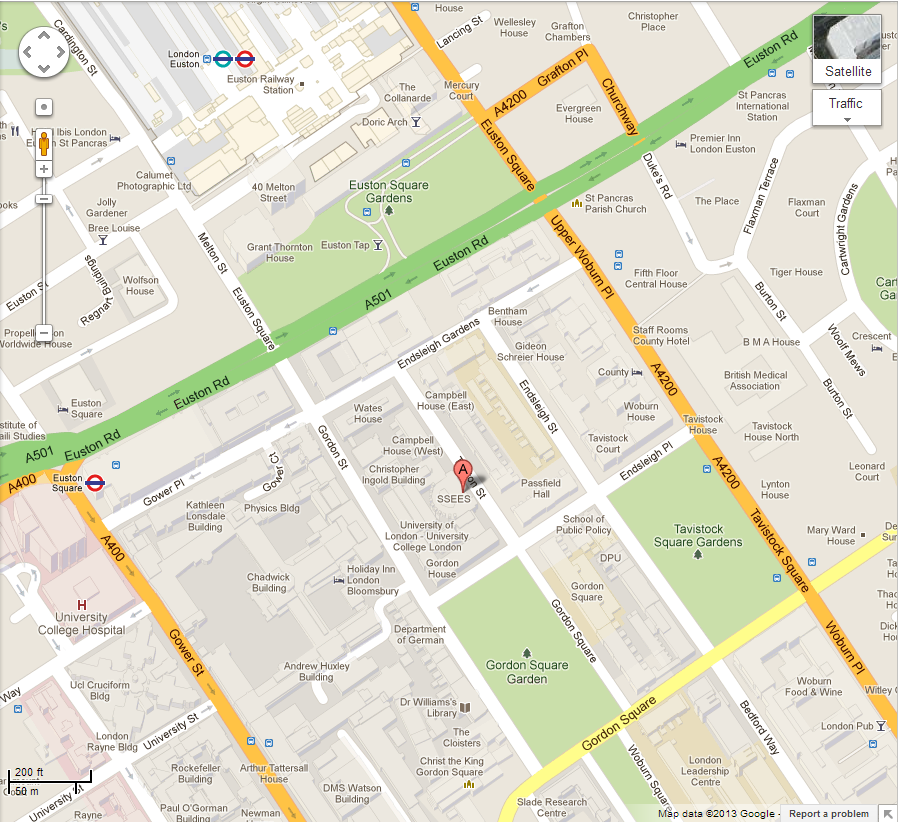 Where

UCL School of Slavonic and East European Studies
16 Taviton Street
WC1H 0BW London
United Kingdom


Multiple Dates
Add to my calendar