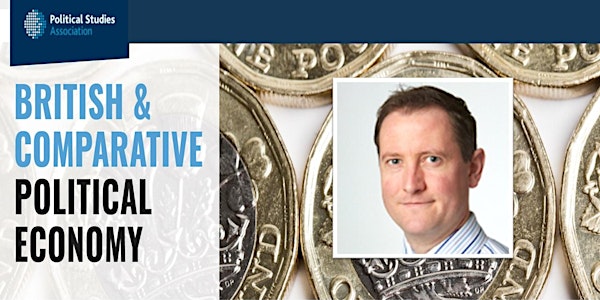 Political economy seminar: Nick O'Donovan, 'Pursuing the knowledge economy'
Nick O'Donovan (Manchester Met) presents his research 'Pursuing the knowledge economy: neoliberalism or a new agenda?'
About this event
Join the PSA British and Comparative Political Economy Specialist Group for the latest in our regular series of online seminars, held throughout 2021. The meetings are hosted in collaboration with Manchester Centre for Economic Policy at Manchester Metropolitan University (MMU).
Dr Nick O'Donovan will present his research 'Pursuing the knowledge economy: neoliberalism or a new agenda?'.
The session will last around 1 hour. After Nick's presentation, there will be an opportunity for Q&A and general discussion.
For more information about the PSA British and Comparative Political Economy Specialist Group, see our website and Twitter feed.
You can learn more about Nick's research on the political economy of the knowledge economy by accessing his book Pursuing the Knowledge Economy: A Sympathetic History of High-Skill, High-Wage Hubris, available to pre-order now from Agenda.
Register for the event for updates, or join us on Zoom using these login details:
Description of the book
In the 1990s, the "knowledge economy" was hailed by policy-makers in developed democracies as an antidote to the anxieties arising from the era of market liberalization – an era characterized by the decline of skilled blue-collar work, increasing levels of social exclusion and widening regional inequality. The shift to knowledge-driven growth appeared to offer policymakers a way of harnessing technological progress and global economic integration for progressive purposes, and justifying progressive policies in terms of the economic benefits that they would produce.
Nick O'Donovan tells the story of how the techno-optimism once associated with the rise of the knowledge economy came to be supplanted by widespread anxiety about technological progress, and how the political consensus that formed around a knowledge-driven growth agenda has unravelled, paving the way for the electoral upheavals experienced by many developed democracies in recent years. By examining the rhetoric and reality of knowledge-driven growth over the last three decades, the book highlights the flawed assumptions underpinning this policy agenda, showing how its economic shortcomings map on to patterns of political discontent evident today. It assesses whether there is scope for rebooting this policy agenda in the wake of the Covid-19 pandemic, or whether politicians will need to reach beyond it if they are to deliver inclusive prosperity and equitable growth in the future.
Praise for the book
"The progressive goal of rising incomes and declining inequality has eluded governments across the developed world in recent decades and Nick O'Donovan provides a thoughtful and challenging account of how the third way 'knowledge economy' consensus failed to live up to its high expectations. With populism on the rise on both sides of the Atlantic, and the quest for 'inclusive growth' even more vital, he argues policy-makers need to challenge their assumptions and look for new solutions. His book is essential reading for anyone who seeks a prosperous, green and fair future for all." – Ed Balls, former Shadow Chancellor of the Exchequer
"For decades 'the knowledge economy' has been the goal of every left or right centrist democratic government, but as this succinct eye-opener of a book shows, while cadres of the highly skilled, owners of rents and intellectual property, possessors of monopolistic platforms and superstars hoovered up all the growth, the rest dropped back in earnings and status. The pandemic has demonstrated how we rely on those who can't work from home on laptops – the providers of utilities, services, care, food, health – and this book proves the need to revalue what they do, and to spread the wealth from knowledge economy beneficiaries to people and places left behind." – Polly Toynbee, columnist, The Guardian
"Ranging widely across politics and economics in lively and highly-accessible prose, this book provides one of the best guides we have to the promise and pitfalls of the knowledge economy – the defining economic development of our time. With discerning judgement and a magisterial command of the subject, it offers an antidote to techno-optimism as well as important recommendations for the future." – Peter A. Hall, Krupp Foundation Professor of European Studies, Harvard University