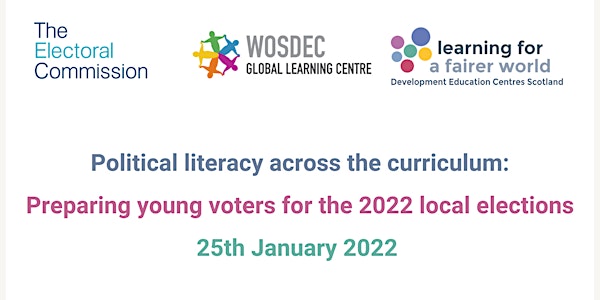 Political literacy across the curriculum: voting in the 2022 elections
Political literacy across the curriculum: preparing young voters for the 2022 council elections
About this event
This interactive session, co-created by WOSDEC and the Electoral Commission, is designed for secondary colleagues working in Scottish education who are keen to develop young people's political literacy and to foster their democratic participation. It will have a particular focus on practical ways to prepare young people to take part in the Scottish council elections on 5 May 2022.
It will provide practical support and resources that can be used in the classroom, at assemblies or at voter registration events to help develop political literacy in learners, and is relevant to all secondary teachers in Scotland. The session will:
- look at practical, engaging ways to develop learners' understanding of voting systems and local democracy in Scotland, and prepare them for voting in the upcoming council elections
- support teachers' confidence and skills in creating space for young people to discuss politics and controversial issues
- consider the UNCRC (Incorporation) Bill and the role of learner voice and participation
- look at where Political Literacy and Global Citizenship education sit within Scottish educational policy
All courses run by the Scottish Development Education Centres are highly interactive, both to model the participatory global citizenship approach, and also so we can introduce activities and methodologies for use in the classroom. This course will make use of breakout rooms and simple digital participation tools (all necessary instructions will be given!). It can be hard to participate fully on a phone or tablet, so we highly recommend you join the course on a desktop or laptop computer, with your microphone and video enabled.
This course will be held on Zoom to make use of the interactive capabilities of this platform. Depending on your Local Authority, it might be easier to access the course on your own personal computer rather than a council one.
If you have particular access needs, please contact kim@wosdec.org.uk so we can work together to create as positive an experience for you as we can.
All 32 local authority areas in Scotland are covered by a Development Education Centre – for full details, including locations and how to contact your local DEC, please visit https://www.ideas-forum.org.uk/decs
Data Protection
When you undertake free professional learning with the Scottish DECs we will continue to hold your information until this Scottish Government funded programme concludes. This is in line with the GDPR legitimate interest provision. We will always strive to be fair, transparent and lawful in the way we hold or use your information.
Organiser of Political literacy across the curriculum: voting in the 2022 elections