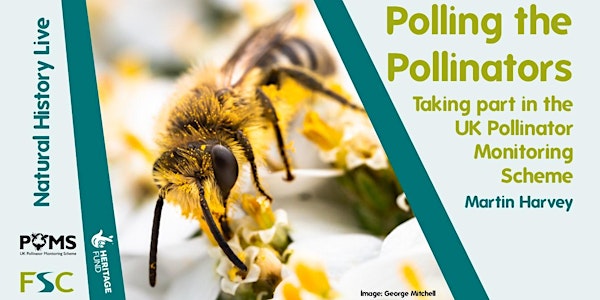 Polling the Pollinators: Taking part in the UK Pollinator Monitoring Scheme
Get involved with some citizen science to help the UK's pollinators.
About this event
The UK Pollinator Monitoring Scheme was established in 2017 and uses a number of different approaches to gather data on how pollinator populations are changing. This talk will introduce the surveys that you can take part in, help you recognise the different groups of pollinators, and show how your results are used to inform research in this area.
FSC Natural History Live webinars are free online learning experiences for adults, comprising of a 30-40 minute talk from a guest speaker, followed by a question and answer session. We host them on Zoom and we will send out joining instructions on the day of the event. Sign up for the FSC Biodiversity newsletter to find out about our other online learning opportunities and receive exclusive discounts.
For the best experience, we recommend viewing the talk on a laptop or desktop computer. Automatically generated captions will be available and they can be turned on or off by attendees on laptops, desktops and certain models of phones and tablets.