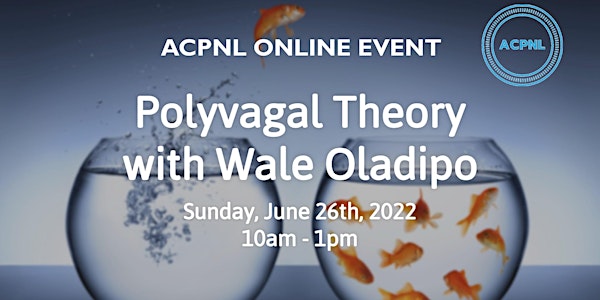 Polyvagal Theory with Wale Oladipo
Refund policy
Contact the organiser to request a refund.
Eventbrite's fee is nonrefundable.
This workshop is about understanding the power of the vagus nerve to better manage anxiety, depression, trauma and and autism.
About this event
Learning outcomes include:
an in-depth understanding of the Polyvagal theory and its applications in managing anxiety, depression, trauma and autism
the neurobiology of anxiety, depression, trauma and autism from the Polyvagal Theory perspective
how to repair the social engagement system necessary for managing anxiety, depression, trauma and autism effectively
hands-on techniques to strengthen the vagus in order to up-regulate the safety and healing pathways, and down-regulate the defence/shutdown pathways
several ways to daily stimulate the vagus nerve for wellness, relaxation, confidence and spontaneous social engagement
how to examine yourself or your clients for vagus nerve dysfunction and ways to correct it.
Other focuses include looking at how to avoid the typical vagal mistakes made in managing anxiety, depression, trauma and autism and addressing connections between childhood trauma and vagal dysfunctions.
About our speaker
Wale Oladipo is the lead trainer and director of MindBody Breakthrough Ltd, a mental health organisation that specialises in public mental health and professional development. He has over 15 years experience in emotional transformation, specialising in anxiety-related disorders and personal success solutions.
He has trained and worked with educational institutions, local councils, NGOs and training providers. His recovery models such as the FEAR model, STRESS model and WORRY model are now being used in more than thirty different countries around the world by professionals, organisations and sufferers.
He is the author and creator of various well-being and success materials, courses and online recovery programmes which include: Overcoming Chronic Stress and Stress-Induced Pains; Overcoming Intrusive Thoughts and the Inner Critical Voice; Overcoming GAD and Panic Disorder; Four Master Keys for Happiness and Success for TEENS; The Worry Instinct; The Amygdala Paradox; The BEING Cycle; Treating Anxiety in ADHD, Treating Obsessive Worry; Healing Trauma; Depression, the Brain and Recovery and The Polyvagal Theory: Better Manage Anxiety, Depression, Trauma and Autism.
Wale is a psychology writer and professional member of the National Counselling Society and The European Mentoring and Coaching Council.