Description
POOLE HARBOUR FESTIVAL 2018



Poole and Bournemouths BIGGEST & BEST family & live music festival is BACK!




Friday 27th, Saturday 28th and Sunday 29th July 2018
Baiter Park, Poole BH15 1TQ
With over 30 live acts across THREE stages we bring the best local and tribute bands as well as our Sunday headliner & local legend Mungo Jerry. The main stage will be in a circus big top for 2018 to make sure the party goes on, come rain or shine.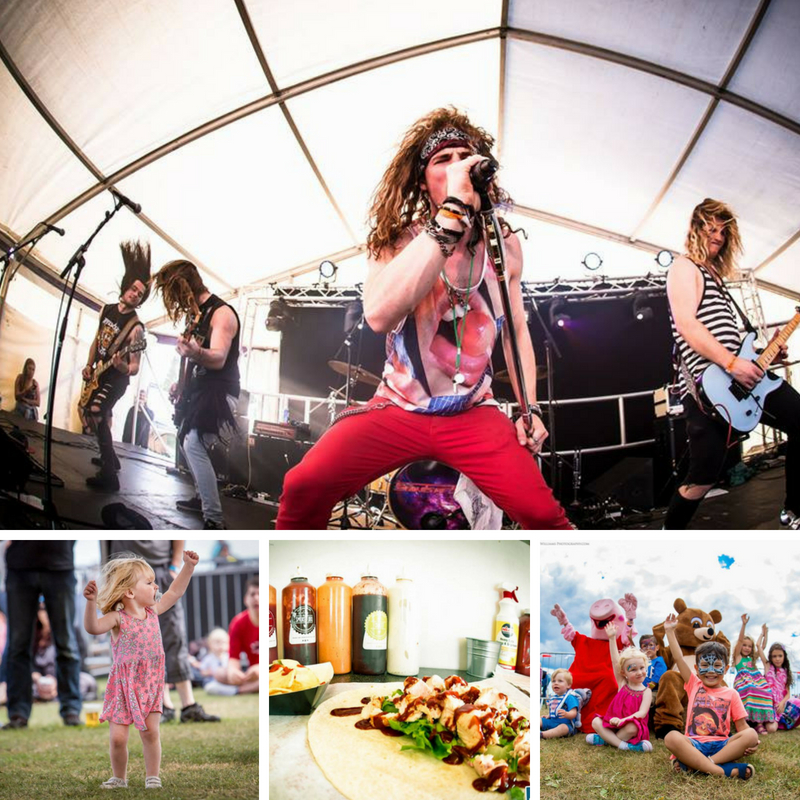 Our large beer tent with great real ales & ciders and a range of quality street food stalls will keep you fuelled up for the day. The FREE kids entertainment on Sat & Sun includes Mr Merlin, Krazy Kev, the Mad For Animals Show, Circus Workshops & Family Fire Show.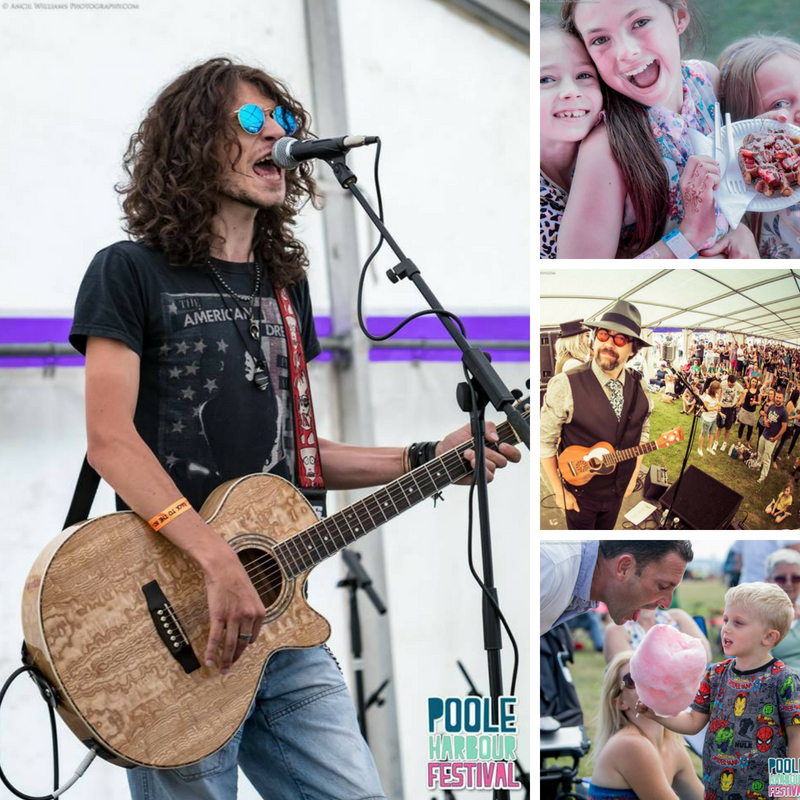 The festival runs Friday 17:00-23:00 Saturday 12:00-23:00 and Sunday 11:00-18:00. Tickets are on sale now and the sooner you buy them, the cheaper they are! Under 5's are FREE. Child tickets are for ages 6-16 years. Under 16s will need to be accompanied by an adult. Undercover Bar & Stage Area, so the fun doesn't stop if it rains.
DOGS - Well behaved dog kept on a lead are welcome.
NO food or drink except baby food may be brought into the event.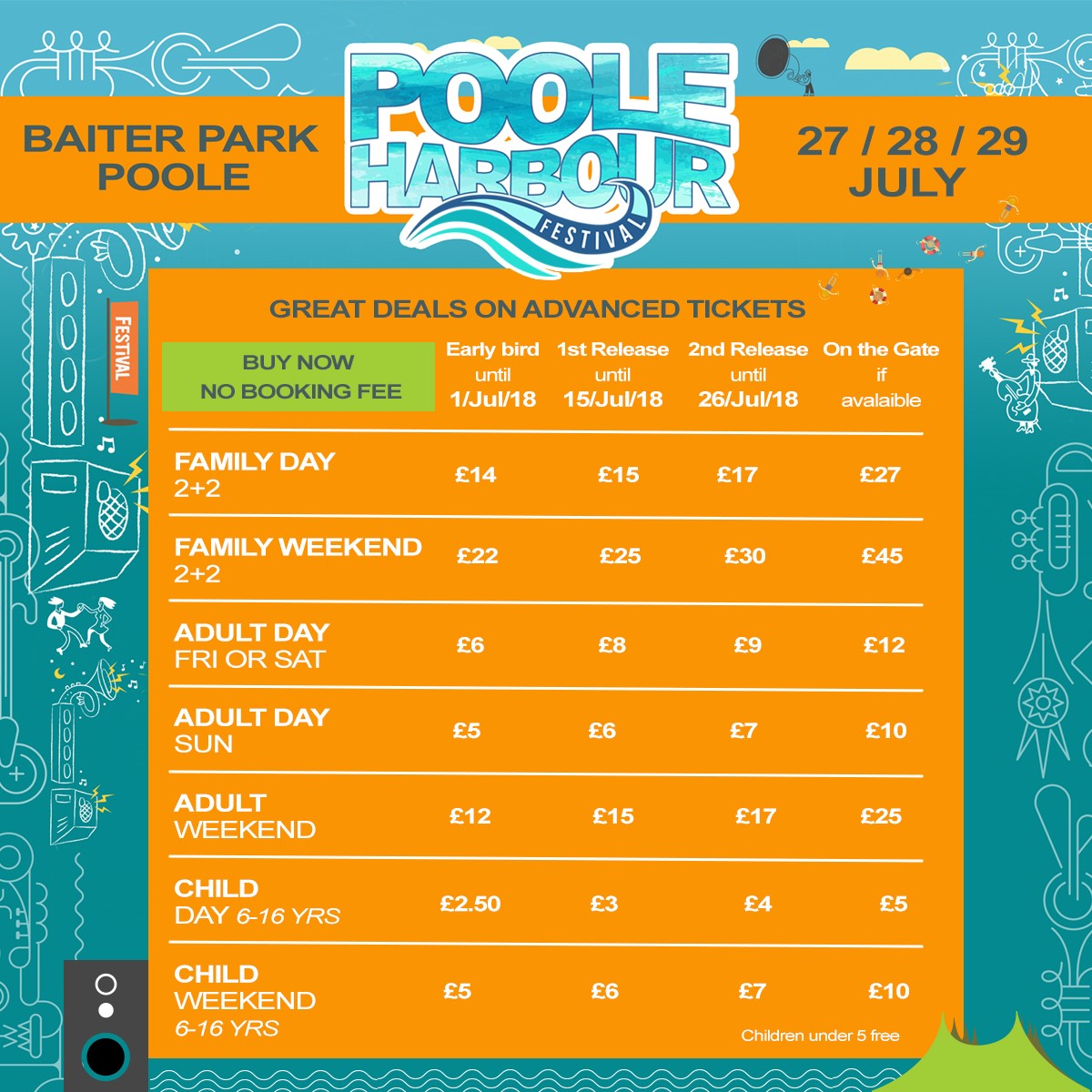 ▀ ▀ ▀ ▀ ▀▀▀▀▀▀▀▀▀▀▀▀▀▀▀▀▀▀▀▀▀▀▀▀▀▀▀ ▀ ▀ ▀ ▀
----- FRIDAY MAIN STAGE -----
5pm Jeff Keenan Hosting & DJ between the bands
6pm Punk On Your Hits
7.30pm Foo Fighters GB
9.30pm Red Hot Chili Peppers tribute - Really Hot Chilli Peppers
11pm Finish
----- FRIDAY HARRY ROCKS BAR & STAGE -----
5.30pm Opening Act
7.30pm All Funked Up
9pm Xander & The Keys
10.30pm Finish

▀ ▀ ▀ ▀ ▀▀▀▀▀▀▀▀▀▀▀▀▀▀▀▀▀▀▀▀▀▀▀▀▀▀▀▀ ▀ ▀ ▀ ▀
----- SATURDAY MAIN STAGE ------
12pm Opening Act
12.55pm Hello Hawaii
1.55pm Martyn The Hat hosting & DJ between the bands
2.20pm Oasis tribute -Oasiss
4.05pm Stereophonics tribute - Stereoironics
6pm Saints Of Sin
7.30pm Rat Race
9.30pm Filta
10.45pm FIREWORK SPECTACULAR
11pm Finish

----- SATURDAY HARRY ROCKS BAR & STAGE -----
1pm Shannon White
2.05pm Chris Payn
3.50pm Sweet FA
5.40pm New Beats
7.30pm 27 Days
9.20pm Sixteen String Jack
10.40pm Finish
----- SATURDAY KIDS ENTERTAINMENT -----
12-3pm Jules the Entertainer
3-6pm Krazy Kev
6-730 pm Kids Disco

▀ ▀ ▀ ▀ ▀▀▀▀▀▀▀▀▀▀▀▀▀▀▀▀▀▀▀▀▀▀▀▀▀▀▀ ▀ ▀ ▀ ▀
----- SUNDAY MAIN STAGE -----
11am Si Genero playing & hosting between the bands
11.40am Inner City Smugglers
12.40pm Si Genero
1.10pm Amy Winehouse - tribute Tania Alboni
3pm Mumford & Sons tribute - Chasing Mumford
4.30pm Mungo Jerry and full Band
6pm Finish

----- SUNDAY HARRY ROCKS BAR & STAGE -----
11.20am Chris Collins
12.30pm Mother Ukers
2.10pm Wonky donkeys
4.10pm Jimmy Hillbillies

----- SUNDAY KIDS ENTERTAINMENT -----
11am-3pm Mad For Animals Show
2.30-5.30pm Mr Merlin
1-5pm Simon Chainey Circus Skills & Family Fire Show

All acts and line up are subject to change
▀ ▀ ▀ ▀ ▀▀▀▀▀▀▀▀▀▀▀▀▀▀▀▀▀▀▀▀▀▀▀▀▀▀▀ ▀ ▀ ▀ ▀
FAQs
Q. What can I bring into the event?
Your lovely selves, and some cash or card. Please bring enough cash to buy food and drink whilst inside the grounds. We do accept card payments at the bars, but its likely the food traders will only accept cash. If you'd like you are welcome to bring some camping chairs if you wish to sit down outside, however seated areas are provided around the food traders, and the main stage will be mostly standing.

Q. What age is a child ticket?
A child's ticket is ages 5-16. Under 5s are FREE! All children under the age of 16 need to be accompanied by an adult.
Q. Can I bring my dog?
YES! Of course! But only WELL BEHAVED Dogs and they MUST be kept on leads at ALL TIMES.
Q. Is there Camping onsite?

No we have no onsite camping available.
Q. Can I bring a picnic into the event arena?
No, unfortunately NO FOOD OR DRINK CAN BE TAKEN INTO THE EVENT. With the exception of baby food.
Q. Are there ID or minimum age requirements to enter the event?
Under 16s will need to be accompanied by an adult. You will require a form of ID to purchase alcohol if you look under 25.
Q. How can I contact the organiser with any questions?

Please send an e-mail through the contact on Eventbrite
Q. I haven't received my booking confirmation..?
If you haven't received your booking confirmation, the most common reason is that you have typed in your email address incorrectly on your order. All booking confirmations are sent to the Ticket Buyer's email address.
If you are unable to log in to your Eventbrite account, please contact bendyas@immenseevents.net and we will resolve the issue as quick as possible.
Q. Can I update my registration information?
Yes, you can update the information on your order (like name, email address, or answers to the organiser's questions) by clicking your order on the Tickets page.

Q. Do I have to bring my printed ticket to the event?
No, tickets can be downloaded onto any smartphone using the Eventbrite App, however tickets can be printed out if you do not have a smartphone.

Q. What disabled facilities do you have?
The following locations offer disabled parking;
Harbourside Carpark 1 Labrador Drive, Poole, BH15 1UX
Harbourside Carpark 2 Catalina Drive, Poole, BH15 1UX.
We have onsite disabled toilets. There are no dedicated viewing platforms, however the stage is raised and can be seen from most areas of the grounds. Please be aware the event is in a field so can be uneven in places.