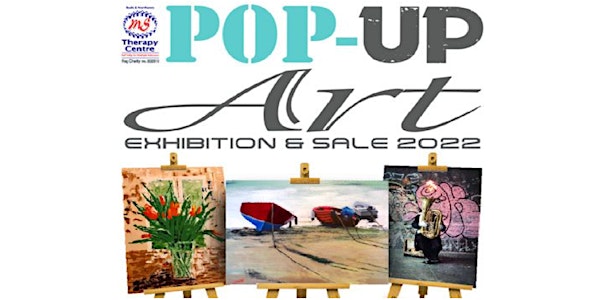 Pop-Up Art Exhibition & Sale - Artists' Registration & Payment Form
Location
Multiple Sclerosis Therapy Centre Beds & Northants
155 Barkers Lane
Bedford
MK41 9RX
United Kingdom
Calling all artists to display and sell their artwork at the popular Pop-Up Art Exhibition & Sale at the MS Therapy Centre in Bedford.
About this event
The MS Therapy Centre would like to invite artists to display their work at the Pop-Up Art Exhibition & Sale where we showcase artwork from local and national artists.
The exhibition takes place at the MS Therapy Centre in Bedford. Opening hours are Saturday 1st October 10am to 5pm & Sunday 2nd October 10.30am to 4pm. This is preceded by a Private Preview Evening on Friday, 30th September, which is by invitation only and includes several local dignitaries. The event will be robustly marketed and publicised on social media and the local press. Our first Pop-Up Art Exhibition & Sale in October 2019 was a huge success with high footfall and raised over £8,500 for our charity. Our aim is to have at least 100 artists involved this year.
All artwork will all be displayed in the MS Therapy Centre for the whole weekend. Please register and pay for this event by clicking on 'tickets'. The registration fee is £15 per artist/sculptor.
ARTISTS/SCULPTORS: Artists can submit up to four framed original artworks, ten unframed originals/prints and 50 greeting cards. Please be aware that any paintings more than 2ft x 3ft may be counted as two of your allowed total works.
Sculptors can submit up to four sculptures or more, depending on the size.
Although you do not have to be present throughout the exhibition, we ask that you spend as much time as you can at the event and be available to steward for at least one session during the exhibition. We know that visitors are far more likely to purchase if they can meet the artist. You will have the opportunity to select your stewarding sessions and submit details of your artwork closer to the time.
All artists/sculptors will feature in our A4 colour catalogue, which is sponsored by local businesses and distributed free of cost to all visitors at the exhibition. 
TABLE TOP SALE: JEWELLERY, POTTERY, GLASS, CERAMICS, SCULPTURES, etc: We will provide each seller one table to display your pieces. You need to be on-site throughout the event to to promote and sell your work and ensure its security. Availability is limited to seven tables, so please get in touch with us soon to avoid disappointment by emailing frvolunteer@mscentrebedsandnorthants.com. All submissions for the table top sale are discussed individually with the artist and you do NOT need to register here. There will be a small admin fee applicable.
SALES:  All sales are handled by the event committee and artists are remunerated on any sold items within four weeks of the event. We take a 33% commission as a donation to the charity, which will go towards providing therapies and support to people with multiple sclerosis (MS) in Beds and Northants.
Please click here to see the T&Cs for this event: Pop-Up Art Exhibition & Sale T&Cs
For any further queries, please email frvolunteer@mscentrebedsandnorthants.com and Bela Brown will be in touch with you soon.