Join in creating a vision for Tayport in 2030. Let's imagine a future worth fighting for!
About this event
September's Tayport Climate Festival created such an amazing buzz in our community. It was a real joy to come together and start some important conversations about our future.
Actions we take over the next 10 years are critical to stopping the worst of the climate and nature crisis and to protect things we love. It's clear that we already do a lot in Tayport to take care of each other and the planet - but if we put our heads together we can do even more!
Join us for an afternoon of creative imagining of Tayport's future, followed by a shared evening meal on Saturday 6th November:
13:00 - 17:00 Pop Up Tayport 2030 workshop (includes afternoon tea)
18:00 - 20:00 Evening meal
Bring your ideas and imagination to explore our longings for what we want the future to be, connect us with each other and with a future worth fighting for.
All are welcome! We would love to see contributions from individuals, community groups and local business owners based in Tayport.
Bookings close Wed 3rd Nov for the Evening meal and kids session.
Children: Older children (>12 years old) should be able to take part in the main event. We have organised a parallel session for your young ones. Children will be supervised by professional childminders. Owen Pilgrim will run an interactive storytelling session and we are preparing other activities to keep them entertained.
COVID: The event will comply with COVID-19 guidelines. Please do not come along if you are feeling unwell or tested positive for COVID-19. We ask all participants to test themselves on the morning of the event.
If you have any questions please contact Kaska on blog@tayportgarden.org.
Children's storytelling session with Owen Pilgrim has been made possible due to the Scottish International Storytelling Festival's Big Scottish Story Ripple initiative and is supported by TRACS and the Scottish Storytelling Forum.
This event is supported by PLANT, Tayport Community Council and Tayport Community Trust. PLANT's creative partner in CULTIVATE, Zoe Swann, will also be making sure our young people's voices are heard, and documenting our community vision.
The event is also a part of COP26 Coalition's Day of Action for Climate Justice on the 6th of November.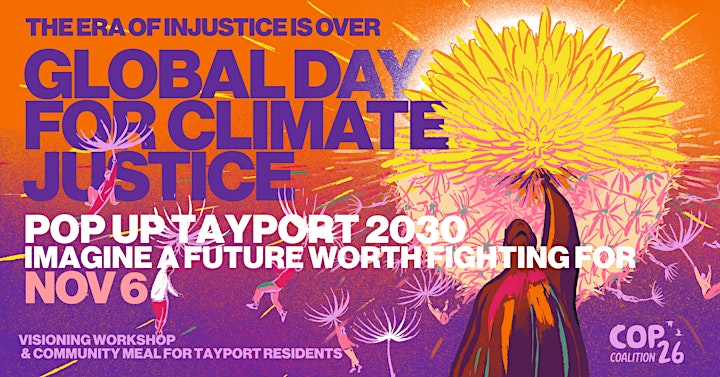 Organiser of Pop up Tomorrow - Tayport in 2030
People Learning About Nature in Tayport (PLANT) is a subgroup of Tayport Community Trust.
Since 2011, PLANT has been working on projects bringing people together to grow food and flowers, while reducing carbon emissions and enhancing Tayport's natural environment.