Description
Population-based health and care – devolution as a model for London
A half-day learning event at City Hall on 18 May 2016
With health and social care systems embracing the need for transformation at pace including a focus on Sustainability and Transformation Plans, this free event offers an opportunity to hear from senior respected leaders in health, local government and academia about devolution in London and other collaborative approaches to address the unprecedented challenges facing the NHS.
With a focus on devolution as a model for London, insights will be offered by both regional and national leaders on how population-based systems of care, such as Accountable Care Organisations, can improve both outcomes and value.
Taking place on Wednesday 18 May, 12noon-5.30pm at City Hall, we are proud to deliver this event with our partners NHS England, the Mayor of London and the London Health and Care Integration Collaborative.
The aim for the day is to involve representatives from across the health and social care spectrum in London including local councils, acute trusts, community care, CCGs and academia to encourage a comprehensive debate and share learning. The event will also provide an opportunity to highlight challenges in the planning process and to generate discussion about support solutions for these emerging systems.
The agenda is as follows: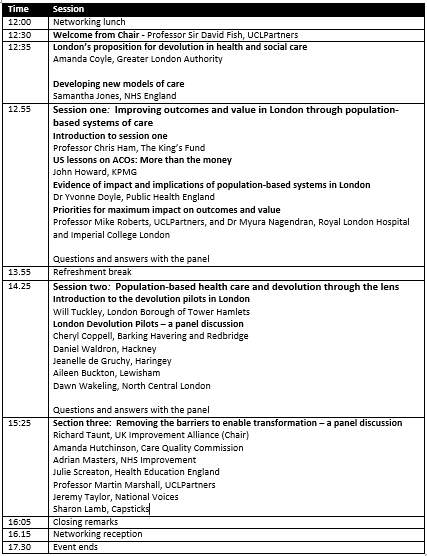 We look forward to hearing your valuable contribution to the discussion on 18 May.
Please note that it is advisable to arrive 10 minutes early to ensure you have time to go through the security gate at City Hall and register on arrival.