Free Pori Drwy Stori Nursery training for 2020-21 programme - delivered in English
About this Event
This training is for settings / schools registered for the 2020-21 Pori Drwy Stori Nursery progamme. We recommend at least one practitioner from each nursery attends.
The session will cover:
1. Aims and outcomes: why oracy matters and how the Pori Drwy Stori Nursery programme supports these skills
2. How to use the new programme resources
3. Examples of good practice
4. Key recommendations
5. An opportunity to discuss and plan how the programme can meet your priorities
6. Practicalities: delivery dates, timescales, requirement.
Mae'r hyfforddiant hwn ar gyfer lleoliadau sydd wedi 'u cofrestru ar gyfer Rhaglen Feithrin Pori Drwy Stori 2020-21. Rydym yn argymell bod o leiaf un ymarferydd o bob meithrinfa yn mynychu.
Bydd y sesiwn yn ymdrin â:
1. Nodau a deilliannau: pam fod llafaredd yn bwysig a sut y mae rhaglen Meithrin Pori Drwy Stori'n cefnogi'r sgiliau hyn
2. Sut i ddefnyddio adnoddau'r rhaglen newydd
3. Enghreifftiau o arfer dda
4. Argymhellion allweddol
5. Cyfle i drafod a chynllunio sut y gall y rhaglen gwrdd â'ch blaenoriaethau
6. Pethau ymarferol: dyddiadau dosbarthu, amserlenni, gofynion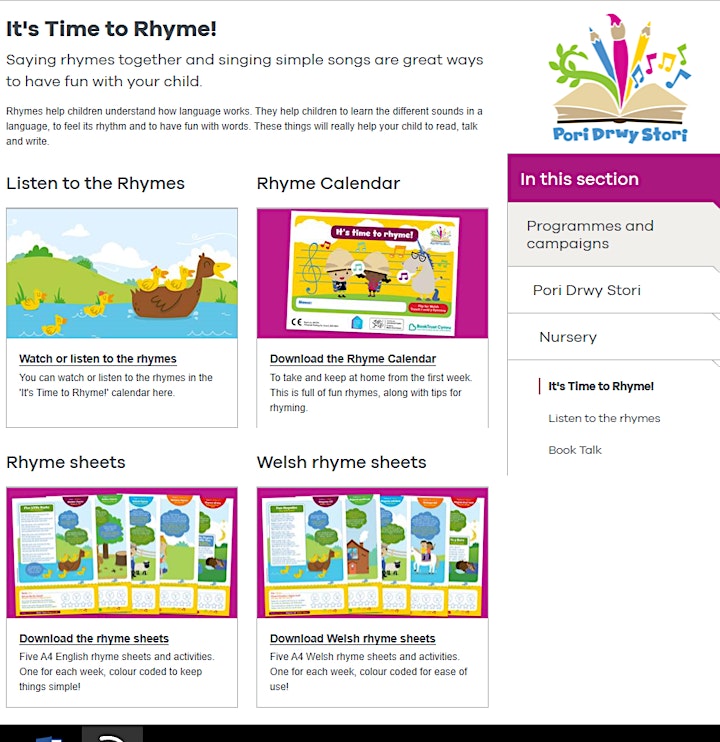 The Nursery programme aims to support:
• Supporting parents/ carers to be active partners in their children's learning
• Positive home-school/ home-setting links.
• Age appropriate literacy skills focusing on oracy
Participating Nurseries will receive, two sets of Free Bilingual resources (one rhyme resource and one shared reading resource). This is to be used between 1st January - 31st May 2020 (three half terms). Eligible children are Nursery children who are in their final two terms before they start reception.
More information can be found here - https://www.booktrust.org.uk/poridrwystori-nursery
Pori Drwy Stori Meithrin/ Pori Drwy Stori Nursery:
Nod y rhaglen Feithrin yw cefnogi:
• Cysylltiadau positif rhwng y cartref a'r ysgol / y cartref a'r lleoliad.
• Cefnogi rhieni / gofalwyr i fod yn bartneriaid gweithredol yn yr hyn y mae eu plant yn ei ddysgu
• Sgiliau llythrennedd sy'n briodol i oedran, yn canolbwyntio ar lafaredd
Fe fydd y dosbarthiadau Meithrin a fydd yn cymryd rhan yn derbyn dwy set o adnoddau Dwyieithog yn Rhad ac am Ddim (un adnodd rhigymau ac un adnodd rhannu darllen). Y bwriad yw defnyddio'r rhain rhwng 1af Ionawr a 31ain Mai 2020 (tri hanner tymor). Plant dosbarthiadau Meithrin sydd yn eu dau dymor terfynol cyn iddyn nhw ddechrau mewn dosbarth derbyn yw'r plant sy'n gymwys.
Am fwy o wybodaeth: https://www.booktrust.org.uk/cy-gb/poridrwystori-nursery